When it comes to expressing your individuality, is there any better make-up product than eyeshadow?
One of the most versatile make-up products, with eyeshadow, there are plenty of styles to choose from and a veritable rainbow of colors out there for you to experiment with.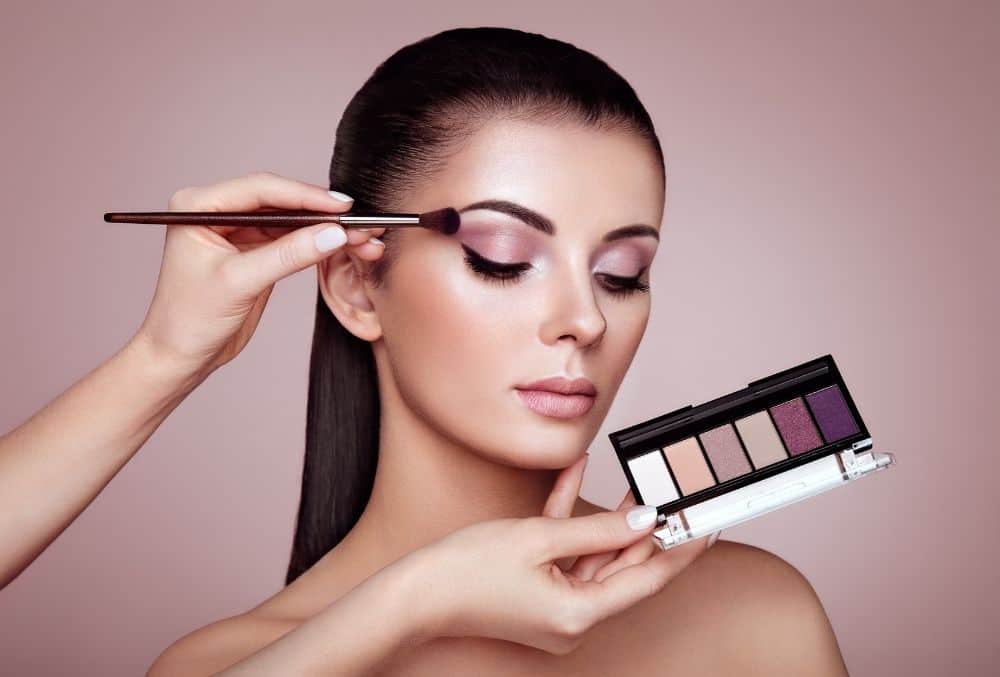 Plus, eyeshadow takes many forms, from powders to gels.
There are seven different eyeshadow looks, these are cat-eye, cut crease, gradient, halo, natural, shimmery, and smoky.
While anybody can experiment and have fun with these different looks, there are some eyeshadow looks that really compliment certain eye shapes, eye color, and skin tones.
But to nail any eyeshadow look, it's important to practice them and make sure you have the best products possible to achieve your desired look.
Breaking Down The 7 Different Eyeshadow Looks
Every eyeshadow look requires a certain technique as well as different shades to compliment each other and blend well together. All of these looks can be customized to compliment your eye shape and achieve the look you're going for.
Cat-Eye
This classic look will never go out of style. It's chic yet fun, but isn't the easiest to apply. To get the perfect feline flicks, many make-up enthusiasts have turned to drawing guides and even tape. But after your eyeshadow is applied, grab some eyeliner to make your cat eyes really stand out!
Cut Crease
An excellent way to apply some contouring magic to your eyes, a cut crease involves layering at least three different shades. You can really have fun with a cut crease, experimenting with different colors and adding a touch of glitter. The crease should contrast against the shade on your eyelid to create depth.
Gradient
A versatile and easy look to achieve, you can opt for natural or bold eyes or a combination of the two for a gradient look.
Depending on your eye shape and the distance between your eyes, everybody's gradient will be different, but it's common to start with a lighter color on your inner eyelid before progressing to a darker color on your outer eyelid.
Halo
Not everybody can pull this look off, and it all depends on eye shape. You'll need at least two colors to achieve a halo look. Begin by applying a darker shade to the corner of your inner eyelid and the outer edge of your eye, and highlight the center of your eyelid with a lighter shade.
Natural
The trick to this look is appearing like you're not wearing any shadow at all. Therefore, it's important to use eyeshadow colors that closely match your natural tones. This is a great way to emphasize your natural beauty!
Shimmery
One of the easiest eyeshadow looks to achieve, a shimmery eyeshadow look couldn't be simpler to apply. Just simply apply shimmery eyeshadow to your lids and voilà!
Smokey Eye
Probably just as iconic as the cat-eye look, the smoky eye is a famously sultry eyeshadow look.
However, it's hard to get right. When attempting a smokey eye, pick your colors carefully and select shades that will blend in with your skin tone, especially with the undertones of the black shades you're using.
Choosing The Right Eyeshadow For Your Look
Now you know what look you want to try out, you now also need to decide what type of eyeshadow you're using. All eyeshadow types have advantages and disadvantages when it comes to different looks.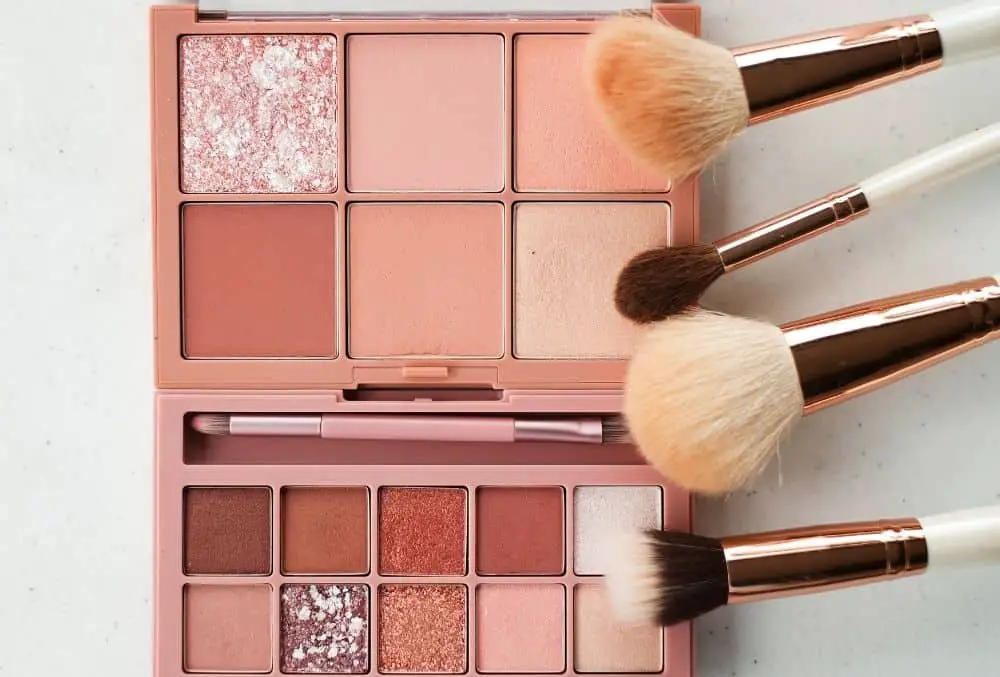 Loose Powder
Popularized by the famous MAC pigments, loose powder is made of pigments and other filling ingredients, just without bonding products. This is a versatile type of eyeshadow that can be used wet or dry, and can even be mixed with other make-up products to create lip colors or even nail polishes.
Pros
A popular eyeshadow type available in many colors.
Cons
Sometimes messy to apply.
Pressed Powder
The most common type of eyeshadow, pressed powder is a combination of pigments and bonding ingredients that are pressed to create a dry, solid powder.
Just a small swipe with a brush, sponge, or even your finger is all you need. Pressed powders are often applied dry because the powder can lose its effectiveness when wet.
However, more pressed eyeshadows nowadays can be used wet or dry. Pressed eyeshadows can also be carried around in your bag and are often found in palettes.
Pros
Widely available, and are less messy than loose powder eyeshadows.
Cons
Baked
A baked eyeshadow is basically a cream that is baked into a smooth, powdery substance by applying heat. Baking the powder is what gives this eyeshadow its velvety feel.
Pros
Is available in many colors.
Cons
When used dry, it can be difficult for the power to cling to the brush.
Cream
Cream or gel eyeshadows can be used as a base for power eyeshadows or just used by themselves. Cream eyeshadows are also emollient based, meaning they are better formulated than their powder rivals.
Most cream eyeshadow brands boast that their products are water-resistant, as well as smudge and crease resistant.
You can also buy cream eyeshadows in pencil form rather than a jar. Cream eyeshadows do tend to last longer when they're in a tightly sealed glass container with a small opening that doesn't allow too much air to get in. A synthetic brush works well for the application of cream eyeshadow.
Pros
Available in both jar and pencil form, and are excellent for achieving a single-toned look.
Cons
Despite the claims by make-up brands, cream eyeshadows can smudge easier than other types of eyeshadows.
Feel free to experiment with all these different types of eyeshadows to see which one works for you. But as well as these different types of eyeshadows, there are also different finishes to consider.
Glitter: Often worn for parties, glitter is a sticky finish, and you often need adhesive to achieve a full, glittery effect.
Marbled: A combination of different colors and shades and can have a matte, satin, or shimmery finish.
Matte: A solid finish, a matte eyeshadow is great for contouring your eyes.
Satin: This is an elegant finish that looks smooth and silky, yet shiny too.
Shimmer: A sheer finish with a hint of sparkle. A shimmer finish is great for a halo look.
How To Achieve A Natural Eye Look
Using bright and vibrant shades are great for special events and nights out, but a natural look is a great look for day-to-day life. Not only does a natural eyeshadow look make it appear that you're not wearing any eyeshadow at all, but it can also define your natural eye shape.
A natural look is all about emphasizing the natural beauty of your eye shape, eye color, and skin tone, so it's important to pick shades that complement those features. Your skin tone is a particularly important factor when deciding what colors you're going to use.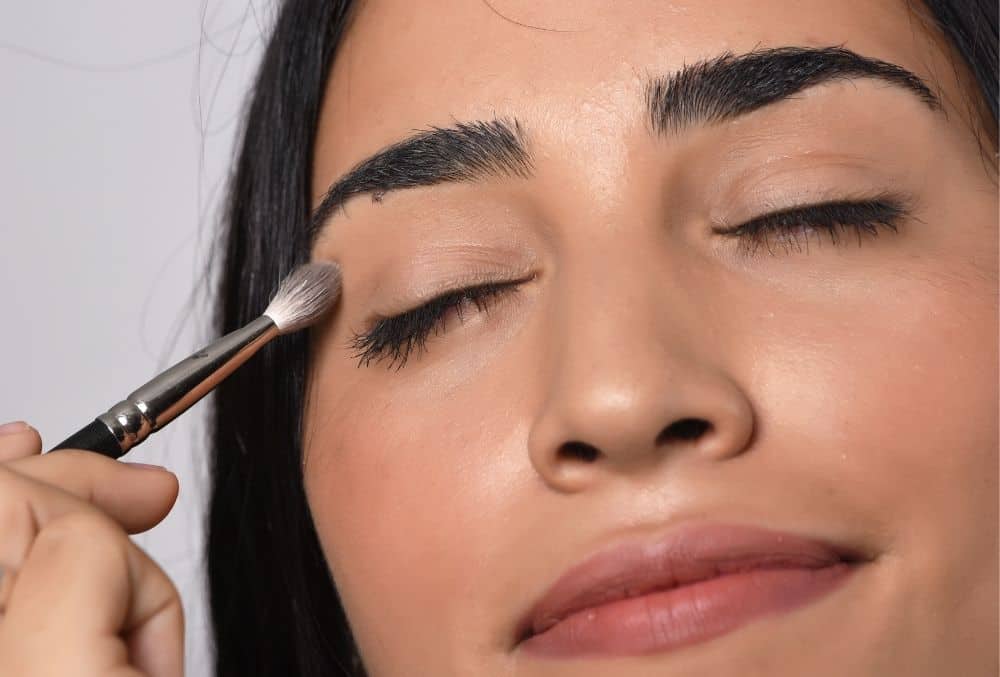 It can be hard to determine what your skin tone is, since everybody's skin tone is different. But once you have a clearer idea of what your skin tone is, you can then pick out colors that compliment your tone.
Fair Skin
For a natural look, bronze and gold eyeshadows best compliment this skin tone. There are plenty of palettes with these colors, and rose, and plum shades also compliment fair skin.
Medium Skin
Brown eyeshadows with a hint of bronze really compliment medium skin tones.
If you have a warmer undertone to your skin tone, opt for eyeshadows with a hint of gold or rose. Meanwhile, those with cooler undertones should opt for shades with a hint of plum or gray.
Tan Skin
Gold eyeshadows are a great choice for a natural look, especially when paired with orange or yellow shades.
Olive Skin
Teal really makes olive skin tones pop! However, for a natural look, avoid using a bright blue shade as this could wash you out. But a combination of earthy bronze tones with teal will look amazing.
Medium Dark Skin
Red and purple shades such as cranberry and plum look beautiful on medium-dark skin tones
Dark Skin
Rose gold is a stunning natural eyeshadow look for people with dark skin tones, especially blended with bronze hues.
Another feature to pay attention to is your eye color, as this will also determine what colors are flattering for your natural eye look. Just like eyeshadow palettes tailor to certain skin tones, there are also palettes available for different eye colors.
Eye shape and set is also another important factor when planning your natural eye look. A natural eyeshadow look often involves you applying lighter shades on your inner lid and darker shades on your outer lids, but depending on your eye shape, a darker shade on your inner lid might look better.
Now that you've decided on the colors that will best compliment your skin tone, eye color, and eye shape, you need to also consider what finish you want. Matte finishes are obviously the best finish for a natural look, as they don't have any sheen or sparkle.
But now that you have your shades, you can create your natural eye look in a few easy steps:
Apply primer: Foundation is a good substitute if you don't have a primer, and some cosmetologists even recommend mixing primer and foundation together to create a base for your eyeshadow.
Apply the lightest color: Once your primer is dry, you can apply the lightest color on your eyelid with a flat eyeshadow brush. To apply, hold the brush towards its end and use short sweeping motions from the wrist.
Apply the darker color: Apply the darker shade to your crease. This will add definition to your look. You can find your crease by lifting your chin and looking down the mirror. This is the best way to apply this darker shade. Or, you can apply it to the outer edge of your eye, forming a 'V' shape from your crease to the outer corner.
Blend: With a small or medium blender brush, you can blend your shadows using small, circular motions to smooth out any lines.
Apply shadow to your lower lashes: With an angled eyeliner brush or a flat eyeshadow brush, apply the darker shades beneath your lower lashes and then use a small blender brush to smooth them out.
Finish: To complete your look, apply some subtle eyeliner and mascara.
Troubleshooting Your Eyeshadow Looks
Practice often makes perfect, but you may notice that even after a lot of trial and error, you're still not achieving the look you want. This can be frustrating, but don't give up!
There can be a couple of reasons why your eyeshadow looks aren't going according to plan, so let's attempt to troubleshoot some of them.
Using The Correct Brushes
To achieve the eyeshadow look you want, it's important to use the correct brushes. Brushes are designed to do different things, with different angles, flexibility, and thickness. But not only is it essential to use the right brush, it's important to clean them regularly too.
When you're applying eyeshadow, make sure you have the correct brush for the techniques and type of eyeshadow you're using. Let's take a look at the different types of eyeshadow brushes and their uses.

A flat eyeshadow brush should be used to apply the eyeshadow, a small or medium blender brush should be used to blend the shades, a blender or smudger should be used for finishing touches and making your eyeshadow more dramatic, and an angled eyeliner brush should be used below the waterline for a more precise look.
When it comes to cleaning your brushes, make sure you clean them at least once a week. Leaving your brushes uncleaned will result in old product, oil and bacteria seeping into the bristles. This leaves unpleasant residue on your eyes and makes applying your eyeshadow harder.
After you've cleaned your brushes, hang them dry, so they can retain their shape. Patting them dry could result in them losing their shape, which again makes applying your eyeshadow more difficult.
Lighting
It's important that you're applying your make-up in a room with good lighting and that your mirror is at the right angle. Putting on make-up in low light makes it harder to spot mistakes and isn't a true reflection of what your eye make-up actually looks like.
A vanity mirror with lights or a light stand is an excellent way to ensure you always have the best lighting when applying your eye make-up. A light-up vanity mirror illuminates your face a lot better than an overhead light does.
Laying A Good Base
Primer is just as important for use on your eyes as it is on the rest of your face. Applying primer on and around your eyes provides a good base for your eyeshadow, making it less likely to fade or smudge. It also provides a neutral canvas for you to apply your eyeshadow. Foundation or concealer are also good substitutes for primer.
Complementing Your Eye Shape
This isn't just important when applying a natural eyeshadow look, but for all other eyeshadow looks too, and some styles will look better on certain shapes than others. Let's take a look at the different eye shapes.
Almond eyes: This eye shape is suited to any eyeshadow look, but a gradient or cut crease look really makes almond eyes stand out.
Close-set eyes: A gradient look really compliments close-set eyes, because darker shades on the outer edges of your eyes will create the illusion that your eyes are a bit further apart. A cat-eye look also achieves this effect. Meanwhile, a halo eyeshadow look will make your eyes look closer together.
Deep-set eyes: For deep-set eyes, a cut crease with bold, dramatic shades should be avoided as it will make your eyes look deeper set.
Hooded eyes, or monolids: A cut crease with a gradient would look amazing on this eye-shape, as it gives your eyes a deeper look. But when applying your eyeshadow, it's better to apply with your eyes open rather than closed, so you can see the full effect.
Protruding eyes: A cat-eye look really compliments this eye shape because it makes your eyes appear less around. Although maybe steer clear of shimmer finishes because they are unflattering for your eye shape.
Wide-set eyes: A halo eyeshadow look is super flattering for this eye shape because the darker shades on your inner lid makes your eyes appear closer together.
Final Thoughts
Whether you're going for a dramatic cut-crease or halo look for a night on the town, a timeless cat-eye or smoky eye, or a natural eye look for a subtle, everyday look, these different eyeshadow looks are sure to provide you with great make-up inspiration no matter the occasion.
Selecting shades that compliment your natural skin tone and eye-shape will enhance your natural beauty, and to achieve the best looks possible, remember to use primer, foundation or concealer for a good base, and make sure you're using the correct brushes and cleaning them regularly.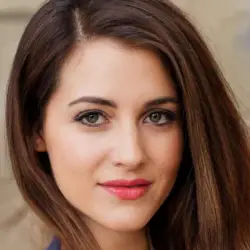 Latest posts by Maya Garcia
(see all)