Leather pants are often seen as a bold fashion statement, but that isn't always true. There are plenty of ways to wear leather pants for a more subtle look or a feminine style.
All you need to do is mix things up a bit and figure out the best styles based on your wardrobe. Maybe you want a pair of leather pants to set off the bright shades of your t-shirt for date night. Maybe you use leather pants to match accessories like a blazer or contrast with a tan top. 
From casual to formal, winter to spring, there are always outfits that can incorporate your favorite leather pants. 
Sure, you might want to leave the knee-high boots at home in the summer and go with sneakers instead, but that doesn't mean that you can't change your style a bit to work around your favorite pair of skinny leather pants or leather leggings.
There are so many different ways to style leather pants. All you have to do is use your imagination and experiment a bit.
Types Of Leather
Real leather pants are made from the hides of animals. Although cow leather is the most common, it can also be sourced from pigs, sheep, and other livestock. 
While many people don't mind wearing real leather pants, it bothers some consumers to know that their leather pants are made with animal products. That's where faux leather pants come into the picture.
Faux leather pants are made from synthetic materials that don't use animal products. These faux leather pants and faux leather leggings are often marketed as vegan options to distinguish them from real leather pants. Faux leather leggings and other faux leather trousers can still enhance your style and add a chic touch to any outfit.
Leather Pants Outfit Ideas
The first thing to do when you're choosing leather pants outfits is to think about the style you're going for.
Scroll through pictures of leather pants outfits or search online for inspiration. Decide whether you prefer wide-leg leather pants, leather trousers, etc. 
Don't worry too much about what's in style. The leather pants you choose are only part of your leather pants outfits. You'll have plenty of time to accessorize and make all your leather pants outfits stand out.
If you already own a pair of leather pants, then start searching for ideas based on what you already own. For example, try searching for black leather pants outfits or how to style leather pants with a khaki coat to see what comes up. 
If you see leather pants outfits you like, then all you need to do is match what you see others wearing.
If you're feeling more creative, you can make up your own leather pants outfits just by trying on what's in your closet and seeing what looks good. 
In the colder months, throw on a leather jacket or combat boots. In the warm weather, go for a white tee. See how you feel about each one and whether you like that leather look.
Tops To Wear With Leather Pants
You can wear all kinds of tops with leather pants. Some classic outfits include a white tee with a black leather jacket or denim jacket on top, but that might be too heavy for some seasons.
Since leather pants and leather leggings can be seen as vintage, you could go for a vintage band t-shirt or graphic tee for a casual style. If that's still too hot, you can't go wrong with a crop top.
You can also try pairing a more flowing top with skinny pants for contrast. A silk or satin blouse, for example, can really stand out to create a casual but chic look. To make the difference even more noticeable, choose a color like a tan that will really stand out against your leather pants or jacket.
Shoes To Wear With Leather Pants
Since leather pants can already make quite a statement, don't be shy with your shoes!
Wear those combat boots or your favorite pair of sneakers without worrying.
From a dark, all-black style to a casual date night outfit, you can use accent colors to perfect the exact message you want to send with your leather pants outfits. 
Just be mindful of how wide the leg is in your pants since not all shoes will look flattering with tight pant legs or cuffs.
If you're starting with the shoes you want to wear and trying to match them with pants, don't automatically rule out leather even if it initially doesn't seem like a great combination. 
Leather pants might sound too intense for you on their own, but if you pair them with a white tee and colorful ankle boots, that doesn't sound too dramatic, does it? 
In that case, all you need to do is figure out which ankle boots look best to soften the look of your leather pants, and then pair those with a crop top, stylish cotton tee, or chic blouse.
Leather Jeans Outfit
Just like regular jeans, leather jeans come in all kinds of cuts and styles.
If you love having a leather look, then it might make sense to have more than one pair of leather pants. 
There are legging-style leather pants, straight-leg leather pants, black leather pants, and brown leather pants, among others. 
With so many styles for any season, you can have different pairs depending on how you intend to wear leather pants on a particular day.
Don't forget to consider your whole outfit instead of just thinking about the individual pieces. 
Your top should also match your shoes, coat, blazer, or other accessories. If you're wearing casual loafers, then it doesn't make sense to wear a super formal blazer just because it's in your wardrobe. 
Instead, get creative and make sure you're thinking about the total flow of your outfit following the recommendations we mentioned earlier for each part of your leather look.
You can also use accessories to break up your outfit and some visual depth so that you don't look like you're wearing too much skin-tight clothing. 
Imagine that you're wearing a tight white crop top with leggings made of black leather. That's a lot of clothing right against the skin, but you can add some curves and shape by putting on a matching scarf or cinching your waist a bit with a wide belt. 
You can even match your sunglasses and your hat to your outfit before heading out for date night or drinks with friends.
Leather Pants Outfit Ideas By Color
You can also choose your leather pants outfits based on color. Pairing a deeper tan color with brown leather pants might look too similar, and wearing a black coat with black leather pants could be too much for your style.
The last thing you want to do is wear leather pants with the wrong palette, but luckily, it's easy to plan leather pants outfits ahead of time to look amazing regardless of the kind of leather pants you own.
Brown Leather Pants Outfit Ideas
Neutrals can look incredible with brown leather pants. Tan, white, and other similar shades can highlight your brown leather pants and create a smooth, subdued appearance.
To stand out a little more or appear a bit more stylish, you can also opt for something brighter like a red leather jacket or a light gray sweater. 
Finish out your outfit with crisp white heels or a pair of black boots.
Black Leather Pants Outfit Ideas
With black leather pants, you can go for all black if you want, or you can add some contrast with color.
Almost any color can pair well with black. Put on a dark gray tee with a black leather jacket when you're feeling a bit more adventurous, or tuck in a loose red shirt to create a sharper transition from your blouse to your black leather pants. 
Round out your stylish new look with white sneakers, red heels, or a pair of black ankle boots.
Final Thoughts
Leather pants are still very much in style, and the options for leather pants outfits are endless. 
The only limitation in figuring out the perfect leather pants outfits is your own creativity. 
If you're on a budget, finding affordable leather pants can be a challenge, but there are also plenty of synthetic and vegan alternatives.
With the right shoes and accessories, you can easily transition between darker leather pants outfits and brighter, colorful ones. 
When in doubt, experiment in front of the mirror until you find the leather pants outfits that make the best use of the items in your wardrobe. You'll quickly see how versatile leather pants can be.
Frequently Asked Questions (FAQ):
Are Leather Pants Stylish?
Leather pants outfits are unlike any other in terms of their classic style, versatility, and eye-catching look. Leather pants alone aren't enough to be stylish and live up to the latest fashion trend here or there. Instead, it's all about how you wear your leather pants and the leather pants outfits you invent. There's nothing conventional about leather pants, so don't expect it to be as easy as throwing on a pair of jeans. It can take some trial and error to discover the trendiest leather pants outfits, especially if you intend to wear them all year and not just in the fall and winter.
Are Leather Leggings In Style?
The best thing about leather pants is that they never go out of style. They just change a bit to meet the most popular styles. As leggings become more popular, leather leggings have also emerged as a fashionable way to show off your legs and your eye for clothes. Unlike traditional leather pants outfits, you can style leggings slightly differently. You can wear them with a dress or a long coat without worrying about one element overpowering the other or looking silly. That helps leggings stay in style even if the tops, shoes, and accessories you pair them with change to meet the latest and greatest in fashion.
What Kind Of Purses Match Leather Pants Outfits?
Matching a purse to your leather pants outfits is as simple as choosing your shoes or other accessories. If you don't want your bag to stand out, opt for a black purse with your black leather pants or brown for brown pants. For a bolder statement or to add some color to an otherwise neutral outfit, go for bright red, white, or even silver. Tote bags and large satchels pair incredibly well with leather pants since the bigger or looser handbag offsets the tight look of your leather pants.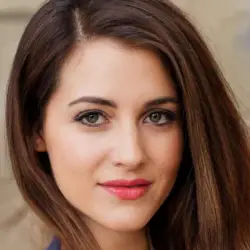 Latest posts by Maya Garcia
(see all)