Let's face it. We all wore leggings maybe a little too much in the noughties. I, for one, lived in those things. They're just so comfortable, easy to get on and look good paired with a long tunic style top!
If you're anything like me, then you've probably still got a few pairs of leggings hanging around in your closet that you simply cannot part with.
The good news is that you can buy leggings pretty much anywhere, they're such a wardrobe staple, and one you definitely need in your fashion collection. Whether you want yoga pants, plain black leggings, leather leggings or patterned ones, we've got you (and your legs) covered!
The good news is that leggings are back in style! Maybe we've got working from home to thank for that, but leggings are finally making a comeback. We're not just talking about Lululemon or workout leggings, you can style leggings to wear out too!
Leggings are not just for comfort wear and activewear, you can actually style them to look chic and sophisticated when you're out living your best life! 
So, if you're ready to wear leggings, then this guide is for you. We're here to tell you all about leggings, whether they're back in fashion and how to style them. So, what exactly are leggings?
What Are Leggings?
Leggings can be described as comfortable, stretchy leg coverings that are skin tight but breathable. They're also called yoga pants, and are typically opaque, tight fitting pants. Leggings are thicker than tights, but not as thick as other trousers such as jeans or joggers.
They're nice, warm and cozy and give your legs good coverage.
You can buy leather leggings, cotton leggings, stretchy workout leggings, lycra leggings, jean-style leggings called jeggings...you name it. They are primarily designed for women, but can be worn by men, too. 
Leggings are typically made from a stretchy material as they pull on and off, and they usually have some sort of thick waistband to suck the tummy in and give you a streamlined appearance. 
Some leggings like yoga pants come with pockets to fit your phone, keys and essentials in, but most fashion leggings will not have pockets as they are designed to finish off your look and make your legs look slim and covered whilst keeping them warm. 
Are Leggings Making A Come Back? 
Leggings were everywhere during the noughties, and they've never really gone out of style, they were just not as popular as before. In the 2000s, you could find leggings in all shapes and colors and people would wear those things everywhere.
As their popularity began to dwindle and skinny jeans came back into fashion, you could still find leggings, but these were mainly used as yoga pants and comfort wear.
Nowadays, since all we seem to care about is comfort over everything else, leggings are back into our lives and into our hearts! This could be down to Marine Serre's iconic half moon leggings and bodysuits that took the world by storm.
Everyday people, influencers and celebrities alike were scrambling for these leggings, and even Queen B herself, Beyonce showed off her $300 leggings on social media. Very quickly, the fashion world has fallen in love with our trusty old favorite leggings again!
Beyonce wearing Marine Serre, 2019 (Image from: https://www.popsugar.co.uk/fashion/Beyonc%C3%A9s-Red-Moon-Print-Marine-Serre-Outfit-May-2019-46147737 )
But, you don't have to look dressed down to wear leggings. As Beyonce shows, leggings can look stylish when worn properly, and dressed up with a few accessories. So, how do you style your leggings?
How To Style Leggings?
Leggings are great for all seasons, but we love wearing them in the spring, fall and winter, when we can layer them up and keep ourselves feeling toasty warm.
Leggings look amazing underneath tunics, dresses and long tops as they can draw attention to your legs and give them a slimming effect. You can also double up with jackets, coats and scarves and really enjoy layering to make yourself look and feel good. 
We love the look of some leather leggings, whether they're a chic black, khaki, or burgundy, you name it.
Pair some leather leggings with a chunky knit, big boots, sunglasses and a quilted handbag or a tweed jacket for a sophisticated yet comfortable look that's perfect for running errands or hitting the shops, like this look:
Image from Pinterest: https://www.pinterest.co.uk/pin/111464159516603427/ 
You can also style leggings with a tee, paired with a long line cardigan or denim jacket for an effortless yet pretty and preppy look. We love the comfort a big, snuggly cardigan and leggings brings, so it's the perfect outfit for meeting up with friends for a coffee and a chit-chat.
Image from Pinterest: https://www.pinterest.co.uk/pin/250020216804194242/ 
With a few accessories such as hats, belts and a killer handbag, you'll look oh so cute in your leggings, but also feel comfortable and stylish all day long. It's perfect for city breaks or days where you'll be on your feet all day, as you can pair leggings with a sweet pair of sneakers and an oversized jacket.
Image from Pinterest: https://www.pinterest.co.uk/pin/123497214772527930/
Maybe you want a nighttime look, or feel like mixing it up like Hailey Bieber, with some skin tight black latex leggings, a leather jacket and high heels for a sexy yet stunning look: 
Image from Pinterest: https://www.pinterest.co.uk/pin/229472543503664750/ 
What To Look For In Leggings
This depends on what you want to use them for. If you want leggings for the gym, then opt for ones that are breathable, of a non-restricting and stretchy fabric, and with an inside pocket to keep your valuables in. 
If you want some comfortable leggings for everyday wear, then go for some with a high waistband to streamline your figure, or try some fur lined and thick leggings to keep you warm whilst running errands.
To create some interest and add a wow factor to your look, then try wearing some patterned, eye catching leggings! The most important thing you need to remember is that leggings should be opaque, not see-through, so choose thicker styles made of high quality fabrics so that you don't end up showing more than you intended! 
Where To Buy Leggings Now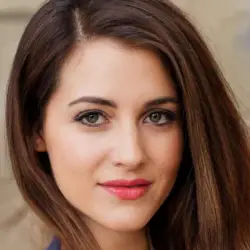 Latest posts by Maya Garcia
(see all)