Before going to the nail salon again and overspending on the latest trendy long nail manicure, why not consider rocking some classy short nail designs instead?
After all, especially in these uncertain times, it's not very economical to waste your money on some fancy nail job like a lot of women do. Also, there are some real advantages to having short nails which we'll get into.
And hey, short nail designs are really gaining popularity so you don't have to feel like you're missing out because we're about to show you several classy short nail designs and patterns that you can start using right now!
Benefits Of Short Nails
Before we get into further details and our top picks for classy short nail ideas, it's time to talk a little more about short nails vs long nails in general. Sure, long nails give you that feminine look and style, but short nail designs also go so well with different outfit styles.
Still, short nails also have a few aces up their sleeves, and the best thing is – you can still easily pair your nail designs with your outfit style.
That's why we'll discuss some of the main benefits of short nails to get you on the right track:
Short nails are easier to care for

There's a lower chance of breaking a nail

Less stress when using everyday items
So, it's not all about having the best nail art, although short nails still allow for some quite interesting ideas. There's also something to be said for the simpler maintenance and other advantages that just make short nails a logical fashion choice these days.
Easy Maintenance
Let's face it – as much as long nails can be appealing and sexy, they do require special attention when it comes to caring for them. You'll have to use a soft nail file for gentle or weak nails to prevent them from breaking.
Also, if you desire to have naturally long nails, it is recommended to use biotin, which is a supplement that helps to strengthen nails. Unfortunately breaking a nail is one of the main concerns when it comes to keeping longer nails. 
You'll also need to find a subtle nail polish remover as ones with higher amounts of acetone can damage your nails.
Overall, IMO, shorter nails are just a better solution when it comes to avoiding all the mess associated with long nail maintenance.
Prevent The Chance Of Breaking
Long nails tend to break often and that's a fact. There's no escaping it, and sometimes even tiny scratches can make for a huge long-term problem. With short nails, the chances of breaking are drastically lower and you won't have to experience such pain.
However, that doesn't mean that you won't be able to have a nice-looking set of nails just because they're not long.
More Convenient For Everyday Needs
If you tried typing a message with longer nails, you are probably aware of how impractical they can get. Your everyday routine requires you to use your fingertips without an obstacle that longer nails can truly pose.
By keeping your nails short, you'll get more everyday convenience in nearly any activity. Also, you won't have to be obsessed with keeping your nails without a scratch as short nails are much more immune to breakage.
Our Top 20 Classy Short Nail Designs 
Finally, we come to the fun part – our top picks for the best nail art ideas that will get you on the right track with a short nail design. We'll cover some stunning short nail designs to show you that you don't have to spend too much money on manicures while still achieving beautiful nails.
Moreover, you can have an eye-catching nail design and the utmost practicality of having short nails as a perfect combo!
1. Short Pink And Glitter Nails
If you want to keep your short nails classy, and yet have some fun at the same time, there's no better option than some pink polish with glitter. For a beautiful effect, you can mix up the shades a bit, or have two shades alternating for each finger.
By adding a bit of silver glitter on one finger, you will have both a fun design, and a classy new look. This combination works wonders for anyone that wishes to maintain a wide range of outfit options that work well with this style.
The color combo makes an eye-catching nail design, without exaggerating colors or glitter combos too much.
2. Nude And Pink Combinations
You can't go wrong with a nude base for your short nail design. It makes for a classy option with nearly every outfit style, and a variety of nude color shades can be used to make a sophisticated statement.
You can even pair different nude shades with a bit of gorgeous pink polish on just one finger to include some diversity, yet maintain a classy look.
This combo makes one of the best designs for short nails overall, and you won't have to visit a salon to achieve it. If you want to make it a bit more fun, you can add some glitter to gain that extra little sparkle.
3. Metallic Short Nail Design
One combination that you will absolutely love is the metallic short nail design. All you have to do is experiment a bit with metallic foils. These might need to be placed on during a manicure, but can easily be removed with some heat and from the comfort of your own home.
You can find metallic foils in several color variants, and for a classy look, search for single-colored foils. The film can be easily peeled away with a bit of heat applied and you can use a protective polish on top. 
Some of the best color variants for metallic short nail art are purple, pink, orange, and blue. It also works well in combination with a bit of rose gold glitter if you decide to go with a soft baby pink color for metallic foils.
4. Black And White Combo
To step away from pink and purple variants for a bit, we'll introduce you to one of the most popular short nail art designs – simple black and white. These can be used in numerous combinations.
You can either apply white nail polish on one half and black on the other. It works best with patterned designs as you can paint small black dots in white polish. For a classy design, you can also go one nail at a time with black and white variants. 
White nails make one of the best classy options as they go with almost any type of outfit. However, with a black combination in the mix as well, it's all up to your imagination as to how you will pair the two.
5. Sky Blue And White Nail Art
For a tropically-looking summertime combo, you can pair a soft blue polish with white polish for a classy and cute mix. You don't even have to experiment with this combination – it's enough to polish one nail in blue and one in white.
An addition of a small flower pattern on a blue nail can be just enough customization if you want to experiment a bit. Either way, this combo works great as one of the best classy short nail designs.
White nails always go great in any classic outfit combination, so the mix with blue polish can work splendidly. It's just left up to your personal preference.
6. Classy Red Nail Polish 
Let's not fool ourselves, the seductive red nail polish is as classy as it gets for a short nail design.
It's one of the all-time favorites among classy short nail designs, and there's no need to experiment by adding any additional shades or glitter.
Red polish arguably looks as good on short nails as it does on longer nails, so it's an obvious choice for any occasion.
7. Blue Nail Tips On Nude Nails
You've probably heard of the french manicure technique where the tip of your nails is painted in white polish. This time around, let's try something a bit more exotic-looking and still maintain a classy short nail design.
The combination of nude nails with slight blue french tips. It won't be the most noticeable nail design for when you need to maintain a serious look, but it still looks fashionable and goes well with most outfit combos.
This uniquely-inspired design is among the best french tips you can apply, as the blue color complements nude nails unexpectedly well. 
8. Dark Shade Nails
It should be easy to maintain and goes well with classy outfits for when you want to maintain a serious appearance.
These may not be the best option for the summer season, but we thought that you needed at least one neat-looking backup option for colder seasons. 
9. Green And White Combination
One of the best short nail designs that looks both fun and classy is the green and white pattern. You can even add a bit of vivid green glitter shade for one of the best classy nail ideas. 
If this combo seems too fun and engaging, and you are looking for something more serious, you can opt-in for dark green patterns. It's yet another combination you can make with white nail polish. 
10. Star Design Or Nail Stickers
Another idea for a nude base short nail design is to add star patterns or use star-shaped nail stickers. These even look better on short nails than on longer nails, and you won't stand out from the crowd too much when a classy look is needed.
On the other hand, placing stickers won't damage your looks or your maintenance routine. They are easy to take off, and most nail stickers can stay on for quite a while, even up to 5 days. 
Because of this, you can use this combo when you don't feel like experimenting with nail polish too much, and just want to be modern and classy without much effort.
11. Accent Nail Idea With Different Patterns
One of the best classy nail art designs that's both classy and fun is the accent nail pattern. It's an idea where one of the nails stands out in color or glitter when compared to the other four nails that are all polished with the same color.
This way, you can truly make that one nail stand out from the crowd, and there won't be too many colors to make it seem unprofessional if you are going to work. For a perfect blend of classy look and style, your accent nail can simply have a little bit of glitter, or a couple stripes. 
12. Flower Nail Designs
Short nails with flower nail art never seem to fall out of fashion, and they also make one of prettiest options when looking for classy designs. It's a perfect compromise between a colorful and classy design.
You can have nail art in a single color, and an addition of small white flowers on each. You can also have the flower pattern on just one nail on each hand – there are so many options for you to go with.
Either way, you might need to visit a salon for this one, unless you are a talented artist yourself, or you can choose some more convenient options. Flower stickers are always a good pick, and you can remove them as you please, or leave them on for as long as they can endure.
13. Bright Color Nail Art
One of the best short nail designs that seem classy and simple is to go with bright color polish. Among them, you can opt-in for a bright orange polish that will truly go along with any of your outfit selections.
Sometimes you can even fit a yellow polish, although this color may not seem as classy as some shades of orange. Whatever your choice may be, these warm colors will make your day without any need to visit a salon, and they seem professional and classy at the same time.
14. Rose Design For Short Nails
If you are eager to get the best classy short nail design, going with a rose pattern might be one of the best nail ideas. There are two options here – either visit a salon for the small rose patterns or use a nail sticker.
Both options seem appealing for specific reasons, as you might get a longer-lasting rose pattern with a manicure. However, if you want to find an affordable short nail idea that seems classy enough, you can go with the stickers as well.
Overall, it's a beautiful pattern that should suffice when painted on just one nail instead of all nails. Unlike the flower pattern we already discussed, roses leave a powerful impression and if you want to maintain classy nails, it's enough to use the pattern on one finger alone.
15. Golden Foils On Pink Nails
When you see a girl wearing golden foils, you might think that she spends hours at the nail salon. However, you can do this yourself without any help by pairing the golden foils with beautiful colors like pink or even with nude colors!
A thin layer of gold foil over pink nails looks not only stylish but also unique. You will have an original nail pattern with not that much effort. Because of this, pink and golden foils make a great combination if you wish to maintain a classy nail look.
16. Dotted Short Nails
One of the best options for short nail art that seems classy and exciting is a dotted pattern. From a simple option like black dots on white nails, or something more fun like red dots on yellow nails, all the combinations of this pattern seem great.
You can experiment as much as you like with this type of pattern, and it won't seem exaggerated. Stylish dots can even be paired with the accent nails method, so you could have only one dotted nail on each hand.
Whatever your choice may be, these look chic and modern in numerous color variations, and we named just a few to give you some ideas.
17. Matte Grey Short Nail Polish
Another short nail design that you just can't go wrong with is using matte grey nail polish. Among all the classy nail ideas, this one has one of the darkest tones to it, but it, either way, it's still classy and makes for a nice change when compared to bright color polish variants.
This polish can also be used for accent nails and it goes well with different shades of gray. It even makes a nice combination with black nail polish, and it all depends on your preference when it comes to how you will use it.
18. Gradient Polish And Glitter
For everyday wear, you might want to consider gradient nail polish and glitter. It looks classy enough without losing out on the stylish pattern that spreads across different shades of a certain color.
Some of the best colors to pair with this nail technique are pink, blue, green, and yellow. You can also use gradient glitter which will look a bit more stylish. Still, if you want to maintain a classy look, it could be best to use just the polish.
Some options like pink gradient polish might surprise you, while you might need to visit the nail salon to make this nail design a reality.  
19. Pastel Nail Colors
Pretty pastels are never out of fashion, and the same goes for their application for classy short nail designs. Some of the best pastel shade options include pink, purple, and pastel blue, as these colors make the best impression with pale shades.
You can also do pastel nail tips if you don't want to cover the entire nail in this colorful technique. These faded colors are perfect for the summer, and they still make a classy option without being so noticeable at first.
Overall, pastel shades make a solid option for any color variants that you might think about. Pastel blue stands out as one of the best classy pastel options that work great with summertime outfits and for any occasion in general.
20. Marble Nails
One of the best ideas for classy short nails is the marble nails design. Not only does it seem as classy as it gets, but the beautiful marble patterns also make it seem like you've spent hours at the nail salon getting a manicure.
In reality, it only takes about 30 minutes with gel polish, and you might even be able to pull it off yourself without visiting the salon. Marble design is without a doubt one of the most beautiful short nail designs, and it doesn't matter which color you pick. 
Still, if you want to go with the absolute best option, you should choose white marbled nails for a superb classy look and appeal.
Final Thoughts
Now that we've gone over some of the best short nail designs, you will be equipped with great ideas to combine the classy look with an exciting pattern. From using the classic crème polish to accent nails and glitter variants – you'll have it all at your disposal by going through this guide.
Hopefully, we were able to give you at least a glimpse of how easy it can be to get a beautiful and classy short nail design without that much effort.
Frequently Asked Questions (FAQ):
What are the best ideas for classy short nails?
You can learn about the best ideas for glitter nails, pastel colors, foils, and accent nails from our review of the best classy nail art designs. Sticking with short nails doesn't have to be boring and can be a balance of beautiful and classy.
How do you style short nails?
Some of the best styling ideas for short nail designs include french manicures and metallic foils. Also, you can apply nail decals and different patterns like dotted or flower patterns for impressive styling and much less maintenance when compared to long nails.
Can short nails be as pretty as longer nails?
Not only can short nails be just as pretty as long ones, but you could also experience much easier maintenance and longevity with short nail designs. Not to mention you can use many of our listed classy nail patterns to make your short nails just as fashionable as long nails.
What colors look best on short nails?
Overall, some of the best short nail colors include nude colors, pink, blue, red, and white. Still, you can experiment with different shades and color varieties to get an amazing classy look.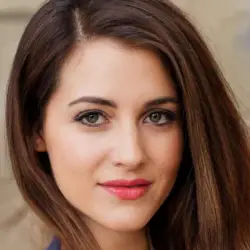 Latest posts by Maya Garcia
(see all)