You don't have to visit the salon and spend a fortune to achieve beautiful nail designs.
However, if you're new to doing your nails, you might be stuck for inspiration.
In this article, I will cover 14 pretty nails designs for a variety of different occasions. So, next time you want to do a manicure at home, you can have plenty of ideas in your back pocket!
Keep reading to find out more.
1.Floral Nails
 
Floral nails are a winner no matter what season you're in, as there are so many different flowers to choose from.
From snowdrops in winter, to roses in summer, your options for floral nail designs are truly endless. To paint a rose design, pick a green base shade like the one in the photo as well as another few shades of green and a few shades of pink, too.
You can paint one large rose or multiple small roses like the photo for a beautifully feminine design!
2.Ombre Nails


If you're a fan of ombre hair, then you're bound to love ombre nails! To achieve this popular nail design, you simply need to choose 3 to 4 colors that work well together.
Whether you opt for colors that fade from light to dark or choose a bright display, you can choose a variety of different colors that complement each other and apply them to a sponge in a line.
With winter coming up, why not go for a vampy red to black ombre nail?
3.Glitter Nails


There's nothing quite like a glitter manicure and pedicure to get you into the holiday spirit! When adding glitter, you can opt for a variety of different base colors depending on your preference, as glitter truly suits any shade.
For this glittery look, simply opt for a pink or nude base color before applying a sparkly glitter nail polish. Seal everything with a glossy top coat, and you'll be ready to attend all of your christmas parties in style!
4.Natural Nails
Who said natural nails have to be boring? If you prefer a more muted and natural nail for work or school, there are a variety of natural pink shades out there that work beautifully.
The best thing about a natural manicure is that it closely resembles your natural nails, but can make you feel much more put together without a tonne of effort! For those days when you just want to strip it back, skip the extravagant design and go natural.
5.Sponge Art Nails
Sponge art nails are one of my favorite DIY hacks to make super easy nail designs that look like you've had your nails done professionally.
From ombre to gradient to chevron nails, there are numerous pretty nail designs you can do in the comfort of your own home with your favorite nail polishes and a sponge. Simply apply the colors to your sponge, dab the sponge onto each nail, and finish with a top coat! It truly couldn't be an easier style.
6.Tie Dye Nails
If you're looking for a summery nail design that is perfect for any festival, then these tie dye nails are the perfect choice for you!
Choose from a variety of different colors, the brighter the better, and just have fun with it! The best thing about tie dye is that no two designs ever look the same, so you don't need it to be perfect or uniform and can really let your creative mind take over. 
7.Polka Dots
Polka dots are a timeless classic that make the prettiest nail designs. To create this fun rainbow polka dot nail design, simply grab a variety of your favorite nail polishes and let your creativity flow! 
You can create different designs with your polka dots, whether it's a design that covers the entire nail or only part of the nail, from diagonal patterns to horizontal dots.
You can easily make polka dots with numerous nail art tools. Alternatively, you can use a toothpick.
8.Matte Nails
Matte nails are both trendy and the perfect addition to any outfit no matter the season, although they are usually associated with fall and winter nail designs.
Matte designs take away the glossy, high-shine sheen to your manicure and instead provide a soft, muted finish that is truly unique. If you like experimenting with different textures, matte nails are well worth a try!
You can even get matte top coats that add a new dimension to all of your nail designs.
9.Neon Nails
If you're looking for a bright and fun nail design, why not opt for a neon nail polish? Perfect for the summer, neon nails have grown in popularity over the years.
Summer is the perfect time to experiment with numerous bright colors, and there's no better opportunity to trial numerous neon colors.
From block neon nails, neon borders, and endless neon patterns you can create, neon nails are the pretty and eye-catching design you've been waiting for! 
10.Geometric Nails
Geometric nail designs have become more and more popular over the years. The best thing about these designs is that they look complex, but are super simple and can be easily done at home even if you don't consider yourself a super creative person.
All you need for numerous geometric designs is scotch tape, your favorite nail polish colors, and you're all set! Use different color combinations that go well together, or contrasting colors for a more abstract design.
11.Striped Nails
Striped nail designs remain as one of the most popular manicures today, and the best thing about them is how simple they are to recreate yourself.  
You can easily create your own nail stripe designs with a variety of different
[amazon fields="B08ZSN22HC" value="thumb" image_size="large"]
From criss-cross stripes, to horizontal to vertical stripes, you'd be surprised how easy it is once you've got the right tools to hand.
Once you've perfected these nail stripes, it can help you achieve the perfect French Manicure design, too.
12.French Manicure
It doesn't get much more classic and versatile than a French manicure design. You can adjust the thickness of your nail tips depending on your mood, and can even swap out the classic white tips to a variety of different colors.
To achieve the classic French manicure, you simply need to paint your nails with a light pink or nude color. Following on from this, take a white and mark out your nail tip. Finish with a top coat to lock everything in place and you'll be left with a timeless nail design perfect for any occasion.
13.Animal Print Nails
If you're looking to take a walk on the wild side, why not opt for animal print nails?
From zebra, to cheetah, to leopard print nails, you can experiment with a tonne of different designs for a fun manicure. To achieve this look, simply apply a base coat to your nails. Using black and gold colors, paint the leopard spots, before finishing with a sleek top coat.
You can even put a spin on the classic black and gold color of this design, and opt for a rainbow design.
14.Nail Stickers
For more intricate designs that you can't easily achieve with a nail paintbrush, nail stickers are a fabulous way to create pretty nail designs.
From butterflies, to fruit, to rainbows, the options are truly endless. Simply apply your nail polish as you normally would, cut out the sticker, wet it face down, and remove the plastic sheet. 
If you want to create some truly intricate designs with not very much effort at all, then nail stickers are the perfect choice for you.
In summary
Hopefully after reading this article you have plenty of inspiration for pretty nail designs that you can try in the comfort of your own home!
Get creative and experiment with a variety of colors, and invest in some nail tools to help you on your way.
Enjoy!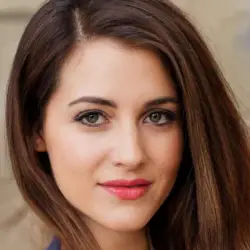 Latest posts by Maya Garcia
(see all)