Looking for the best cute baby blue nail designs? Whether you want a simple design or something more intricate, there is a look for you. Here are some tips to help you get started: 
First, consider your preferred color palette. Baby blue is a great option for those who prefer less intense colors in their nail art. 

Second, choose a design that flatters your nails. 

Third, be sure to take into account the shape and size of your nails when creating your baby blue nail art. 

Finally, use a top coat to protect your nails from fading and chips.
Once you have decided to go with a single-color nail design, what better option could there be than baby blue nails?
You can wear them in any season, combine them with different styles like glitter nails, or add stickers to make the most out of using a single color for nails. 
If you've never tried baby blue nail variants, don't worry – we've got you covered with the nail trend ideas below!
Why Go With Light Blue Nails?
Cute light blue nails can be a great change if you've never tried out the combinations that can be made with this color.
And while there are many different variations on using nude nails or pink colors, you probably aren't aware of the benefits that come with light blue nails.
These are some of the main benefits of using a light blue color for a nail polish or design:
Perfect bright color for the summertime
Goes well with both party and classy outfits
Many combinations to try out without needing salon manicures
Doesn't require a complementing color for a beautiful look
With a blue nail design, you can have versatile styling that's especially beneficial for the summertime. Not only will you be able to match it up with different types of outfits, but you could also maintain a stylish and classy look.
Let's be honest, not all the colors work so well when it comes to wearing your nail design for all sorts of different occasions. Flashy colors might not be the best idea for work or occasions of a more serious nature.
That's where the baby blue nail idea shines, as it makes a perfect blend of a simple manicure, yet a stylish design. The best thing is – you can try out most combinations without having to visit a nail salon.
Baby blue on its own complements the skin tone quite well, so you don't need to mix it up with other colors for a beautiful combo.
The Best Cute Light Blue Nail Designs
Here are some of our favorite light blue nail colors that are both stylish and cute and we're certain you'll find your next nail idea here.
From subtle to standout, these color schemes will have you reaching for your favorite polish in no time.
Matte Light Blue Nails
If you are not that into shiny nail polishes and wish to try out something new, a matte light blue nail design might be the one for you. You simply apply the nail polish and pair it with a matte top coat.
You should be careful with this nail art design since you can't blow on the matte coating to dry. It takes some patience, but the end result might be worth your while. Matte blue nail art is unique and it still doesn't change the baby blue impression of the color too much.
Light Blue Nail Tips
Who said anything about forbidding the french manicure with the light blue color? Instead, you can pair it with a neutral shiny polish and apply a layer of light blue on nail tips.
It makes a super cute idea with a subtle layer of baby blue nail ends. You can be ready for a special occasion, or running an errand as this variation is as versatile as it gets.
Flower Patterned Baby Blue Nails
For playful and trendy baby blue nails, you should consider a simple baby blue pattern with tiny white flowers. You can either achieve it with a manicure or with small flower stickers that go on top of your nail polish.
The nail stickers will remain on your fingernails for up to 5 days, and this combination makes a gorgeous option for the upcoming summer. It goes along perfectly with all kinds of outfits and doesn't require much maintenance, especially if you opt for stickers.
White Cloud Pattern
Another great idea for light blue nails is adding a cloud pattern on top of the nail polish. This nail art design makes for a colorful choice like no other with a simple combination of cloud stickers or nail art.
This also works great with all types of looks and outfits, and white clouds can truly come to life in a light blue background. 
Blue And Glitter Accent Nails
The next nail idea is just combining a simple baby blue color with one silver glitter nail for an ultimate summertime combo.
This nail idea is also easy to achieve, as all you need is a baby blue polish and some silver glitter for the accent nail. You can also include different glitter patterns if you want, and you can probably handle most of them without having to pay for manicures.
Light Blue And Pink Nail Art
Regardless of your nail length, one combo that never gets old is a mixture of baby blue nails with a bit of pink polish. These are gorgeous nails for any occasion, and the baby blue color is accentuated even more with a complementing pink shade.
It's a perfect choice for the summer and can benefit your fashion style since it goes well with most outfits. 
Butterfly Pattern
You will love how your baby blue nails look with the addition of butterfly patterns. The butterflies make a great design to put on baby blue nails, and if we had a choice, we'd go with some white butterfly nail art.
It's a gorgeous combination for your next manicure and a perfect choice for both summertime parties while still maintaining a bit more classy look. 
You can also apply butterflies stickers on light blue nails if you want to get a more convenient and affordable solution.
Ombre Baby Blue Tips
The Ombre light blue nails are among the best trendy and modern blue nail ideas.
Baby blue nails might be the best base for this manicure style since the fading color beautifully presents as a gradient.
It works great for both short and long nails, with a preference often put on longer nails.
Final Thoughts
Overall, baby blue nails make one of the best color variants that are not flashy and are yet engaging and fun. Especially in the summertime, you will love the above ideas and hopefully decide to try out at least one of them.
Baby blue nails for great both for short nails and long nails, so all you have to do is pick your preferred style!
Frequently Asked Questions (FAQ):
What occasions are baby blue nails best for?
Baby blue nails are quite versatile, as you can use this color and pair it up with all sorts of outfits and occasions. They might work best with summertime outfits as they tend to give off a bit of sunshine and outdoor fun vibes.
What are the best light blue nail patterns?
Some of the best light blue nail patterns are gradient patterns, glitter accent nails, and sticker patterns like flowers, butterflies, and clouds.
What do baby blue nails mean?
According to some superstition, the hidden meaning of blue nails is that you are emotionally involved with a boyfriend, or at least that's what the latest online trends suggest.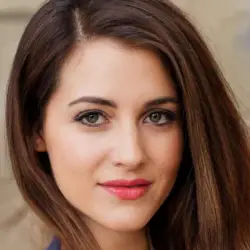 Latest posts by Maya Garcia
(see all)