Having great nails can make or break an outfit, especially in the summertime. Nails can not only compliment a cute summer dress or those pink denim shorts you've been dying to break out of your wardrobe all winter, but they can also help you feel fabulous.
And who wouldn't want to feel fabulous during the summer? Nails can even help you define your whole personality and live those summer days out to the fullest whether you're a floral girl, a matte girl, or a pastel color girl, let this summer be the best yet and have the coolest nails in town.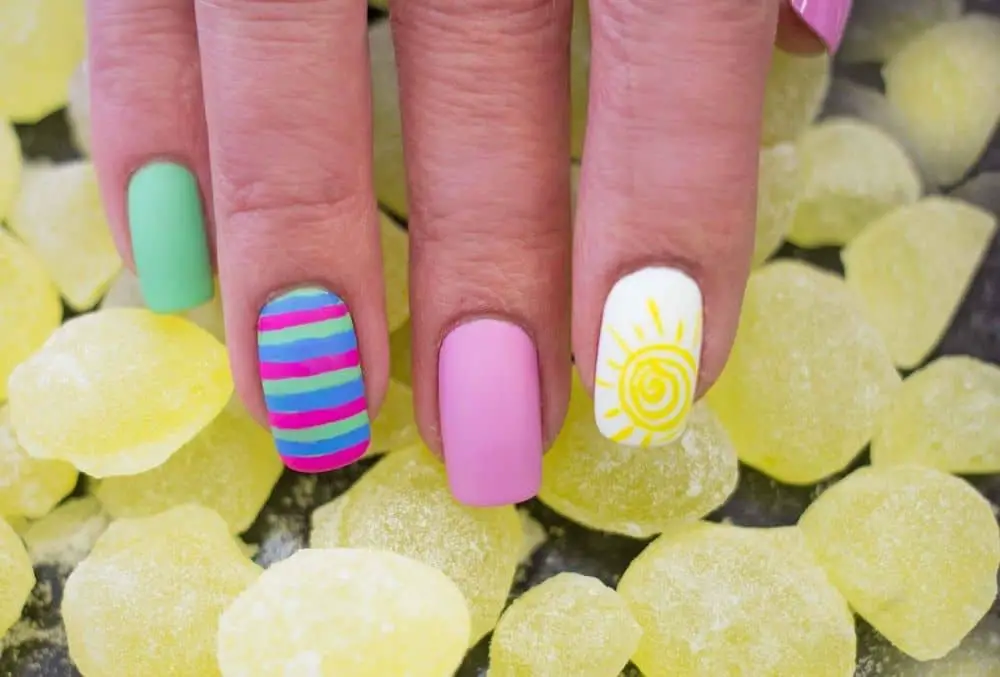 With so many different types of nail designs, it can be hard to narrow down your favorites and make that all-important decision at the nail salon.
From easy summer gel nails to sophisticated and elegant designs, to bright and bold colors, this article highlights some popular summer nail designs to point you in the right direction.
We have looked at designs according to style, what effect they will give off, as well as how much time they take to get right, so let's dive in! We promise there is a nail art design on this list that is perfect for you.
Golden Stripes
Golden striped nails make you look like a summer goddess and look perfect paired with a gold bikini.
Add some gold accessories to your outfit if this design is for a night out and if you want to be super brave, you could even pair them with some gold lipstick or eyeliner.
Butterfly Nails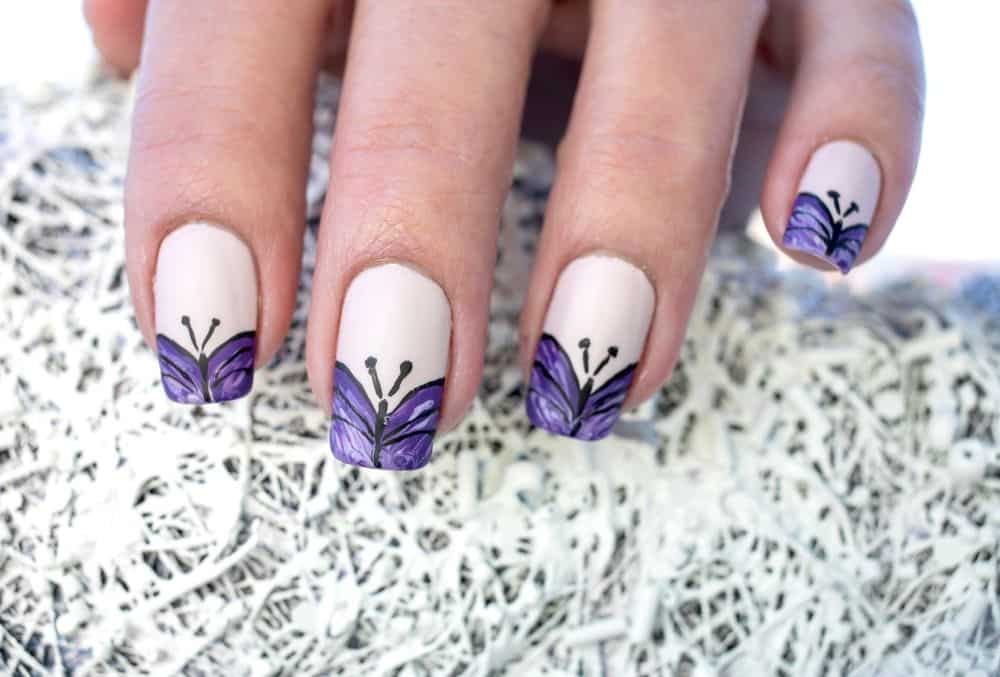 Butterfly nails might take some time to get right but can look incredible when finished. Opt for a yellow or orange base coat and with a fine liner, sketch the wings of a butterfly that stretches over two nails.
Matte Feathers
For this design, perhaps experiment by painting every nail a different color. This will help create a colorful variation that is perfect for summer days.
You can paint them according to preference, whether that includes bright colors, pastel, or even ombre. If you have feather designs on your nails too, it will create a stunning nature-like effect.
Diamond Nails
Adding sequins or diamonds to your nails can be perfect if you want to stand out from the crowd. Try pairing these with an ombre effect for a total glam look.
Bundle Of Sunshine
To achieve this look, use an off-center vertical design that reminds you of a retro 80's look. Use warm pastel tones and we know this design is going to put you in the best mood.
Sand Nude Manicure
The nude colors are often suited for business ladies and this is why this design is perfect for those summer business trips. If you want to look professional whilst still staying beautiful, this design could be the one.
Beige outfits complement this design well and you could even add some sequins to stand out in the crowd.
Lemonade Nails
If you have a bright and bold personality, these could be the nails for you.
Fruity nail designs are perfect for showing your fun side and lemons and oranges are great citrus fruits that will put you in the ultimate summer mood. Think how fabulous they will look wrapped around a long glass of lemonade or a mojito.
Flamingo Nails
If exotic nails are what you're after, look no further than these flamingo nails. Simply achieve this design by painting flamingos on your nails. Although this might take time, we promise this unique look will be worth it.
Space Marble Nails
If you're a fan of the marble nail, add in some sparkle or different shades that are even brighter and bolder. Create a space effect by merging these shades and get ready to impress all your friends.
Chasing Palm Trees
Nothing screams summer more than a palm tree on the beach so why not add this design to your nails and pair it with a bright pink and teal combo.
Sunny Flowers
Summer is the perfect time for floral patterns and adding flowers or fruit to your nails can put you in the happiest, most joyous mood of the season.
Using bright colors for this design will make you feel alive as well as catch the eyes of all your friends. Expect lots of compliments and smiles with this design on your nails. We promise you'll be the embodiment of summer.
Sunset Nails
If you're a fan of watching sunsets on those blissful summer evenings, why not paint one on your nails. Use shades of red, orange, and white to create an explosion of color and if you use these colors to create an ombre, we promise you'll get some definite nail envy.
Sparkled Edges
If you want a little sparkle, but don't want to overdo it, paint your colors a summer color of your choice before painting the tips with a touch of nail glue and dipping into a pot of sequins for a dazzling look.
Romantic Negative Space
A romantic design, the negative space design will look amazing with a cocktail dress or summer skirt. It's simple yet effective and you can be as creative as you want with the color. We recommend a subtle pink or pastel color.
Triangle Tips
Geometrical shapes such as triangles can be super cute and also make for a very unique design. It's a design that can be paired with both everyday outfits and summer evening dresses and it allows flexibility for you to experiment and play around with the color scheme.
Rose Mermaid Nails
This manicure will give you a sunkissed, romantic kind of look, perfect for those date nights on holiday. Subtle colors work with a range of different dresses and will compliment natural makeup well.
This means they are great if you want to keep that natural look of being in the sun all day whilst going out in the evening.
Seashells
Show off your mermaid side with some seashell nails this summer. Add some aquatic decor and sparkly blue dips to make it seem you've just dipped your hands in crystal blue water.
Hot Pink French Tips
Think of the classic french tip look, now imagine this style in a hot pink color. A modernized option of the traditional nail design, this gives you the same amount of elegance but with an extra pop of color.
Watermelon Nails
Watermelon nails have increased in popularity over recent summers and for good reason.
They're fun, creative and promise to put you in a great mood all day. This unique design also is interesting and perfect for expressing your bright personality. We're a big fan of fruit designs for the summer!
Tie-Dye Nails
A groovy and cool nail design that will show you are up to date on all the current trends. You can DIY this design at home by adding drops of different colors in a dish and swirling with a brush before adding to your nails.
Spots And Stripes
With patience and a little time, adding extra patterns to your summer nails can make all the difference.
Turn your manicure into a masterpiece by adding a brighter coat of spots or stripes on top of your neutral or pastel color for a relaxed yet funky summer look.
Purple Orchid
If you love orchids and you're fond of the floral pattern, opt for this nail design to complete your summer look. We promise you'll look both positive and extremely feminine, and don't be afraid to mix up the colors.
Pastel French Daydreams
Pastels are a firm favorite nail color in the summer. They're subtle yet effective and by combining them with the classic French tip style, you'll be on your way to a total retro design.
Neon Nails
Now, we know this is a bold choice and it could be very risky, but if you get it right, you could be the star of the show. Don't be afraid to pair some bright pink or yellow nails with that daring summer dress you've been hiding away and if you want total glam, you could even add some rhinestones.
Neon Bolts
Add some neon bolts to your nude base layer for a graphic and playful look. It's a show-stopper design that promises to impress.
Hot Geometric Nails
This design is not only perfect for summer but will make you simply irresistible. Wear it with a nice dress, subtle makeup, and wavy hair for the ultimate summer evening look or if you want a more casual look, use simple nail varnish or create an ombre effect.
The geometric patterns also promise to make you feel sophisticated and elegant.
Tooty Fruity
Add a cocktail of your favorite summer fruits for a tooty fruity look. Try using watermelons, oranges, bananas, and strawberries for an irresistible design.
Leopard Print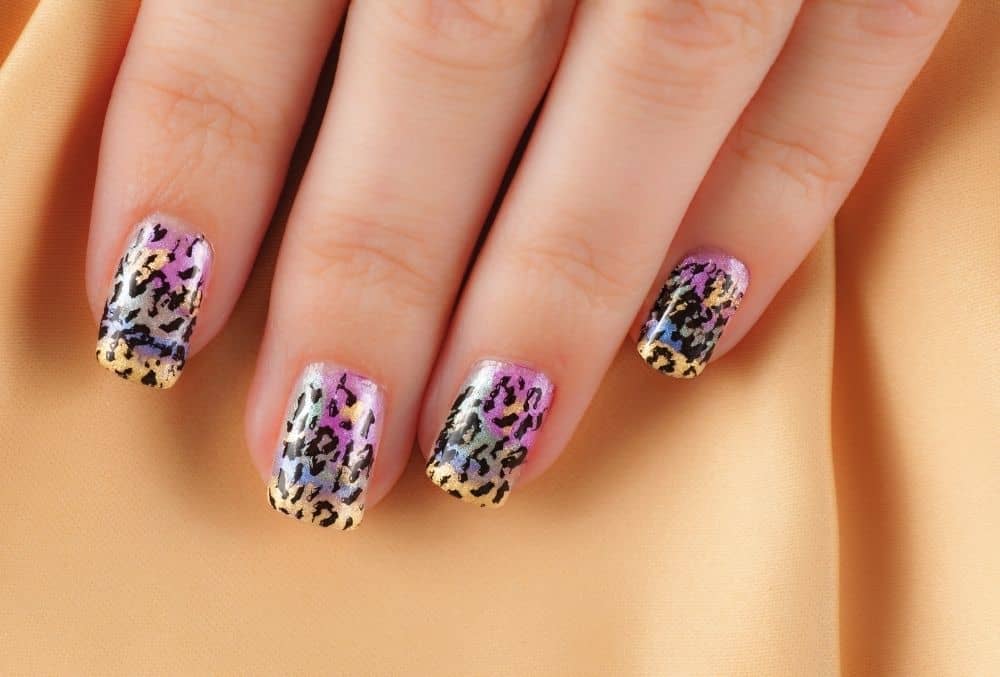 Leopard nails go great with darker colors and so this could be the design for those big nights out on your summer holiday. A black or brown midi dress and some killer heels to pair with these nails will make you look like the biggest diva in town.
Marble Effect
If you love the popular marble effect or you love the grandeur of the marble material, why not try adding it to your nails. It's bold, pompous, and eye-catching and can complement almost any outfit.
The Sun And Sea
Using the colors of the sun and sea is a perfect mood booster. Create some bright blue waves and pair them with sandy base coats.
Strawberry Nails
Nails with strawberries on? What's not to love? We know fruity nails go down well in the summer and what better fruit than a summer strawberry. We know this will look great with that bright pink dress you're dying to wear.
Retro Waves
Retro designs in the summer are a staple of the season. Show off your 60s and 70s spirit with this design using bold colors paired with petals, wavy lines, and lots of swirls.
Lime Punch
If you want a color that's loud and bold, whilst catching the eyes of everyone around you, opt for a lime. Bright green neon nails look great plain as the color speaks for itself!
Rainbow Nails
Coming into fashion more recently, try experimenting with different colors. Paint each nail a different color or add two colors to one nail. Though this is a bold look, when paired with the right outfit, can show off your fun personality.
Abstract Color Waves
Use some asymmetrical shapes and forms to achieve this look and don't be afraid to switch up the colors. Add some colored blocks, or messy swoops, or even some squiggly swirls if you want to be extra daring.
Turquoise And Gold Stripe Nails
Use a turquoise color on some of your nails and create gold stripes on the other. Don't be afraid to experiment to find as many different patterns as possible.
Gold Liquid Ventian Terrazzo
This design works best on almond-shaped nails and with a clear base. Add some splatter of different shades across the tips and line up with gold for a classy and elegant look.
Retro Florals
Retro floral might remind you of Austin Powers but can look incredible on stiletto or almond nails. Use a beige color palette and pop the flowers on the corners of your nails.
Bright Geometric Designs
If you're a fan of the geometric nail design, be bold and brave and try adding some neon or bright colors. These colors paired with a triangle or square will make you look daring and kinky and boost that self-confidence like no other design.
Emoji Nails
Emoji nails are a fun and funky new design that has become popular in recent years. Choose your favorite emojis and pop them on top of some beautiful pastels.
Colored Leopard Print
You don't have to simply stick to black and brown when painting a leopard design. Instead, add some vibrant and brighter colors to the design and fill in your spots with a color that's going to pop.
Simple Peach
Sometimes, simple is best right? If you don't have the time to create a sophisticated pattern, go for basic peach and this will look great with those nude or pastel outfits you have planned for the beach.
Lilac Nails
Lilac nails look great with every skin tone and depending on the shade, can be completely versatile to match a range of different outfits. The pastel can make you look both elegant and playful and should be a staple every summer.
Beach Nails
If you want to be trendy during the summer, try out a beachy design for your nails. To achieve this design, simply mix the colors of the ocean with some sun colors such as yellow or orange.
Matte Nails
We all love a matter color and choosing some neutral or pastel matte colors for summer might be your best decision yet. You could even jazz this up and add some sequin nail polish on top of one of the nails. We recommend either gold or silver.
Denim Blue
Simple but significant, painting your nails a denim blue might be easy but will surely make a statement. Pair with your favorite denim shorts or jeans.
Summer Stars
Add some colorful graphic stars on top of your nude nails for an elegant yet fun look. To make this look stand out, even more, add some real sparkles to shine.
Double Frenchie
The double french look on your nails reminds us of that classic French Tip look yet makes it that bit more fun for the summer months. Simply add in an extra line across the middle of your nail and if you want to, you can even experiment with colors too.
Beach Stripes
We don't mean stripes of blue and sand again, but stripes you see on a beach towel, or a beach umbrella, or a vintage swimsuit. To achieve this look, use blue, white, orange, yellow, and red colors to create vertical stripes and get you thinking about a retro summer.
Studded Nudist
Add some studs along your nude base coat to jazz up any outfit. Where you place the stud is optional but we recommend using a subtle gold color for a sophisticated look.
French Tip Revolution
Add color blocks to the classic French Tip design and use colors that are opposite on the color wheel for an interesting yet complementary match that promises to pop.
Final Thoughts
Whether you're feeling bold and daring, or want to stick with a nude or pastel color, finding the perfect nail design will hopefully be a lot easier after reading this article. Don't be afraid to experiment and change up your look this season, we promise it will be worth it!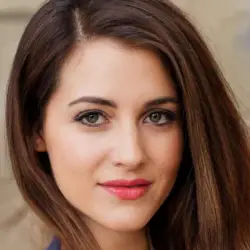 Latest posts by Maya Garcia
(see all)