Are you feeling tired and fed up with your wardrobe? Do you look at your clothes and feel bored and uninspired? Do you want to enjoy and embrace fashion, but are you not really sure how to do this?
Well, you have come to the right place. Here, we are all about encouraging you to enjoy fashion – and being on trend does not have to be intimidating in any way. You can be on trend in a way that works for you – you do not have to copy the catwalk to be in the know with what is in style right now.
The best thing about fashion is that it allows you to make fashion trends your own, no matter what your personal style is.
Here, we are going to focus on the inverted triangle body shape in terms of outfits. Dressing for your body shape is a concept that people do not tend to rely on too heavily, nowadays, people just want to wear whatever they want to, and that is the absolute joy of fashion.
However, here we want to break things down in a much more approachable way – and we want to go into more detail about how you can accentuate your best features, whilst still being confident and comfortable in your style.
Fashion does not have to be intimidating or scary in any way – it is all about experimenting, but this is something that you should ease your way into. In order to do this, you need to just work out what you like and then you can go from there. 
So, when it comes to having an inverted triangle body shape, your shoulders are your most prominent feature so you need to dress to show off your shoulders! Do not be afraid to show off your shoulders with some bardot tops, or bandeau tops.
Having an inverted triangle body shape means that you can be somewhat self conscious of your shoulders being out, but we think this is the best way to dress to suit your style – especially during the warmer months, or if you are wanting to dress a little bit fancier for a special occasion then you can pick a dress especially to suit this. 
In this piece, we want to leave you feeling inspired and feeling a lot more confident to go and express your style. The whole point of clothes is so that you can show off your personality, and this can be in whatever ways you want.
You might prefer more monochrome colors with bold accessories, or you might love a funky patterned shirt. Whatever your style is, we want to give you some seasonal tips so that you can feel your absolute best all year round. So, what are you waiting for?! Let's get started…
When it comes to the spring, this is where you can really step up your casual wear and show off your best assets. This is all about dressing to suit not just your shape but your personal style.
Spring is the perfect time to opt for bardot tops, and to ease your way into showing off your shoulders you could opt for a halter neck lace bralette opposed to a strapless bra. Sometimes strapless bras can bunch up or look blatantly obvious underneath your bardot top, and that is not the look you really want.
This will add a little something extra to your outfit whilst easing your way into exposed shoulder wear. Also, you could even consider a strappy midi dress paired with a denim jacket.
As far as the summer is concerned, this is where you can opt for a bandeau top. This is just because the weather will be getting hotter, so you will want to get your arms out.
The boxy nature of a vest could make your shoulders look square, so a funky bandeau would look really cool with some high waisted flared jeans, or some wide leg jeans. Additionally, opting for swimwear that is a bandeau sort of cut would be really flattering, you could even opt for a vibrant hue of blue or you could even opt for white.
White is a great color to wear in the summer, just to accentuate your tan and give you a sunkissed glow. Also, don't forget to tie that hair back into a low messy bun, so that all the focus is on your shoulders – that is right, we know all the tricks. Do not hide behind your hair!
So, autumn can be kind of tricky to style out because let's be real, dressing for your shape can be kind of annoying when you just want to be comfortable. There are things that you can do to help give your favorite sweaters some shape.
One of the easiest and most underrated things to try is to tuck your favorite knitted sweater into your jeans. This will give you some shape whilst still being warm and embracing the change of seasons. That is right, wearing your favorite sweater has never been cooler.
Alternatively, you could even consider tucking your favorite knitted sweater into a denim skirt with some opaque tights and knee high boots. This would be a great autumn look, along with a tote bag. Comfy but on a mission is a pretty great autumn vibe.
That's right, giving yourself some shape is pretty easy – all you need to do is take a little extra time to tuck in your sweater. 
The winter months are where you can level up on your autumn style. We have already imparted to you our wisdom on how to tuck in your favorite knitted sweater into your jeans or skirt. This is a style that you can carry on into winter, but you definitely will need to add some layers to your outfit.
It will be a lot colder than just needing a sweater to go out. We definitely recommend opting for a trench coat, as this will look really chic with a scarf and gloves. Or if you want more of a casual vibe then a leather jacket with lots of metal work, such as buckles, will really add to the look.
And, because it is the winter you could even consider making the scarf tartan print – and if it is extra chilly then get out the ear muffs or the bobble hat. Whatever suits you best!   
Overall, dressing for your body shape sounds really daunting – but actually, it can be really great if you make sure to inject a bit of personality into it. So go on, show off those shoulders and make yourself feel your absolute best.
As we said earlier, fashion is all about having fun and showing off your personality. You can do this by dressing in a way that suits you and makes you feel like you can conquer the world.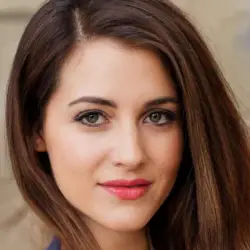 Latest posts by Maya Garcia
(see all)