Looking for the best colored tip nails out there? You just can't look past the classic french manicure. While the standard french manicure was based on a white tip polish line on a pink or nude colored base coat, things have changed drastically to this day.
Now there's an immense amount of variations and the best thing is – you can even apply this nail art by yourself. There's no more need to visit the nail salon to get your french tip nails done. 
We'll guide you through the process, mention some of the main benefits of a french manicure, and recommend the best french tip nail ideas for you!
Benefits Of Colored Tip French Manicure
Over the years, the idea of french manicures have changed quite a bit. It's great that you can now choose from different colors and shades, along with various styles. So, to encourage you to try this nail design for yourself, we'll lead you through some of the main benefits of french tips:
French mani is both casual and classy
You can choose from a variety of color options
You don't have to visit a nail salon to get the desired look
Subtle nail art is possible for longer nails
The first thing to point out about the french mani is its versatility since you can wear this nail design for many different occasions. Whether it's a casual night out or an event that requires a bit more serious look and style, this nail art never fails.
Colored french tip nails do a great job when it comes to providing a timeless design that goes well with all the possible outfits and dressing styles you might choose.
Another thing to like about this style is the diverse choice of color options and variations. 
Perhaps the most important thing after the popular look of this nail art style – you can pull this off yourself in the comfort of your own home, or maybe you'll decide to pamper yourself at a professional nail salon – the choice is yours!
Finally, it's arguably one of the best nail arts for longer nails, and it can complete any look with long nails.
DIY French Tip Nails Guide
Before scheduling your next appointment for a manicure, why not try this nail art method from home without any help? It's possible, and we'll lead you through the steps that you can take to take to get your french tips done without any help!
Step 1 – Prepare Your Nails For a French Manicure
Before you get down and dirty working on a french manicure for your nails, it's time to prepare your nails for the pattern. Make sure that your old nail polish has been completely removed before you even start the process.
The best french manicure nail shapes are square nails or almond shaped nails so make sure your nails fit that description for the best outcome. You may need to use a nail file to finish shaping them.
Also, make sure that there are no cracks and that there's no residue from the previous nail polish color that could interfere with the new design.
Step 2 – Choose Your Base Color
Perhaps the most popular base colors for french manicures are pink and nude. It depends on the nail artist, in this case – you. It all comes down to matching the base color with the nail tip color.
For instance, you can apply white nail tips on a nude or pink base for an incredible result, even though it's a simple combination. If you want to experiment even more you can try all sorts of exotic color combinations. Or one of my personal favorites: pink nails with black tips.
It's only crucial that you apply the base color first before polishing the nail tips.
Step 3 – Polish The French Tips
With a nail brush or a liner, start making the french tips on your nails. Be careful and follow the outline of the tip, starting from one side to another. There's also a french manicure technique where you start from each side to meet at the center and form a curve shape.
It's crucial to use a fine brush and not take any chances with the nail tip polish finding its way onto the base coat. 
One of the easiest ways to avoid this would be to use these little nail stickers that can act as a guide when you're applying your finishing details to your french nail tips.
With some careful moves and patience your french manicure will seem just like out of a professional nail salon.
Step 4 – Apply Protective Top Clear Coating
The final step would be to apply a bit of protective top coating to give that additional shine to the nails and make the design last longer. There are numerous options among top coatings and you can find a transparent coating that still protects your nail design without tampering with the art.
The Best French Nail Design Ideas
Now that you know the steps to take for a DIY french tip manicure, it's time to dig deep into the best styling ideas. French nails can be a bit tricky as not all the color combinations complement each other perfectly.
So, these are our top picks to achieve colorful nails while avoiding a lot of time and effort spent just to see that the combination doesn't fit:
1. Baby Blue On Nude French Mani
French tip nails look best when you pair the tip polish color with a neutral base to point out the nail art even more. That's why the baby blue french tip with a nude base leaves such an overwhelming impression.
It's one of the best combinations to try, and you can test different light blue nail polish shades with this one. As one of the most popular french tip designs, it's sure to make for a stunning look.
If you are looking for a french manicure with a modern twist to it, this is one of the best options to go for.
2. Black Nail Tips
Another french tip design that will make you stand out from the crowd is black french tip nails. These also go well on a nude or pink (my favorite) polish base or any other neutral color base which makes the black tips the center of attention.
This combo works great even with the accent nail style if you decide to make one nail completely polished in black. 
One of the best base colors for black tip nails is baby pink, and this combination works perfectly on both almond-shaped nails and square-shaped nails. 
You can even pair the black tips with pastel pink shades and nude base variations and still get a great look.
3. Rainbow French Tip Nails
One of the most interesting options to go with when it comes to a french manicure is the rainbow effect of your nail tips. And let's be real for a moment – who doesn't like rainbows?
Using a thin nail liner, you can apply different layers of polish on your tips, from orange, yellow, green, blue, and purple – just like the rainbow. This color combination makes a stunning twist to the french manicure technique.
4. Blue And Pink Combo
A blue french tip is always an option and it can be paired with different colors for a base polish. We already discussed nude shades, and now it's time to introduce the pink base for light blue nail tips.
The best thing is – these colors go so well together, that you can switch the nail base and tip colors as you please. So, you might want to also try pink nail tips on a blue base that will go so well with numerous dressing combinations that are perfect for any occasion.
You can also pair a powerful royal blue color with baby pink as it looks great in any combination. 
5. Different Nail Tip Colors
Different color nail tips work best on almond-shaped nails. This nail design includes all the nail tips being in a different color. In a sense, it can be considered a form of rainbow french manicure style, only with each nail tip being in a color of its own.
This nail design is hugely popular for girls and young women as a great variation of this manicure type. You can blend nearly any color you want, or achieve a rainbow layout with the same colors we mentioned for rainbow nail tips.
6. Slanted Tips Nail Art
One of the most interesting french manicure methods is the slanted nails technique. It makes a sort of diagonal effect and look of your french tip nails, and works perfectly in a combination with another color.
You can apply a nude base coat with black and white-colored french tip nails, or try a more flashy approach with neon shades. Either way, this nail art design will leave you speechless due to the beautiful impression that it leaves. 
You can mix colors for your french tips that blend into a new color, such as blue and green. That way you'll make a sort of rainbow appearance with the nail design.
7. Classy Square French Tip Nails
We already mentioned how square french tip nails make the best shape for the design along with an almond nail shape. As for the square french tip nails, you can start with the simple and classy combination as your first.
You can apply white french tips on a nude base, and this combo will look astonishing because of the larger nail tip area on square-shaped nails. It's one of the classic french manicure options that you can use for this nail shape.
8. Neon Orange French Tip Nails
Nail art that you just won't be able to resist trying out is a neon orange french manicure. French tip nails get more interesting as you experiment with engaging colors, and neon orange is a new popular trend.
It goes well on a variety of base colors including nude shades, pink, and white. French manicures truly can get further modernized even after so many decades of using the trend, and this color blend confirms it.
9. Short French Tips
If you are looking for something fun and yet classy enough for a formal occasion, why not give short french tip nails a chance? These are nearly as beautiful as the long nail version of the method.
Of course, the french tips look best on longer nails, but that doesn't mean you can't play with the short combinations as well. You can try muted shades as a classic short tip nails style, or use clear polish with flashy colors in the summertime.
Nude pastel shades can compliment your skin tone even if they are not applied on long nails, so trying it out with short nails and a french manicure is worth it.
10. Double-Colored French Mani
Stepping out of the classic french mani frame can result in some quite exciting combinations. The double-colored french tip nails not only look fashionable, but they also don't seem too flashy when applied.
You will have a french tip manicure that doesn't stand out too much, and yet seems appealing to you whenever you take a look at it.
The same colors work with this one as for the slanted nails technique we discussed before. The only difference is that you shouldn't blend the two shades. Instead, use one nail polish for one half of the tip, and another color for the opposite tip side.
11. Accent French Manicure
French tips could look even better with an accent nail art design. It involves having one nail as a completely different design than the other nails. 
It doesn't have to be french tips either. You can combine glitter or stickers on the accent nails to diversify your mani.
On the other hand, you can simply use a different color of nail polish on the accent nail or have simple white nails as accents. 
The choices are endless, and it only depends on you to pick which combination you like the most.
12. Pink And Purple Pastels
Pastel colors are some of the most popular shades for nail art and the same goes for french tip nails. You can pair pastel pink with almost every other color like white, baby blue, and even bright neon orange.
However, one combination that really stands out for a french manicure is pastel pink with a purple tip coat. You can even pair the two pastel shades to make it a bit more of a uniform design. 
This combination works so well with either almond nails or square nails and will work with almost any outfit you can think of.
It can be an even more impressive variant with square nails, given the larger tip surface for the purple pastel coat.
13. French Mani With Stickers
If you want to draw attention to your french tip nails even more it can be done with a little bit of help from nail stickers. It's easy enough to use simple tiny star stickers on a neutral base coat, and you can make your french tip nails stand out more.
They will certainly be the center of attention, especially if you use a bright neon color for the tips. The neutral base along with small stickers only serves as a way to attract attention to the real focus of the nail art – your french tips.
It's important that you don't overdo it with the stickers combined with the neon or light blue french tip manicure.
14. French Tip Nails With Reflective Polish
If you aim to make a real impression with french tip nails as your preferred nail art, perhaps adding a bit of reflective polish can make things even better. It works beautifully with tips or black nails, or even with neon colors on the tips.
It's a bold look as the reflective polish will seem different from every angle, and it will add a shiny note to your french tip nails. A reflective french tip manicure can be done from the comfort of your own home without the need to visit a salon.
15. Elongated French Tips
A slightly different french tip nails variants you can try is the elongated french tips method. It requires a bit more precision and skill if you plan on doing it on your own. Starting from the painted tip, you should follow the pattern down the base color, making the tip zone seem larger.
This type of french manicure can be done on short nails as well, and it nearly resembles the style of square french tips. The best way to do it is to apply the base polish just at the bottom of the nail. Then, move on to doing the french tips outline and keep spreading the polish downwards in the same manner.
At one point, you'll have to use a liner to make the line between the base color and elongated nail tip.
16. Matte French Tip Nails
Using matte colors for french tips can be a great idea to make your colored tips different and unique. Some of the best matte colors that go well on neutral base polishes are orange, purple, pink, blue, and yellow.
You can even experiment with different pink shades and even green matte colors for the tips. One final piece of advice would also be not to give up on multi-colored matte french tips. They look amazing on a matte nude base or a matte pink base. 
If you love colored french tip nails, you can change up this method with the standard-polish rainbow method we discussed before. It will give you enough diversity to frequently change your manicure style, while also having multi-colored nail art.
17. Glitter And Nude Base
Finally, we'll wrap things up with an unusual, yet sophisticated-looking french tips style – silver glitter with a nude base. It looks marvelous and doesn't take much effort to apply at home, so you can get a classy look and save a few bucks.
This design always looks like you are fresh out of a top-dollar manicure salon and it completes any elegant outfit you might choose. It's also a perfect combination for parties and summertime cocktails. 
The silver glitter polish goes well with the nude base, and if you want to experiment a bit more, you can try a soft pink base as well.
Final Thoughts
French tips might seem intimidating at first, especially if you plan on going the DIY route for the first time by yourself. Still, our guide can hopefully help you with that and lead you through some main steps to take for a perfect DIY french tip nail art.
Make sure to thoroughly go over our top picks for colored french tip nails as you might just find a perfect idea for your preferred colored tip style!
Frequently Asked Questions (FAQ):
What is a French tip nail style?
The French tip nail style is a method of applying one nail polish color as a base color and another one for the nail tip. It's a nail style that holds a great tradition in styling, being around for over 50 years, and first used in the American movie industry as a nail design for stars.
Are French Manicures out of style in 2022?
French nails will arguably never get out of fashion since it's a perfect mix of a classy and fun nail style. You can combine different sorts of base colors with all kinds of nail tip polishes and even glitter with some combinations.
What's a standard traditional French tip nail style?
The first french manicure style included applying a thin layer of white tip nail polish over a nude or a pink base. It still remains the most widely-used french tip nail design and is considered a classic in the nail art industry.
What are the best French tip nail designs?
While very subjective, some of the most popular french tip nail designs you can wear in 2022 involve rainbow tip colors, pink and purple pastels, classy square nails, and slanted almond nails.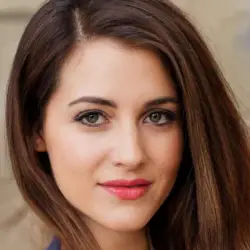 Latest posts by Maya Garcia
(see all)