Nails can be an important part of a person's style, just like a haircut or a new style of makeup that a person is going for. There's not necessarily a good design or a bad design when it comes to what a person wants for their nails, only designs that a person feels best suits their style or personality.
With an increase of newage affordable tools to create any design a person wants, anyone can create their own design and with practice, anyone can get good at doing it.
Something considered as a classic manicure would be to have different colours on each different finger on one hand, one of the main reasons for multi coloured nails is that it can create a brighter look to a person's hand, this can allow a person to show their expressive side.
With the correct outfit multi coloured nails can almost bring joy to a person.
Since the early 2010s multi coloured nails have risen to prominence. This style can be used to show a person's creative and positive energy. Another reason for the rise in this trend is it allows somebody to feel like more of an individual than part of a group.
Different things can impact what colour a person wants to go for one of the main things is the season. People try to make their nails meet the expectations of winter, summer, fall and spring.
They do this by selecting colours that they think best represents the season, you might think Orange and Yellow for summer, or perhaps White and Slate Grey for winter.
Spring they could choose a Green and Yellow and for autumn maybe they choose just a subtle orange. It's not an exact science but colours do make you feel a certain way.
The Right Combo For You
Just picking a few colours for your nails will sadly not be enough, no it's important to mix the right type of colours and textures. Without getting this mix right you'll find that the colours just don't pop unlike they would if you managed to nail the color combo.
People normally go for two colours which may sound simple just picking orange and red for example, that's two colours that are similar but can be in very different shades.
If you pick colours that don't perhaps blend because one is a very bright colour and the other is a much darker shade you may find that this looks more silly than it does good.
Keep that in mind before picking your colours that shades can be either warm or cold and that it is better to choose from one group as these will blend together the best.
Depending on what style you're going for and what you allow to impact your style such as weather then you'll find certain colours are suited to certain environments.
If you're thinking of something for the summer, then a combo you could go for is Ballet pink and a Cherry red, this will allow you to feel the bright pop from the cherry red and the subtlety and calming nature of the Ballet pink.
Another combo that could work is Mint green and Slate grey, this can allow a person to feel perhaps mysterious with the Slate grey and lively with Mint green.
It's good to start with colours such as grey, white or black as the first coating.
The reasoning for this is that they combine with the most shades. So it's a good starting point where you can take in lots of different directions. Pastel colours are also highly recommended.
Despite that black and white can pretty much match plenty of shades the best to match them with is a choice of red.
Colour Transitions
When you're first getting started colour transitions can be difficult to get your head around. But it is something that can be done on your own.
Once you have an understanding of the colours you want to do a transition with you should determine first if the colours even go together in the first place, once you have managed this the process becomes a lot quicker.
Learning to do nail transitions gives you the ability to put at least two different shades on one nail, this can be used to create lots of different effects and styles that you may find suit exactly what you are looking for.
A Manicure that has a transition is shown in three versions, there can be a change in the saturation of colour.
Also using plenty of shades even ones that you might think won't go together, for example yellow and purple could work for this. And finally each of the nails is of a different colour. During this you can use both pastel colors and bright colours.
The hardest of these is a manicure with a combo of two or three different colours. For you to make these look the best that they can you should think about the varnishes of the contrasting colours like white with orange for example.
You can do this yourself by following these simple steps
First, you should do your normal manicure, and then glue around the area of the nail with some tape so that you do not stain the fingers do not stain.
Then you should begin with your basic polish and then with a layer of the first color on the nail plate.
After this has dried, it is time for a second polish which must already be prepared. After use, a sponge that is clean can then be used to dip into it and apply to the correct area of the nail. You should do this quickly and precisely with the sponge
If you have used more polishes, the last step should be performed several times.
The final layer is a coating that is protective.
The final step is getting rid of the tape that you have used. If nail polish is on the skin, then you should use a cotton ball or swab with nail polish remover.
Following these steps and with enough practice you should be able to achieve the best results for what it is that you are going for.
Designs
Different styles of manicures with different colours include the two colour french manicure, the use of the cloloured glitter polish is done just like the classical version, the difference is the use of the contrasting shades.
An important thing to remember is which polish to choose from one singular colour range.
In Summary
Over the past decade the increase of at home technology that anyone can use for affordable prices, many people find that giving themselves a manicure can not only be quite therapeutic but also not overly difficult when you're just starting out.
With only a few things to really have to know to get the best out of your nails the rest is left up to the designer. The few things you do need to know however, are quite prominent mainly being which colours you should select.
To learn this all you need to know is which colours are a part of the same colour group, this can determine what shade you use and what texture.
With people increasingly seeing their nails as a part of their overall style and personality it is no surprise that people want their nails to look the best, that doesn't mean the most extravagant but the best for what they are trying to go for.
It is also good knowledge to know what colours go best to indicate a certain feeling that they're trying to convey, by that i mean that the idea of somebody choosing a very powerful bright cherry red probably has a different idea to convey than somebody who chooses a more simple and subtle colour like cream.
This is only an interpretation but the fact stands that people often use the colour of their nails to convey a message, a message that can be powerful and bold or a message that can seem more relaxed and calming.
Like stated earlier the most important thing for somebody who wants to design nails is learning what colours go with others.
On the other hand, you may find that going for something more creative with lots of different colours is more your forte.
And if that's the case you might choose to do something with gradient nails instead, following the steps above you can create a nail design that is both unique and loud as well as having the subtlety of a singularly coated nail with a basic colour design.
Gradient nails can be a great way of expressing contrasting emotions or perhaps contrasting colours of your outfit. As long as you can make it look good and you feel that it is perfect for what your overall goal is, why not try this style with plenty of different colours to get your creative juices truly flowing.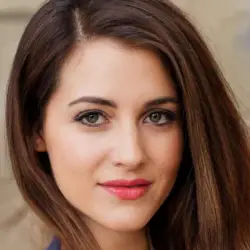 Latest posts by Maya Garcia
(see all)