Now that the seasons are changing it's time to change those nails to match the season. When it comes to fall there are so many possibilities from fall colors to pumpkins.
The choice is up to you, but their autumn nail ideas are endless. There is no better way to celebrate all the fall celebrations than with autumn inspired nails to match. We searched everywhere to give you the best fall designs for you to choose from.
Plain Fall Colored Nails
Sometimes simple is best and painting your nails the colors of fall is the best way to proceed. Fall colors consist of yellow, orange, red, purple, burgundy and brown. Painting your nails one of these colors will give you a simple but fall-like look.
Or try painting each nail a different fall color, this will give you a more interesting but also stylish look.
Pastel Nails
Pastel nails were a huge trend during summer and so there is no reason not to bring this trend into fall. Pastel colors of the fall colors work really well.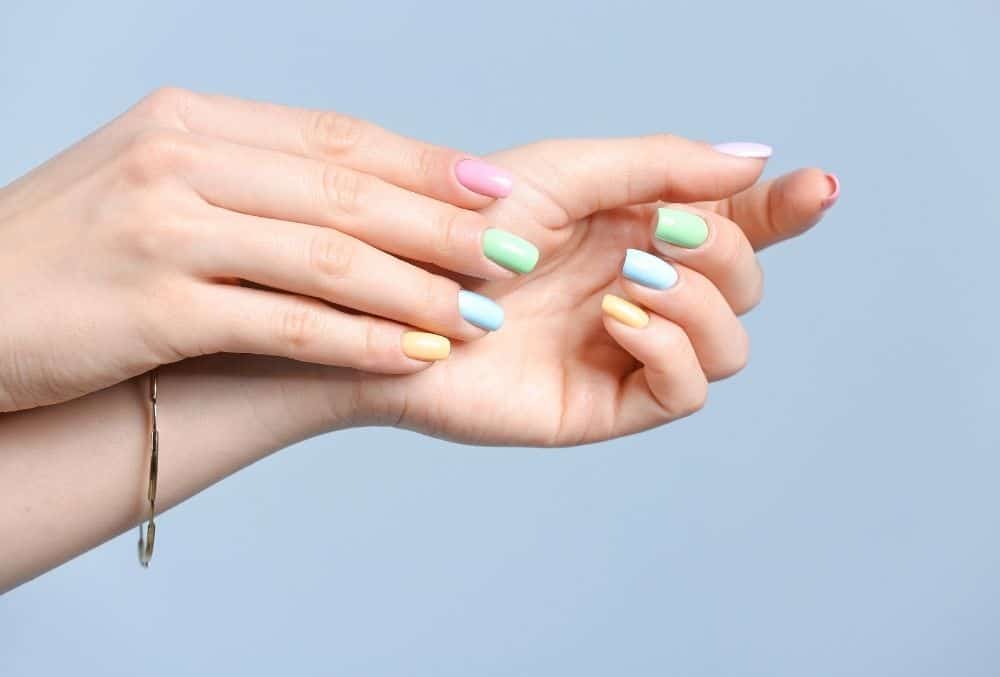 For some added glamour, try pairing your pastel fall nails with a glitter nail to add some sparkle. A simple but beautiful fall look.
Ombre Fall Nails
Ombre nails are always popular no matter the season. Painting your nails with yellow, orange and white with an ombre effect. This makes your nails look like candy corn, which is so popular this time of year.
Fall Leaves
Paint your nails any color that you desire, maybe try to keep to the autumn colors. Then on top of the block color, paint leaves/leaf silhouettes in a vibrant or contrasting color. Not every nail has to have this pattern.
For a more striking look, only paint 1 to 3 of your nails on your hand with this design and leave the rest of your nails with just the block color. Or you could use a darker color on these other nails that you will leave bare.
Either way, this is a simple nail design that screams fall with the addition of the leaves.
Stripy Fall Leaves
To make the previous idea even more interesting, you could paint two of your nails with a stripey or glittery nail polish and then paint the leaves on top of the stripey or glittery design.
Leave Nail Art
Ideal for shorter length nails. Paint your nail a really bright red color and then paint beautiful yellow and orange leaves on a couple of your fingers.
Gemstones can be added for some extra glamour and can be made to look like butterflies. This is a really impressive fall nail look. You can make these leaves look really detailed
Short Nail Leaf Design
If you have really short nails, try painting your nails with a gold glitter polish and painting orange and yellow leaves on the tip of your nails. This is a really easy yet stylish nail design for shorter nails.
Stamped Fall Leaves
If you don't want to paint leaves, then stamping might be for you. Apply a dark color to your nails, even a dark glittery polish works really well.
Gold or orange stamped leaves on top of the dark base, makes the perfect autumn nails.
Perfect for short to medium length nails, however if you have long nails you can still achieve this look but have the stamping on fewer nails.
Another stamped fall leaf design involves you painting a few fingers in a red or glittery red color. The other fingers should be painted white. Then use a stamper and stop on red leaves onto the white nails. For some extra glam, you can add gold or even some gemstones.
Ombre Leaves
Another way to elevate ombre nails is by having fall colored ombre nails and painting or stamping on leaves. These not only look amazing but the leaves and colors really add to the fall spirit.
Matte Blue Nails
Matte blue nails look really stylish, but paring them with gold glitter art or yellow/orange leaves scream fall vibes.
Stiletto Nails
Having your nails filed into the stiletto is all the rage for fall. Pairing these types of nails with our fall colors and some glitter, makes the most appealing look.
Alternating between deep burgundy or brown with a glittery pink, makes an attractive and feminine look that is perfect for autumn.
Sunflower Nail Art
Pair burgundy or mustard nails with a sunflower nail art design for the ultimate fall look. One nail on each hand will have this sunflower nail art. Making this a really attractive nail design, that will make all your friends envious.
The deep burgundy color which contrasts with the deep yellow of the sunflower art works well on all nail types.
Pumpkins
What is fall without pumpkins. If you love fall then pumpkins should be on the top of your list. Most pumpkin nail designs will have a pumpkin on the middle finger.
A glitter on your ring finger and either a dark matt or light/neutral color on your other fingers work well. The lighter colors make this design more feminine and cheerful.
While the darker colored option, make this design more striking and in keeping with a halloween/fall theme.
Blood Red Drooling
In keeping with the halloween theme, which is a big part of fall. Painting your nails a really deep red color. With some red drooling coming from the base of your middle and ring finger.
These two fingers sometimes have a more matt base color, while the other fingers have a more shiny color. Either way, the red drooling down from the base gives off sexy fall vibes. Perfect for any halloween party or for fall in general.
Burgundy And Glitter Nails
Burgundy is the perfect fall color. However by pairing your burgundy nails with a gold or silver glitter polish on your ring finger. This is the perfect fall nail look and ideal for fall weddings and formal occasions.
Red Plaid Patterned Nails
As it is getting colder, scarfs are going to be coming out. A red nail topped with a black plaid design, gives great cold holiday vibes. These nails have a more edgy look and work well on short to medium length nails.
Plaid Pumpkins
We have had pumpkin nail looks and plaid nail looks, why not mix them together.Your thumb, index and little finger should be painted in a dark matt color.
Then your ring finger should be painted in a plaid in any color that you like. So that leaves your middle finger, where a pumpkin will be painted on the tip. The pumpkin will also have a plaid design and in the same color as your plaid nail.
Waterfall Nail Art Nails
A waterfall inspired french manicure in the fall colors on short to medium length nails looks beautiful. It is a really simple look but it looks eye-catching.
Leopard Print Nails
Try this really classy and elegant look, that you may not think of for fall. Paint one of your nails in a black and white leopard print style. Then three of your nails should be painted with a french manicure with a dark colored polish tip like purple, wine or burgundy.
Your final finger should be painted black and you could add some gold gemstones to elevate the nail. These nails will make you stand out yet still look sophisticated.
Striped Nails
Having a pretty striped pattern on the middle and ring finger looks really stylish. It works well when used with colors like burgundy, wine, black, grey and white. The striped pattern is made up with various colors.
While the other fingers are just a block color of one of the colors that is used in the striped design.
Grey Nails
Grey nails are a great color for fall. However, try adding some hints of yellow, pink or orange to look to warm it up for fall on your middle and ring fingers. Also by adding black dots, makes this a really interesting nail look for fall.
Metallic Grey Nails
Matt grey nails can look really elegant and stylish. However to elevate them, try adding one or two wavy metallic accents on alternating fingers. It makes this nail look exciting to look at and stylish.
Metallic Gold Nails
Having three metallic gold nails alongside two glittery gold nails, just scream formal fall occasions. They are eye-catching and look great in every metallic color.
Marble Nails
Marble nails have been trendy for a long time now. Black and white marbled nails always look really impressive but for fall why not try green marbled nails for a more unique look.
Green And Grey Matte Nails
Matte nails are really popular for this time of year. Having your nails painted in a matte green and grey color is a really elegant fall look. Try adding white lines to your design to make the design more unique to you.
Clear Nails With Flowers
Leave your nails clear but paint on some painted white flowers or add some red or orange colorful tips. Embrace your natural colored nails but adding some autumnal colors, create a simple but effective fall look.
White Nails
White nails with autumn literally written across your nails. Small colorful leaves can be added too. This is the perfect fall design for someone who is obsessed with autumn.
White And Gold Nails
White is a great color for summer, however pair it with a gold or a gold glitter. This gives it a warm fall vibe, which is simple but effective.
Pink And Grey Nails
Not your typical fall colors but these nails do look like they are meant to be a trend in fall. Painting your nails grey and pink and alternating the colors, make a really warm effect.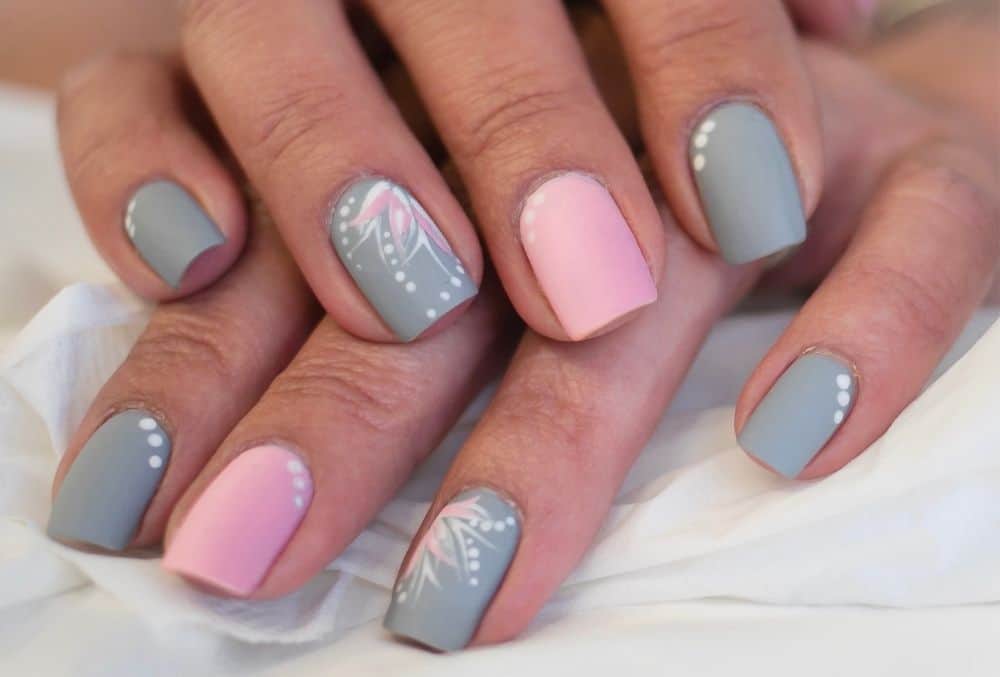 However, adding nail sticks can add to this fall look. Leaves or sunflowers really work well and make this an even more appealing fall look to have.
Bronze And Pale Blue Nails
Paint your index, middle and ring finger nails a pale blue color, while your thumb and little fingers should be painted in your bronze color. Then use stencils and apply bronze leaves on top of your blue nails.
This is a simple look but looks stunning. Bronze is a great fall color to use.
Yellow Nails
Having yellow nails combined with some nude/skin colored nails looks great. Then by adding some nail stickers like leaves or delicate flowers, this simple look is really impressive.
Glittery Fall Nails
Having nude or skin nails but on the tips add glitter that are in the fall colors. Red, yellow and gold glitters look really beautiful and add to the fall vibe.
Yet you could also add some painted leaves in these colors to one of your nails, to make your nails really scream that it is fall.
Nude Foiled Nails
A nude nail has become increasingly popular recently. However to make a nude nail even better, top the nail off with gold or even rose gold foil. It makes this nail design more expensive and is really stylish.
Half Tortoise Nails
Half nude and half tortoise nails look simple but they aren't boring to look at. Also by using a warm brown color for the tortoise half gives you the fall vibes that you are looking for.
Sweater Knit Nails
You can get your nails to look exactly like a knitted sweater. You choose the fall colors that you want and a nail technician can add the textures to make your nails look like attractive knitted sweaters.
Mix And Match Nails
If you can't decide on one design, what about every nail has a different design. Whether some nails have stripes, while others have dots etc. As long as the colors complement each other then this is a great fall look.
Dotted Nails
All your nails can be a different color or they can all be the same. However your middle finger will be painted with a dotted look, to look like polka dots. This is a simple but effective look. The dots make this a more dramatic nail design and yet it is so simple to do.
Final Thoughts
Fall is all about the colors and above we have given you 40 cute fall inspired nail ideas that you can choose from.
Fall is one of the best times of the year and now your nails can match this season. Hopefully you have now been inspired or found your dream fall nails that you are going to rock this season from our list above.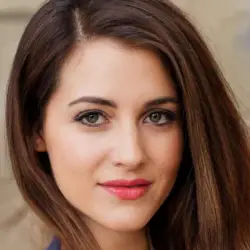 Latest posts by Maya Garcia
(see all)