Spring is here, and what better way to celebrate a new season than giving your nails a whole new look?
After all, nobody wants drab, boring nails at this time of the year - flowers are blooming, temperatures are rising, the sun is shining… you definitely need a manicure to match.

Painted nails are a great way to show off your personality, and there are no limits to what you can achieve with a bottle of nail polish and some patience.
You can brighten up someone's day just by flashing your fancy fingernails at them, and you will almost certainly boost your own mood too.

Bunnies, sheep, flowers, Easter eggs and more are the flavors of the month, allowing you to get creative and look awesome doing it! Grab your favorite polishes, acrylics or nail stickers and release your inner nail artist.
There are so many cute spring-based designs that you can do at home - we have compiled a list of ideas to start you off, so let your imagination run wild!
Best Color Combos
Spring brings to mind beautiful earthy tones and feminine pastels, opening up a broad color palette to work with.
It is the perfect time to step away from the demure winter colors and experiment with more daring combinations. 
Who says you need to pick just one nail polish and stick to it? When it comes to spring, our motto is the more the merrier. Here are some great shades to mix and match.
[amazon fields="B08GFZDX1G" value="thumb" image_size="large"]
This collection features a set of 6 gorgeous pastel shades that conjure up images of frolicking lambs and everything fluffy!
The soft nudes, pinks and sky blue will give you a subtle, fresh look to welcome the season.

When used with a LED nail lamp, these polishes dry fully within 3 minutes and can last up to 3 weeks! They are also free of toxins and abrasive chemicals, so are kind to your skin and the environment.

For a cute sky theme, use the blue polish as a base and paint big white clouds over the top once it's dried.
[amazon fields="B08LYWPCPY" value="thumb" image_size="large"]
Similar to the set above, but with stronger and more varied colors, this set also contains 6 pretty polishes to play around with.
There is no need for a base or top coat, so simply two thin coats of your chosen shade and you're good to go!

The purple and hot pink work especially well together, so why not alternate them across your nails for a funky look?
You could even paint each nail in a different color from the set if you can't choose! If you're feeling extra creative, you can use the yellow to paint some beautiful bright flowers.
[amazon fields="B08NF4Y2LZ" value="thumb" image_size="large"]
You can almost smell the lavender with this Eternal Collection set, featuring 4 stunning purple shades.
Whether you're out in the open air or stuck indoors, these polishes will keep your hands feeling fresh and ready for action.
They are also vegan-friendly, allowing you to enjoy cruelty-free fashion. The colors are incredibly versatile and will look great paired with any outfit.

If you want to wear every purple at the same time, try ordering them from light to dark and then painting a horizontal stripe of each across your nails - this will achieve a cool gradient effect! 
Best Floral Designs
Everyone knows that spring is the time when beautiful flowers reappear after the chilly winter period. There is nothing better than catching a glimpse of young daffodils to put you in a great mood.
You can recreate this feeling every single day with these floral nail art designs, which are sure to put a smile on your face and a 'spring' in your step.
Daisies
One of the most abundant flowers in the garden, the humble daisy makes an effective nail decoration for all levels of experience.

Begin by applying a couple coats of your favorite nude polish (you can switch this for something bolder if you want, but we recommend nude for starting out).
Then grab your nail art tool and draw a small yellow dot wherever you want the middle of the flower to be.
Use this as a guide to add 6 white petals around it, trying to keep the petals sizes even. Finish off by re-coating the yellow dot to neaten the daisy.

Depending on how much space you have to work with, you could do several daisies on each nail or just one in the center.
They are simple enough that you can easily paint them on each nail, but they would be equally great for a feature nail. 
Experiment with different sizes of daisy, or even different colors to mix it up a bit.
Sunflowers
Many artworks have been inspired by these bold flowers, and they can make you feel like a work of art too! You will need a strong yellow (not fluorescent) and a mid-brown to pull off this design.

We find that pale greens or blues make great base coats for your sunflowers.
Green could represent a grassy field, while blue could mimic the sky. Once your base is dry, paint a brown circle where you wish to place your flower. 
Take your nail art tool and carefully draw lots of pointed yellow petals around it. Do not worry if these overlap - you just need to do as many as possible to complete the circle.
Fill in the circle with brown, then scatter yellow dots inside it. You can add further details to the petals by drawing a brown line down the middle or on one edge of each.

Sunflowers work best as either a central image or as half flowers poking out from the sides of the nails. This option is super effective on long acrylic nails that can support bigger petals.
It is definitely a good idea not to overdo the flowers, as you will clutter up your nails and make them look too busy - less is more in this case.
Cute Floral Nail Stickers
If you're after something a bit more intricate, take a look at our flower sticker picks to adorn your nails. 
There are plenty of floral designs to choose from, and you can fix these over your preferred base coat for a splendid finishing touch.
[amazon fields="B09F38NHP3″ value="thumb" image_size="large"]
These are transfers rather than stickers, so you apply them by soaking in water and then placing in position on a damp nail.
The process is simple once you get used to it, just make sure you read the instructions on the pack thoroughly before use. 
The 24 sheets contain every sunflower design you could wish for, to keep your nails looking jolly at all times.
[amazon fields="B08ZYL3H16″ value="thumb" image_size="large"]
If you're feeling extra girly, how about this all-pink sticker set, featuring a range of delicate blossom designs?
The smaller stickers are ideal for toenails, while there are some larger ones to take centre stage on your fingernails. 
Choose from full flowers, half flowers, single petals and branches to create a stunning feminine look.
[amazon fields="B07SBYGY93″ value="thumb" image_size="large"]
If you're all about the foliage, Macute has a cute leafy selection to tempt you.
The 29 sheets include a vast array of exotic leaves that capture your imagination and transport you to faraway places. 
Use a nude base to really emphasize the intricate designs and contrast against the rich greens.
Best Animal Designs 
Do you love animals? What a silly question - of course you do! Everyone loves looking at pictures of cute creatures to relieve stress or just boost their serotonin levels, so why not
Pawprints
Pawprints are a relatively easy design to achieve when it comes to animals, as you don't have to worry about tricky shapes or faces. They are also super cute - who doesn't want to look like a tiny cat has strolled across their nails?

Ideal shades for pawprints are browns, greys and blacks, but there's nothing stopping you from using your brightest neon colors instead. The basic shape is essentially a large circle with 3 smaller circles curved round the top.
Depending on the size of your nails, it may be best to stick with a single print on each nai, rather than having several all merging into one another.
Ladybugs
Even if you're not keen on creepy crawlies, you'll probably agree that ladybugs are cute. They are also super simple to incorporate into your nail design, so give them a go.

The first thing you will need is a bold red for the base, to represent the body.
There are also orange ladybugs, so you could opt for this instead or a combination of the two. Apply two coats, then simply add 6 or 7 black dots over the nail. This will be instantly recognisable as a ladybug!

For a slightly more advanced variation, paint a vertical black line down the middle of the nail over your base.
Then do a horizontal one about ¾ of the way up, and fill it in up to the tip. Add two white dots on this black section for the eyes, then apply your black dots as normal to the body. 
Cute Animal Nail Stickers
It is not easy to paint animals onto your nails, as most require a lot of detail to make them recognisable. Luckily, there are various stickers that offer what you want, from delicate butterflies to adorable puppies. 
[amazon fields="B08HN4MHS2″ value="thumb" image_size="large"]
This set of 60 sticker sheets (over 1000 separate pieces!) features a wide range of colorful butterflies to suit all tastes.
There are also some pretty flowers in there so you can mix and match for the perfect spring theme. With so many stickers to choose from, you could even have different nails every day!
[amazon fields="B093T9QD6J" value="thumb" image_size="large"]
Purchasing a mixed set with a whole zoo's worth of animal designs means you don't have to choose which animal to go for - you can have them all!
There are playful cats, charming dogs, hungry pigs, spotty cows and even powerful dragons! With so much variety, there is something to please every animal lover. 
[amazon fields="B09D2QJMSV" value="thumb" image_size="large"]
If you're feeling brave, these spooky spider stickers are perfect for Halloween. They are luminous so they will glow in the dark, giving your nails the power to terrify your friends and family.
Don't worry though - the materials are entirely safe to use and won't harm the environment either. Spiders and webs in various sizes make up this fun collection.
Best Easter Designs
If Easter is your favorite holiday, celebrate in style with these seasonal nail ideas. You can achieve awesome results with relatively straightforward designs, transforming from Easter chick to Easter chic!
Easter Eggs
Perhaps the most familiar symbol for Easter is a classic Easter egg. While most of us enjoy a chocolate egg at this time, decorative eggs are also popular, allowing you to unleash your creativity on your nails.

On a pastel, nude or white base, paint an oval in any color you desire. Fill in the oval, then adorn with exciting patterns - you might try polka dots, zigzags, stripes or swirls. Stick to one egg per nail, but you can mix it up with a unique pattern for each. Your nails will soon look good enough to eat!
Hatching Chicks
Turn your fingers into eggshells with a cute chick peeping through! This design is ideal if you want an Easter theme that is also animal-focused.

Paint a white zigzag line across your nail, just over halfway up.
Fill the portion above the line in white, and the below portion in yellow - the white represents the shell, while the yellow is the chick's head. 
Then all you need to do is paint two black dots for eyes, and an orange triangle for the beak. This will look like the chick is just hatching and seeing the world for the first time. Adorable!
Cute Easter Nail Stickers
For something that only happens once a year, you'd be surprised at the variety of Easter nail stickers on the market. There are various Easter-themed selections available, ensuring your nails are properly primed for this holiday.
[amazon fields="B08PBGDL3Y" value="thumb" image_size="large"]
This bumper pack of over 1500 stickers encompasses everything Easter - with a whole range of bunnies, carrots, eggs and chicks, you are sure to find the perfect Easter stickers for you.
The designs are small enough for both adults and children to wear, on either fingernails or toenails. The cute pastel colors evoke a delightful sense of fun and whimsy.
Other Cute Designs
Some nail art designs just can't be categorized, so we've created this additional section to showcase them. These are also inspired by nature, as all the best spring ideas are: read on for even more inspiration below.
Rainbows
Everyone loves a good rainbow, and there's no wonder - the bright colors can instil a sense of childish wonderment in even the most miserly people.
You will find rainbow designs adorning all sorts of products, so why not give your nails the same treatment? Make the most of the April showers by honoring the beautiful rainbows that can be seen afterwards.

To achieve this look, you will need an assortment of different colored polishes. You don't necessarily need one for every color of the rainbow, although feel free to do this if you wish.
Choose how you want to shape your rainbows - you could go for a classic arch in the center, rainbows curving over the entire nail from one end to the other, or just straight lines in a rainbow pattern.
Experiment with different styles to see which speaks to you the most.

Once you've figured this out, prepare your base coat if your preferred rainbow won't cover the whole nail. This will most likely be a light blue, but could equally be a white, cream or nude shade.
Then, simply paint a line of each color in a rainbow sequence, starting with red and ending with a purple or blue.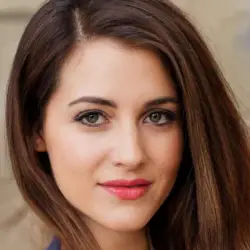 Latest posts by Maya Garcia
(see all)