Whenever we see nail inspo pics, they're always long, false or acrylic nails.
But for many of us, they're just not feasible. Long nails may not work for you due to your hand size, or simply because they're not suitable for your job. But, this does not mean that you cannot have beautifully manicured nails.
More and more salons are turning to gel nail polish, which can be applied on top of the natural nails to give them strength, style and a long lasting finish.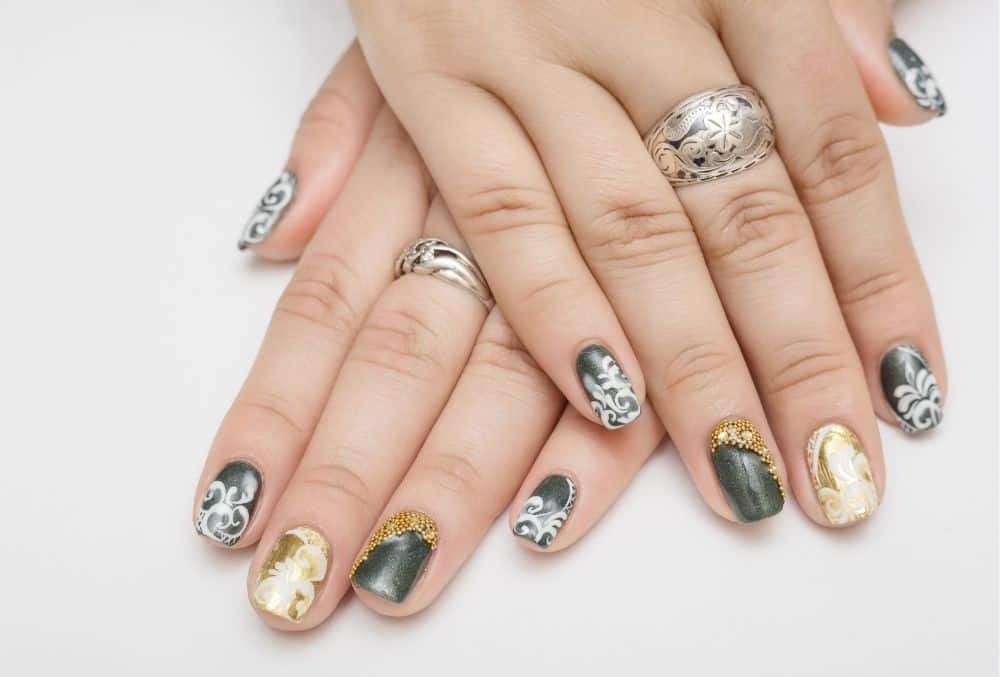 Gel nails can last up to two to three weeks when applied and cured properly. Once they've grown out, the gel can be safely removed so that your natural nails stay healthy and intact underneath!
With the appearance of gel nail polish, short nails are making a comeback.
Let's face it, we've all tried to do something with long acrylic nails, to find that we simply can't as the nails get in the way. It takes ages to get used to them, and more often than not, they snap off or damage the real nail underneath.
So, short nails are the way forward. But, with a smaller space to work with, what sort of designs can you have? Luckily for you, we've gathered some beautiful nail design ideas for you to take inspiration from!
25 Nail Ideas For Short Nails
Looking for inspo to show your nail tech? We've got you covered with 25 nail ideas for short nails!
Floral Nails
You cannot go wrong with something floral and feminine, especially in the summer months. Why not try some sunflower nails, or ones with cute daisies on the top? They look cute, girly and bring a smile to your face.
We love these sunflower inspired nails, with yellow bases, polka dots and pretty nudes that go with everything!
Perhaps you would prefer a simple French style manicure, with a floral twist:
Or these blue hue daisy patterned short nails!
Glittery Nails
Do you prefer something a little more eye catching and glamorous? Then, why not try some glittery nails? We love combining glitter with our favorite colors for a gorgeous look. For example, you could try pairing some glitter with a soft pastel color like these nails:
Alternatively, you can have multi-colored nails, with a different shade on each nail and one focus nail that is covered in a sparkly glitter. We love picking an individual nail for a little sprinkling of glitter and sparkle like these ones. They will honestly look great at a party or event!
Marble Pattern Nails
Marble is also making a comeback, whether it's in phone cases, in our homes or on our nails. A marble effect can look really classy yet understated if you want something a little different, but you don't fancy really out-there nails.
We love a soft pink marble that blends perfectly with any outfit:
Or go paler with white, beige and gold marble nails. You just cannot go wrong with nude shades. They look sophisticated, clean cut and stylish:
But, marble nails don't have to be soft and understated. You can try infusing various colors in your marble design, and that'll really keep your nail tech busy and on their toes.
Why not go for a simple base color, like a white or nude, and then add brighter colors such as blue hues, navy and golds to create your own perfect marbled nails.
We absolutely love the look of these blue marble effect nails:
Alternatively, if you don't want to go crazy with your nail designs, then stick to simple colors, and just have maybe one or two nails with the marbling effect such as these pretty nails:
But, if it's the wow-factor you want, then you have to go bold with some marble tipped nails. We have fallen head over heels for these emerald green marble nails.
Go for a color that matches your skin tone, and blends with your natural nails, and then pair with an emerald green, black and sparkly gold to recreate this beautiful look!
Striped Nails
Stripes have been in fashion for decades, and they're not going away anytime soon, so why not try out some fancy striped nails?
One of the nicest combos these days is navy blue and white. It looks chic and nautical. So, we've got a smart navy blue gold and yellow stripe mix for you to try out:
If you love rainbow stripes, then we have the perfect look for you. You can either combine these dazzling striped nails as the design for your index and middle finger, along with a plain block color for a more refined look, or go all out with rainbows all over!
If that's a little too much rainbow for you, then go for a more subtle style with just one stripe down the middle of the nail, paired with a nude undercoat.
Nude Nails
You just cannot go wrong with a simple nude shade. You can pick from beiges, pinks, whites, browns, caramels, you name it! Or, just have a mix of all of them and pick a nude for each nail!
We love pairing a nude color with a little bit of sparkle such as some gold or silver detailing.
The great thing about nudes is that they go with everything, so you can even mix and match with some sparkling gold, or some animal print for a dramatic yet stunning nail look.
Detailed Nails
For many of us, getting our nails done is a way to express ourselves. You can pick really wacky, different and unique designs to show off on your nails.
We just love a detailed look such as a polka dot, dalmatian print or leopard print nail. One of our favorite trends these days is the tortoiseshell nail. This looks great with browns and beige clothing, which is perfect for fall weather.
If you really want to leave a lasting impression with your nails, then go for some fruity patterns! These will really catch the eye and the attention of all those around you!
Minimalistic Nails
Perhaps you love to be a little more understated with your fashion style. So, stick to the classic, chic French manicure. It looks clean cut, elegant and sophisticated.
Since the French manicure is one of the most popular and well known nail looks, why not try getting one with a cute twist? We're definitely asking for this tortoiseshell french manicure on our next nail appointment!
You may also want to get a French manicure, but with different colored tips. Some people prefer red tips for a change, but you can mix it up with blacks, greens and orange hues for a little bit of fun.
If you like a minimalistic look, then you have to go for monochrome styles. We love a simple matte black color paired with a clear, bright, crips white.
Seasonal Nails
If you love getting into the spirit and celebrating holidays, then don't leave your nails out of the equation! You have to get seasonal nails to match your holiday mood. One of our favorite things about Halloween is getting spooky nails to match the spookiest season of them all.
After that, you can change up your look for some festive nails. Stick to red, greens and whites or some pretty christmassy glitters to deck the halls (and your nails)!
Summary
To summarize, just because you have shorter nails, it does not mean that you have to miss out on pretty, eye-catching nail designs. You can still have some fun with your nails and pick different, stunning designs for your next nail appointment.
Whether you like plain nudes, sparkly golds or patterned nails, there truly is something for everyone in our guide of 25 nail ideas for short nails.