In days gone by, starting a career in any industry required you to study at a brick and mortar school that could give you the correct credentials in the form of a diploma or degree.
However, these courses can be highly costly and demanding- taking years to complete. The makeup artist industry was no exception.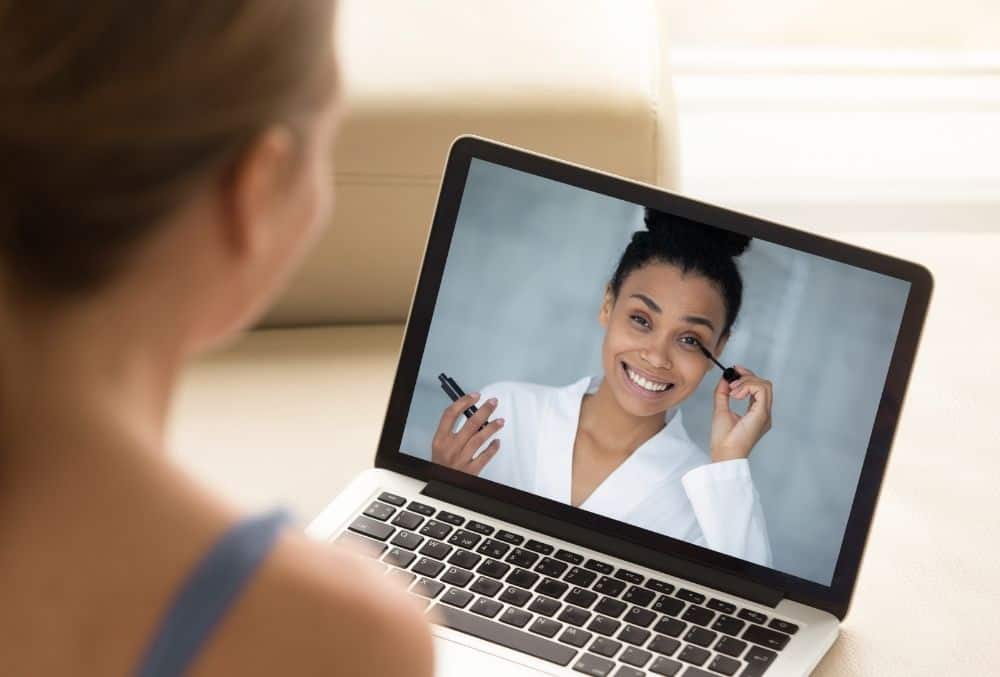 Having a passion for all things makeup is exciting and so is the prospect of pursuing a career in makeup artistry.
However, without knowledge of the training requirements and other important information, it can feel overwhelming.
Being a beginner and having no prior knowledge is nothing to be ashamed of and although it takes time and a lot of dedication and self-motivation, it is possible to learn everything you need to know to become a successful makeup artist online.
Why Go Online For Makeup Artist Courses?
While you do not have to undergo formal training to become a professional makeup artist, the recent blossoming of the beauty industry in the online space in the form of hacks and tips, and tutorials on social media platforms means that now is the time to give yourself a competitive edge.
There is no easier way to do this and acquire the skills needed to become a professional makeup artist than to gain credible certification through online courses.
There are many benefits to taking online courses:
For starters, online makeup artist courses allow you to learn skills in the comfort of your own home which means that the financial burden of the course is significantly less as you do not have to factor in time and money spent on the commute to the physical school.
This flexibility means that you can study at your own pace- completing the course work when you have a spare moment- and so allows you to uphold your other commitments such as work or other school commitments.
What is also great about learning online is that plenty of these online makeup schools have support staff, tutors, and peer support who can answer questions outside of the usual 9-5!
Usually, course assignments are accompanied by video tutorials so you don't have to worry about missing something as you can always play it on repeat until you understand what was said.
Many online schools offer payment plans and promotions to make education more affordable and accessible.
You won't need to scrape together money or take out a loan to pay tuition and there are often discounts offered on course bundles and even free makeup tools!
Ok, great so you have decided to do an online makeup course but which one is the best one for beginners?
Given the vastness of the Google search, researching and gathering information on which course to do can be extremely daunting as the school offering the course needs to be credible and trustworthy and the course content needs to be relevant and interesting to you and it potentially needs to be budget-friendly… that's sounding quite overwhelming!
That is why we have put together a list of schools offering the best online makeup artist courses for beginners:
Vizio Makeup Academy
Vizio Makeup Academy offers a variety of makeup artistry courses, each tailored to suit the progression of your career in makeup artistry.
The more advanced courses will still teach you the basics of makeup artistry but if you just want to start the journey into makeup artistry then Vizio's standalone Introductory Makeup Course, designed for beginners like yourself starting their journey in becoming a makeup artist professional is a great pick.
In this course you will learn all the fundamentals of makeup artistry including the history of makeup, how to build your own kit, what color theory is, and how to use it as well as everything you need to know about face structure, contour, highlighting and blending, using face charts and how to do natural and smokey eye makeup. Also included in this course content is a how-to guide on sanitation and sanitizing brushes.
With this 20 hour-long course, you will have unlimited access to the learning materials and will get an ebook of the course content. When you have completed the course, you get a professional certificate (as is with all the courses offered by Vizio).
As a bonus, you will also receive Vizio's exclusive Pro Brush Set with a leather case.
If you are keen to progress further, Vizio offers a Master Makeup Course which takes around 65 hours to complete but includes a 24-piece Pro Makeup Brush Set which includes an HD eye shadow pallet.
They also offer a Premier and Elite course which includes a full HD makeup kit.
During the 150-hour Premier course, you will learn how to do makeup for men, airbrush tools and application, lip liner techniques, eyeshadow coloring, and layering as well as eyebrow shaping.
The Elite course gives information on how to add false eyelashes, makeup artist tips for celebrities, foundation types to use and top pick suggestions, top picks for makeup products, blush and lipstick for various skin tones, special effects make-up, fake blood makeup, and zombie looks.
The Elite course takes 220 hours to complete but you will learn all the introductory material in all three of these courses plus this additional material.
For a full description of what is offered in each course and for more information visit their website.
The Beauty Academy- Makeup Artistry 101
The next course on our list offered by the Beauty Academy will help you to not only begin your career as a makeup artist but if you are just interested in learning how to apply flawless makeup at any age; this is the course for you!
An overview of the course is that it will take you through the hottest trends of today and will teach you their exclusive 10 step makeup process.
The 20 online modules in the course have video tutorials for you to really hone in on perfecting your techniques on applying makeup.
The course includes a module topic focusing on makeup through the ages which include videos on Victorian-era makeup and the history of cosmetics.
There are also modules focused on brushes and tools and understanding how to use them and a step-by-step guide on how to clean them.
Safety and sanitation are a major focus of the course and give you proper instruction on best practices and handwashing.
There is a deep delve into color theory and facial structures as well as the different skin types, skincare, and how to do a skin type test and determine skin tone.
Other modules include information on concealing, contouring, and highlighting the face, showcasing the eyes with proper use of eye shadow and eyeliner, lash enhancements, and correction and shaping of the eyebrows.
Information on lips and the differences between daytime and evening makeup is also given.
The course is rounded off with learning how to do a smokey eye and their 10 steps for makeup application as well as a guide to building your own kit.
The stand-out feature of this course is the teaching of skills focusing on how to launch your own profitable, business and social media campaign to gain clients.
Unfortunately, this course is a non-certificate course and you only have access to it for 90 days but this course is jam-packed with great content and is a good starting point.
To find out more visit their website.
Bombshell Beauty Academy
This Beginners Makeup Online Course offered by Bombshell Beauty Academy allows you to benefit from a unique one-on-one learning experience where you can learn at your own pace and the end, become a certified makeup artist.
By joining this course, you are also privy to exclusive makeup discounts to top brands such as MAC and Model Rock and the supportive makeup artistry community at Bombshell Beauty Academy.
Students who enroll with Bombshell Beauty Academy are eligible to apply for the MAC Pro Student Membership, receiving discounts on MAC products on completion of the course.
What is great about this course is that there are integrated video tutorials and quizzes into each module as well as assignments or homework to complete.
The first of the 17 modules focus on an introduction to makeup and what you will need to get started in terms of tools and techniques.
The next course module covers topics on the brushes needed and a deep cleaning guide for the brushes.
This is followed by a delve into skincare and preparation techniques as well as the importance of sanitation and hygiene, plus a look into product types and face shapes and contouring.
The next few modules focus on eyelashes and the mastery of eyeshadow as well as the differentiation between matte and shimmer eyeshadow and different eyeshadow designs and the use of color to accentuate the eyes.
There is an advanced guide on what makeup to put where and how to apply it and information on "cutting the crease" which is an optical illusion where a lighter shade of eyeshadow cuts across the crease of the eyelid creating a dramatic contrast making the eyes appear larger and more defined.
As far as an introductory course goes, this ticks all the boxes. Check out more information here.
Sarah Baldwin Professional Online Makeup Academy
Sarah Baldwin, a highly sought after and respected professional makeup artist with over a decade of experience offers online courses in makeup artistry.
With her expert guidance and mentorship, you will learn the ins and outs of the makeup industry through carefully crafted guidebooks and video tutorials.
Included in her course are modules focused on makeup artistry hygiene and skincare to keep in your kit, how to create glowing skin and fresh dewy skin as well as how to shade and highlight the face.
Other modules focus on perfecting lip work (how to achieve those glossy lips), the application of individual eyelashes, and how to do winged eyeliner as well as shaping and filling the eyebrows.
Further to that, there are a few modules on how to do makeup for beauty editorials, how to build a portfolio and product list, and then a module on preparing for a photo shoot.
The last module is a business pack that gives details on all you need to know on creating a business plan, marketing and promoting your freelance makeup artistry career, implementing booking forms, and taking deposits for events like weddings and gives you a preview on how to do bridal makeup and when to apply makeup during a wedding.
Upon completion of the Freelance Makeup Artistry Course, and after writing tests, a certificate of completion is issued.
This course has a "Platinum" option where if selected, you will receive a year-long aftercare program where you can contact Sarah directly each week to ask any questions on the content or any advice on products and techniques.
Also included in the Platinum option are four one-on-one video calls and access to your own private course group meaning you can check on your progress with Sarah.
If you are after a detailed and high-quality course with loads of support and contact time, this is the course for you.
Udemy Makeup Artistry Courses
Udemy offers hundreds of makeup artistry courses, each catering to different needs.
The Udemy courses are generally reasonably priced and are rated by the persons taking the course so you can choose the highly recommended ones instead of just trusting the word of the instructor.
Here, is a deeper look into some of the top-rated makeup artistry courses on Udemy:
This best-selling course by Hajar Beauty Academy, a certified cosmetician who is passionate about the application of makeup on real-life clients and their skincare.
Before starting this course, you will be required to have a makeup kit but covers all basics and gradually levels up to instruct you on more complicated makeup techniques.
In the "Basics" module, topics like sanitation, hygiene, color theory, skin preparations, and everything to know about foundations (skin undertones, coverage, etc.) are covered along with brush guidelines and how to perform a client consultation.
The next modules focus on more complex techniques such as those associated with highlighting and contouring, creating a natural eye makeup look, and applying lashes.
This course is a good choice as it is hands-on and you can contact the academy to explore answers and master your craft together.
Another benefit is the presence of an active community.
The course comprises 144 lectures over a 6.5 hour long period with demos on different clients to showcase how makeup can be applied to different skins and face shapes.
This course comprises 43 lectures over 6.5 hours and is offered by Lana Vallo, the founder of Glow International Makeup School, and two beauty studios.
As some of the highlights, the course content covers how to do makeup so that it lasts longer and enhances facial features, choosing the correct tools, and how to maintain them for longevity.
It also covers how to hide imperfections and create flawless skin.
It is crucial to note that this is a hands-on course and so any theoretical skills or knowledge acquired needs to be practiced in real life.
It is recommended that you go through the course 2 or 3 times while practicing on models. In addition to video tutorials, a comprehensive workbook, and a product list of high-quality makeup products.
This course, created by Matilda Pellén, a business owner with a passion for photography, is suitable if you have already had a makeup kit and know a bit of makeup artistry basics and it is useful for to build on your potential makeup artistry business.
It is a certificated course (upon completion) and covers how to create several makeup looks, steps on how to put on makeup, understanding what tools to use and how and how to create a glowing finish.
The course is filled with 107 lectures spanning 7.5 hours and is great for someone who is wanting to hone their makeup artistry skills.
Online Makeup Academy
Here, at the Online Makeup Academy, an advanced makeup course is offered that includes certification at the time of completion.
Taught by an experienced artist, Paulina Pecak, who has assisted hundreds of students to achieve their makeup artistry goals and has a loyal social media following of over 50000 people interested in her work.
The course consists of modules slightly different from the offerings above and allows the student to learn advanced professional techniques such as creating looks for editorial photography, film, and high fashion.
There is a strong emphasis on content and portfolio creation as well as information on business branding and marketing.
There are 7 modules of this course detailed below:
1. Introduction
Included in this module, you will receive an overview of what is to come over the course as well as topics such as editorial and nude makeup, photoshoots, products, and how to motivate yourself as an artist.
2. Creative & HD Makeup
In this detailed module, you will learn creative makeup application techniques, how to conceal dark under-eye circles and how to create a "wet" makeup look
3. Period Makeup
Module 3 focuses on makeup through the ages including the 1920s, 1930's and 1960's makeup looks, how to create cut creases with colorful eyeshadows and glossy lips for brides.
4. High Fashion
This module's focus is on how to reproduce a high fashion dewy look and runway looks like gold leaf eyes, use of trendy eyeshadows and lip colors.
5. Editorial Makeup
Here, strip lashes shimmer, and bold lips are covered as well as how to create an edgy look with studs and crystals.
6. Business Branding And Marketing
Module 6 includes building a website and social media following as well as tips and tricks on how to motivate yourself as a business owner.
7. How To Start Your Own Makeup Artist Business
This module is focused on building your portfolio, how to get clients and pricing services as well as dealing with negative feedback and difficult clients, reviews, and testimonials.
For more information, check out this course here.
Melissa Hoffmann Makeup Course To Make You Feel Confident AF
This is an online course that will help you learn to do your makeup in an easy way that will make you feel extremely confident and well versed in applying makeup to yourself and others.
While this course is not certified, it covers a lot of the basics and is fun and concise. It is offered by Melissa Hoffmann who is a life coach, photographer, and makeup and hair artist that left her 9-5 to pursue a career in uplifting other women.
The course on offer is an opportunity to master the art of a few basic but necessary makeup techniques which can be added to your repertoire.
There are 5 parts to this course, the first is an overview of what to expect and Melissa Hoffmann's philosophy on makeup.
The second and third part of the course covers how to create a natural makeup look in under 10 minutes as well as a guide to the ultimate smokey eye, respectively.
Each of which gives a step-by-step guide and a product guide. The last two parts focus on creating a flawless face and how to do a perfect red lip.
Some client testimonials comment on how easy the course is to follow and that day-to-day they feel so much better about themselves in terms of their confidence and how they look with their now effortless but still stunning makeup.
For more information on her course, check out her website here.
Other Questions You May Have Before Starting A Course In Makeup Artistry
What Is The Difference Between A Certified Makeup Artist And A Licensed Makeup Artist?
Before embarking on your journey to becoming a makeup artist, you should first understand the difference between a certified makeup artist course and a licensed makeup artist course as when choosing a career path, it is important to acquire the correct skillset for the path you would like to take.
Being a certified makeup artist means that you have completed a certain number of training hours and practice hours on models, with a passing grade.
A certification informs a prospective employer or client that you are well versed in makeup artistry techniques.
Whereas being a licensed makeup artist means that you have completed specific training based on legal requirements along with an exam to receive a license.
Do I Need A License To Practise Makeup Artistry?
In short, no, not necessarily. However, it may open up more opportunities professionally and act as proof that you are both certified and licensed to practice makeup artistry.
A license proves that you have completed the necessary course requirements and are competent enough in the field to practice, based on state guidelines.
While many online courses like the above offer certification, obtaining a license online is uncommon and may not even be an option at all.
This is because to obtain a license at the state level you would need to complete some training in person.
Additionally, you would need to find out whether your state requires a license for makeup artistry and what the requirements are to become licensed.
You would also need to find out if the schools in your state offer the training required, completing a full course and doing the appropriate number of industry hours as an apprentice or as part of a fellowship, and of course, you would need to pass all of the exams.
You would also need to find out where to apply for the license and also where continuous improvement education can be completed to maintain the status of your license.
However, as with many areas of the law, the requirement to have a license to practice remains a grey area as the requirements vary from state to state.
It also may depend on where you are intending to practice as a makeup artist. As an example, working as a freelance makeup artist generally does not require you to have a makeup artist license.
There are additional advantages to becoming a freelance makeup artist including the opportunity to establish yourself with private clients which may include professional industries such as the film and entertainment industry.
However, when working in a salon it may be necessary for your to have a makeup artistry license depending on the state requirements and the company policies.
More information on this can be found here.
What Is An MUA Certification?
A makeup application certification or MUA is when you complete a course and receive a certificate that validates your specialization in makeup application- MUA is usually included in courses offered online but on a very superficial level.
When you do a course specifically focusing on MUA, you become a certified makeup artist with mastery in professional makeup application.
The Best Of The Best
Depending on your requirements, hopefully, you will find a course that is suitable for you as you embark on your journey to becoming a makeup artist (or just someone who wants to hone their skills for everyday life).
If there was one choice out of the courses mentioned above that would trump all the others it would be the courses offered by Vizio Makeup Academy or those offered by Sarah Baldwin.
The reason these two take the top prize is detailed below:
Vizio Makeup Academy
This course, out of all the courses, offered the most in-depth content and progression from a beginner to an advanced makeup artist.
They also supply a lot of free makeup tools, kits, and support from peers and instructors.
They were also the only institution that offered special effects makeup techniques and airbrush application as a part of their course content- which, if that is something you would like to get into, is available there.
Sarah Baldwin
What is great about Sarah Baldwin's offerings is her hands-on support given to you during the course and after the course for up to a year where you can ask her any questions and have one-on-one sessions with her to perfect anything you think you need help with.
Something else that is included in this course is the opportunity to learn how to prepare and be organized ahead of a professional photoshoot.
So, Is Makeup Artistry A Good Career Choice?
Now that you have seen all there is to offer in the online space of makeup artistry courses, you can have your makeup tools at the ready in no time at all.
A career in makeup artistry albeit a rollercoaster of challenges and excitement is a creative one with a wide variety of possibilities.
The major advantage of this industry is that the field of application is so broad- you could be working as a makeup artist for brides, for girls going to the prom, for professional salons, or editorials or photography shoots.
This means that you get to interact with and meet a whole range of people.
Successful makeup artists use design skills and are able to experiment with different techniques and products to create stunning looks for all kinds of projects.
However, makeup artists must keep on-trend with fashion changes and new product development and so as a makeup artist, you should have a keen interest in continuous learning and development in skincare and makeup.
Taking a course, whether for certification, licensing, or just for personal development and fun requires dedicated time and effort to reap the benefits.
Once you start, you will want to be sure to complete the course and practice, practice, practice!
Whatever path you choose to go down in the makeup industry, remember to pace yourself as a beginner- you will not become an expert overnight- so try not to be hard on yourself if you can only commit to doing an hour a day or even only 3 hours a week on your online course.
Slow and steady wins the race and you will be thankful to yourself for taking the time to go through your online course material.
It is important to have fun too, so go on- pick a course and become the makeup artist you have always wanted to be!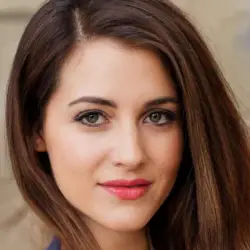 Latest posts by Maya Garcia
(see all)