Embarking on a career in the fashion industry traditionally required a degree from a brick and mortar institution; however, these courses can be extremely demanding and costly and there are more ways for you to gain the relevant qualifications and experience without having to compromise your current financial situation.
The most popular solution used is online fashion courses which allow you to learn at your own pace whilst also meaning that you can stay at home and don't have to uproot your life.
So whether you're looking for a career change or perhaps you have a family to support alongside your studies, conducting your studies online has many benefits that mean you can consider studying fashion design in a way that is convenient for you.
In this guide, we'll be taking you through the best online fashion courses that you should consider studying as well as everything you need to know when it comes to preparing for your studies and an FAQ where we answer those burning questions you may have.
You may be wondering how you can study fashion design online successfully and effectively given that you will have to rely on your own space for working but if you have a room designated as a workspace, you should be fine.
Also, remember that the courses listed in this article are not full degrees as you will have to attend a formal brick and mortar institution but these courses can equip you with the skills you need to enter the industry with confidence or as a great starting platform if you want to eventually attend a fashion school
So what are the benefits that come with studying fashion design online?
Here are some of the advantages that you should bear in mind:
Study at your own pace – The first advantage is that you can study at your own pace whilst also allowing you to create your own routine and schedule that works for you. This is ideal if you have a full-time job and cannot commit yourself to full-time study due to financial constraints or perhaps you have a family to take care of. Studying online can give you the confidence and skills you need while allowing you to determine what time to fulfill your tasks without missing out.
Lower cost – The second major benefit is that online courses cost significantly less than full-time degrees meaning that you can learn the skills required without putting yourself in a financially risky situation. Equally, if you are skeptical about studying at a traditional institution for a degree and want to see if an alternative method of learning is available then you can choose an online course without having to worry about the financial side of studying.
The Best Online Fashion Courses That You Should Consider
Now that you know what advantages come with online learning for fashion design, you may be wondering which websites are the best places to consider for your qualification.
We've gathered the top ten courses that will give you the best array of knowledge and skills that will help springboard your fashion career. Here are the best online fashion courses available to consider:
Our first recommendation is the Coursera: Fashion Design Course which is ideal for those who want to cover the basics of the fashion industry including how to create a successful business.
This course is offered by fashion experts who will give lessons on a variety of topics within fashion including branding, communication, products, and retail.
Rather than being a course where you design your clothes, this course goes behind the scenes to provide you with the knowledge and skillset that you will need to succeed once you have honed your designing skills.
This is essential as you will be able to see the difference in business structure between affordable fashion and luxury brands depending on what area you want to venture into.
The lessons dive into many case studies so you will be dealing with real-life scenarios on how certain brands have managed to succeed in such a competitive environment.
Coursera has a wide array of topics and works hand-in-hand with many established institutions.
This particular course is run by Parsons School of Design which is one of the best fashion schools in the world including Tom Ford, Marc Jacobs, and Prabal Gurung.
Our second selection is the Coursera: Sustainable Fashion Course which is a fantastic course for those who want to establish a brand that is as eco-friendly as possible.
The fashion industry is incredibly valuable and generates trillions of dollars per year but it is also known that it is a very harmful industry towards the environment, especially fast fashion (brands that create new clothing regularly which generates a lot of waste).
These issues have inspired new Sustainable courses that help aspiring designers to source materials that are friendly towards the environment such as recycled materials as well as textiles that are not made using the skins or furs from animals.
Designers such as Stella McCartney have proven that there is a huge market for sustainable fashion and there are plenty of affordable and luxury brands that have begun to adapt to a more sustainable model.
This course, awarded by the Copenhagen Business School allows you to learn how to establish a successful business that is as sustainable as possible while still creating products that are desirable and boost longevity.
Like the Coursera course discussed previously, this course also looks into various case studies that show how brands have managed to generate profit from running a sustainable business.
Our third choice is the Fashion Premier Academy which has a variety of different courses depending on which area of fashion you are interested in.
With a variety of fashion design courses, there are courses dedicated to branding, the business of fashion, collection development, draping, marketing, pattern making, and sketching among many others so you can learn how to build a successful fashion brand from every angle by developing the skills you need.
Every course at Fashion Premier Academy is run by Nino Via who has years of experience working within the fashion industry as well as plenty of years of teaching various courses based on the fashion industry.
The course is delivered in video segments meaning that you can learn at your own pace with each segment centered around a specific area within the course.
You'll learn an abundance of skills and knowledge which includes, but is not limited to: building a brand, essential principles and techniques relating to the fashion design process, manufacturing practices, and social media marketing and campaigns.
These skills will help you to become a better designer and provide you with the knowledge that you will need to run your own business and stand out against the competition.
Our fourth recommendation is the IAP College: Fashion Designer Course which is ideal for those who want to become a successful fashion designer and know the ins and outs of running a successful business.
The Fashion Designer Course at IAP College provides you with all the skills you need starting with a detailed rundown of what is expected when working as a fashion designer followed by developing your knowledge and paving a path for a successful designing career as well as what it is like finding a job working as a fashion design and eventually starting your own business.
This course is different from others as it follows the teaching from a specific textbook, FabJob Guide to Become a Fashion Designer, meaning that you have complete control when it comes to deciding when you work and study.
It is a course that can be completed within six weeks after starting, making it ideal for those who want a shorter course that gives them a taste of what it is like to study fashion design.
This course has been designed with the working individual in mind meaning that it is meant to be studied part-time so you can choose whether to stick to the recommended six-week completion time or work on the course for up to twelve weeks.
Although this is a course designed for those who want as much independence as possible, you also have the opportunity to ask questions and request help from the teachers should you need it and they will be happy to help you should you be struggling in a specific area.
When you start the course, you will have an assigned faculty member meaning that you can be assured that you receive help from the same person.
Our fifth selection is Sew-It Academy which is ideal for those who want to learn how to advance their sewing skills. Whether you have made your own clothes in the past or not, the courses at Sew-It Academy will develop your confidence in design by providing you with the skills and knowledge you need to start your own business.
You'll be taught all kinds of techniques that will allow you to make any kind of clothing with ease. These courses are taught with step-by-step guidance which makes it ideal for beginners who are just starting out.
You'll also learn how to work with a variety of different materials so you can have the confidence to make any kind of clothing without facing any problems. The courses at Sew-It Academy are taught by Mimi G who has years of experience and has taught thousands of students online, building a strong reputation.
The affordable cost of the courses makes it highly popular for those on a budget. You'll learn a variety of important skills and topics including draping, fitting, pattern making, sewing, and sketching among many more.
Due to the popularity of the course, you'll be able to network with plenty of other designers and help to build lasting relationships as you venture into the hugely important fashion industry.
Our sixth choice is Snapfashun which has an array of different fashion design courses depending on what kind of designing career you want.
Snapfashun's courses have been created for those who are living on a strict budget and don't have the money to study at a traditional fashion school, making it perfect for those who want to enter the fashion industry without the financial burden and pressure.
Utilizing Adobe Illustrator, you'll learn everything there is to know about fashion design and how to build your own successful business from scratch.
Their beginner's course, in particular, is a fantastic choice as it provides you with plenty of skills in lots of areas of fashion design by splitting the design choice into six categories: womenswear, menswear, childrenswear, costume, handbags, and in-stores.
Whether you choose to specialize in one area or several, you'll be able to identify which area you are strongest in and most passionate about.
Studying at Snapfashun also gives you access to a one-year license with Adobe Illustrator CC as well as a reference library that will store all of your sketches so you can work on them whenever you like.
This means that you can study at your own pace without the pressure of adhering to deadlines as well as ensuring that you can design a consistent collection regardless of which category you choose to explore.
The beginner's course covers a variety of topics including using Adobe Illustrator and its interface as well as how Illustrator can help in the design process, what other tools you can use for your drawings, color theory including different schemes and properties as well as elements such as balance and proportion.
Once you have finished the beginner's course, you can choose to enroll in their intermediate or advanced courses should you wish to study further.
Our seventh recommendation is the Udemy: Intro to Fashion Illustration is great for those who want to specialize in fashion illustration. Some people think it is as easy as drawing but the world of fashion illustration is an art form that takes a lot of skill.
This Udemy course teaches you everything you need to know when it comes to fashion illustration from drawing fashion figures to poses and using watercolors to make the illustrations come to life.
No matter what kind of fashion design you are inspired by and want to draw, this fashion illustration class will give you the tools you need to produce beautiful drawings that are eyecatching and accurate.
Whether you are drawing for a publication or as an original design, this is a great course for any aspiring creative who wants to work on their drawing skills.
Our eighth selection is the Udemy: Learn to Draw Fashion with Adobe Illustrator which is ideal for those who have Adobe Illustrator and want to learn how to draw effective and innovative designs that will help kickstart your career.
Udemy's course means that you will master every aspect of Adobe Illustrator so you can create designs that will be highly successful as well as discuss how to make those designs a reality through the manufacturing and retail processes.
The great thing about this course is that it is designed with beginners in mind so whether you have used Adobe Illustrator a little bit or have downloaded it but never used it, this course will give you all the skills you need to create beautiful designs such as how Adobe Illustrator works, the terminology that is used within the software, how the design becomes a product, how to incorporate the software into your design process, and how to utilize the features and tools in the software to enhance your designs as much as possible.
This course is particularly helpful when it comes to standing out against the competition. The majority of fashion brands use Adobe Illustrator for their designing process but not every designer knows how to use it well.
This course will ensure that your skills are advanced as possible which will be a huge selling point when it comes to the interviewing stage. This is because the instructions on how to use Adobe Illustrator don't cover fashion design so having a course that specializes in the subject will mean that you have the upper hand.
Our penultimate choice is the University of Fashion which is one of the most popular online fashion course options. It was the first website to offer fashion design courses online only and provides a wide array of different courses depending on what area of fashion you want to delve into.
Their courses consist of videos that provide detailed guidance with step-by-step instructions to help expand your knowledge and skillset.
Bear in mind that, despite its name, the University of Fashion is not a formal institution that is accredited meaning that you won't receive a certificate or diploma for completing the courses.
They are simply there to help give you the tools you need should you want to springboard your career in fashion.
A great thing about the University of Fashion is that you can study at your own pace while also freeing yourself from the stress of exams and tests.
Whether you want a cheaper alternative that doesn't require you to study full-time at a traditional fashion school or you want a taste of what studying fashion design is like, the University of Fashion is a great starting place for whatever area of fashion you want to venture into.
The University of Fashion's pricing works as a yearly subscription rather than specific prices depending on the courses. It costs $189 per year and once this is paid, you will be able to access every course meaning that you are not limited to one area of fashion if you are undecided. It is a great way to see what area of fashion works best for you and what you would be interested in pursuing.
Our final recommendation is the You Too Can Sew course which provides sewing classes for those who want a practical course that specializes in tailoring.
All courses at You Too Can Sew are taught by Chioma who has worked as a fashion designer and professional tailor for almost two decades so you can be assured of her vast experience and know that you are learning for the best.
The courses use a variety of different learning methods including discussions, illustrations, and videos, so you can feel confident that you will find a way of learning that suits your style of studying.
This course is great for those who want a career in fashion design that requires a lot of specific tailoring such as menswear or couture.
What is great about You Too Can Sew is that there are two courses to choose from with varying price points to suit all budgets. The cheapest option is titled "Learn to Make that Red Dress" which costs $15 and talks you through the process of making a dress from a pattern.
This course is great as it covers the basics needed to delve into fashion design while also giving you a taste of what it is like to study fashion design without dedicating yourself to a longer course that costs more money.
If you know that you want to study a more in-depth course then the "Beginner's Sewing Course" is perfect for you and gives you all the skills you need to make innovative and beautiful designs.
The course costs $150 and teaches you various skills including advanced sewing machine techniques, how to use a variety of different fabrics, and tailoring clothes properly and correctly.
Studying Fashion Design Online
Studying fashion design online has its many benefits as we have discussed earlier in this guide but getting yourself accustomed to learning from home can be challenging initially as you settle into a schedule or routine.
Making sure that you dedicate blocks of time to your studies each week means that you will get the most from the course and be able to work on your skills quicker.
Whatever reason you have for choosing to study online, it's important to make sure that you can dedicate yourself to the course but the great thing about online studying is that you can learn at your own pace whilst also ensuring that you can be flexible as well.
Learning Fashion Design From Your Home
The fashion industry is one of the most lucrative industries in the world generating $2.5 trillion on average per year which makes it one of the most competitive industries thanks to its array of creative jobs such as fashion design as well as technical jobs venturing on the financial side of the business.
The competitive nature within the fashion industry can be deeply cutting and intimidating to some which is the reason why it is important to equip yourself with the appropriate qualifications and experience so you can gain the confidence and skills needed to succeed in the industry.
If you are wanting to cut down the costs whilst conducting your studies then working from home can be a great way to minimize those costs as you won't have to worry about hiring out an office space and it will also allow you to be comfortable within your own home.
However, working from home can come with certain challenges, especially at the beginning of your course as you settle into your new routine.
Another reason why working from home is a great place to start is because you can spend as much or as little time as you want and will be able to develop your skills.
You can incorporate the internet into your learning by watching videos on Youtube to help further your skillset if needed as well as what you learn from your course.
But how do you successfully learn from home without distraction? It can be difficult to stay focused and adjust accordingly but once you have mastered this, you'll be able to start studying successfully in no time.
Bear in mind that in order to be successful in the fashion industry and earn a living doing what you have always dreamed of means that you need to be prepared to put the work in and make sure you are as productive as possible.
Naturally, it's important to look at what each course entails but there are an array of topics you can teach yourself on the internet as well including:
Developing A Detailed Plan
The most important thing that you can learn on the internet is coming up with a developing a detailed plan including a potential business plan to guide you in the future for your career.
This will mean that you are as prepared as possible for your life post-course as well as meaning that you have a clear vision of what you want to do specifically.
For example, some fashion designers wish to establish their own brand from scratch whereas others want to work for a reputable fashion house with plenty of history beneath it already.
Having an idea of what you want to get from the course as well as life after the course will give you more established goals as you complete your modules and means that you will have a better idea of what kind of modules you want to undertake should you have a choice.
Fashion Blogs
Another helpful part of the internet is looking through various fashion blogs whether it is from designers or fashion journalism. This can help you to keep up with trends and they provide plenty of insight and advice from people who actually work within the fashion industry.
If there is a designer or brand that you particularly admire, look up some fashion blogs that have been released by them or look up blogs that talk about them.
Reading interviews and advice columns by people who work within the industry gives you a better understanding and a taste of what to expect when you have finished your course and are embarking on your career.
Finding Out How You Can Be Successful
It may seem trivial, but you can learn how you can be successful online as well.
There are many websites that provide plenty of insight into how the fashion industry works and how certain fashion designers can become more successful than others.
Whether this is through clever campaigning or running a unique show unlike any other, knowing how to establish yourself as successful takes plenty of time and research.
Doing as much research as you can will help give you the tools and knowledge to boost your chances of following in the footsteps of those who have become successful in the past.
Free Online Courses
For those who have absolutely no budget to work with, there are free online courses that you can embark on.
Bear in mind that these will have limited lessons and may not provide you with as much knowledge as a paid course will. Free online courses also don't tend to come with certification and any that do will require you to pay for the documentation.
Therefore, if you are seeking professional qualifications, a paid option is always best as this is more likely to be recognized when you are interviewed for a fashion design position.
Networking
One of the most important parts of working in the fashion industry is being able to network and establish an array of relationships with all kinds of people from fellow designers to set designers to journalists and financial experts.
This is because building a good rapport with as many people as possible will help you to establish and build your brand and career meaning that you will get the exposure and assistance you need.
Pattern-making
If you know that you want to be a fashion designer but have only made clothes from bought patterns then it's important to make sure that you know how to make your own patterns. This will mean that you're not at risk of plagiarizing any other designer's work.
There are plenty of pattern-making resources available online that you can research to learn more about making your own patterns. When you embark on your fashion course, it's important that you know the basics so you can establish your own signature designs quicker and easily.
YouTube Tutorials
Lastly, one of the most popular resources often used for aspiring fashion designers is YouTube.
Whether you want to learn how to do a specific technique or want to know what goes into organizing a fashion show, YouTube is probably the best site to look at.
Since fashion is a visual medium, YouTube has plenty of videos that showcase various aspects of the fashion industry that can prove extremely helpful alongside your studies.
Learning To Focus
Knowing how to focus is the most important part whilst studying. As stated previously, working from home can present many distractions so learning how to focus properly will mean that you will get better results in your assignments.
It will also mean that you will have a better chance of finding your niche and identifiable style when designing your own clothes.
Free Fashion Design Courses That Are Available Online
As previously discussed, there are plenty of free online courses available that you can consider. This is a great alternative for those who have no money and want to learn the basics of the industry.
Free courses can help to teach you the essentials of the industry whilst also providing you with plenty of quizzes and tests to help further your knowledge. However, when it comes to free online courses, it is important to look into what you will learn from the course so you can be sure that you are getting the best experience.
These fashion design courses will help give you a taste of what to expect from a paid course should you decide to embark on further studies in the future and can give you a quick glimpse into what working in the fashion industry is like.
Here are just some of the best free online courses that you should consider:
Business Of Fashion
Courses: Fashion Business Basics, Fashion Entrepreneurship, and Fashion History
Fashion Era
Course: Fashion Drawing Tutorial
Massachusetts Institute of Technology
Course: Craft of Costume Design
Sewing Workshop
Course: Sewing Essentials Online Video Course
University of Fashion
Their free membership comes with three full-length lessons of your choosing across an array of different topics including Draping, Menswear, and Fashion Art to name a few as well as access to croquis template downloads, and preview videos for all lessons.
Utah Education Network
Course: Textile Design Entrepreneurship
Frequently Asked Questions
Can You Get A Fashion Degree Online?
Fashion degrees can be studied online with numerous colleges offering various courses including the Academy of Art University, Arizona State University, and LIM College to name a few. Just like traditional fashion degrees, online fashion degrees can also take either three or four years to complete and can be expensive compared to the courses provided in this article.
That is because you will be gaining a degree rather than a diploma or qualification certificate. However, whatever you choose to do, always think about what you want to get out of the course.
Is A Degree In Fashion Design Worth It?
One of the most commonly asked questions is whether getting a degree in fashion design is worth it. This is dependent on what you want to get from the course.
There are aspects of a full degree that you may not get from an online course with the main advantage being that a placement in a fashion house is usually integrated with the degree to give you more experience of working in a professional environment.
However, when it comes to the skills and lessons learned, both online courses and traditional degrees have a similar layout. If you just want to learn the skills by yourself and have a qualification by the end of it then either option will be beneficial to you with an online course being the cheaper choice.
Do Fashion Designers Make A Lot Of Money?
How much a fashion designer makes is dependent on whether the person is a head designer of their own brand or working as a fashion designer for an established fashion house; however, the average hourly pay for fashion designers in the US is around $31.33 meaning that the annual salary before tax is $65,170.
For those at the bottom end of the spectrum, fashion designers were earning as little as $33,740 per year whilst the most successful fashion designers at the high end are earning around $130,050 per year.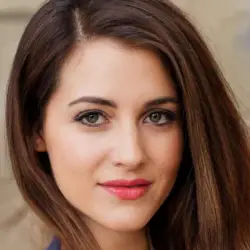 Latest posts by Maya Garcia
(see all)