People have been curling their hair for hundreds of years. Whether it's for a special occasion, or to make yourself feel beautiful, curling your hair is a great way to bring your look a whole new lease of life. 
The only issue is that some people may find it difficult to get those perfect, bouncing curls, especially if the hair is medium length or shorter. This can make it hard to find the right balance for loose curls, or you may end up with waves or kinks in your hair which just don't look quite right on you. 
Luckily, we can help you with some tips and tricks to get the most lustrous and voluminous curls for medium hair, so you never have to go to the salon for a bouncy new do again! So, why do we love loose curls so much? 
Why You Need Loose Curls For Medium Hair?
Learning how to curl your hair is a great skill to have. You can change up your hairstyle whenever you want, and switch things up a little when you have an event or a night out on the town. 
Curling your hair is also a great way to take your look to the next level. If you want to brighten up your outfit a little or smarten your overall look, then curling your hair is a great idea. You can create extra dimension in your hair, and can diversify your look! 
Having curled hair can also give you a boost of confidence as the curls really frame the face and can make it look slimmer and more refined. Curls also look great with a perfectly styled make up look and can really improve the appearance. The best part? It does not take much time at all to curl your hair, but the results are amazing!
How to Get Curls In Medium Length Hair?
We've all dreamed of having long, lustrous locks that flow down with loose, bouncing curls, but sometimes, our hair just does not grow that way. When your hair is shorter, it can be harder to create some perfectly coiffed curls.
Fortunately, we have got a few different ways that you can create effortless curls in your hair! But first, let's go over a few tips, tricks and things that you need to remember when curling your hair. 
The first thing to think about is the hair itself. You may need to get a haircut if you want the perfect curls. If you've got split ends everywhere, then even curling your hair can make it look lacklustre, and the hot tools will only make your split ends worse. So, if you want gorgeous, full and bouncing curls, then you'll have to keep the hair healthy and thriving. 
What you may not know about your hair is that washing it too frequently can actually be very damaging. In addition, using tools such as hairdryers, hot irons and wands can split the ends very quickly if used excessively. Instead, you should make use of dry shampoo if your hair needs a little refresh, so that you're not washing and blow drying your hair too much. 
You also want to use only high quality products such as shampoos and conditioners. Cheaper alternatives can have unhealthy ingredients such as sulphates which can damage and break down the hair. 
One of the best pieces of advice we can give you is to use a heat protection spray such as this Redken one:
[amazon fields="B008SV2BVE" value="thumb" image_size="large"]
or an argan oil heat protector:
[amazon fields="B00LMIVLXY" value="thumb" image_size="large"]
These are so valuable in protecting the health and overall appearance of the hair. With a heat protecting spray, you can keep your hair feeling strong and avoid split ends! 
Additionally, you'll want to use a hairspray or lacquer, as these will make sure that the hair stays in place all day after you've curled it. Finally, don't forget to always brush out the curls once you're done styling, as this will make them much softer and natural looking. 
How To Curl Medium Length Hair?
There are many different ways that you can curl medium length hair, and whichever method you choose will result in various different looking curls. Luckily, there are a few ways that you can do this. 
For instance, you can use a curling iron of course, but some people prefer to use wands and even flat irons to make defined and bouncing curls in your hair. 
With A Flat Iron/Straighteners
Curling your hair with a flat iron is actually one of the most desired methods these days. You can create very soft, smooth curls with a flat iron, but you do have to make sure that you get the technique right, or you'll end up with some creases in the hair, and dents that don't provide the look you're going for. 
To avoid this, make sure that you brush the hair first for smooth strands once curled, and then don't forget to apply your heat protection spray. Then, when your flat iron has reached the peak temperature, you can start curling.
To do this, make sure that you start with the flat iron about 1 to 2 inches from the root of the hair. Then, clasp the flat iron around about a 1-2 inch wide section of hair, and pull down until you get to the part where you want the curl to start.
Then, hold the flat iron vertically and slightly tilted away from the head, and twist until the flat iron has done two turns, and pull the flat iron down through the section of hair whilst it is turning.
For looser curls, twist the flat iron a half and turn it away from the face. Then, holding the ends of the hair section, glide the flat iron down the length of the hair. For the best results, we recommend using a good quality hair styler such as the GHD classic flat iron:
With A Curling Iron
If you find it difficult to get the angles right for curling your hair with a flat iron, then you can use a curling iron instead. You can purchase curling irons in a range of shapes and sizes. The bigger the barrel size, the bigger and more voluminous the curls will be! 
For the majority of people, natural, bouncy curls are the end goal, so you'll want to use a curling iron that is roughly about one inch in diameter, such as the Conair Ceramic Curling Iron:
[amazon fields="B07CKKGR83″ value="thumb" image_size="large"]
If you want big, loose curls then stick to a curling iron that is the same shape and size all the way down, but if your want tighter, more defined curls, then you may prefer the Conair Tapered Curling Iron:
[amazon fields="B07D4K42Q6″ value="thumb" image_size="large"]
For beachy waves, you can use a 3 Barrel Curling Iron:
[amazon fields="B08GM1WY9G" value="thumb" image_size="large"]
To curl your hair with a regular curling iron, you'll want to ensure that your hair is clean and dry. Before beginning, you'll want to use a heat protectant on your hair. Then, divide your hair into equal parts and sections. Then, with a 1-2 inch section of hair, you'll want to wrap the hair around the curling iron equally, and hold it for about 10-15 seconds. If you want looser curls, then hold on the iron for less time, but if you want more definition, then hold on the wand for longer. 
Once you have curled a strand, remove it from the curling iron, and leave it to cool. If you comb the section straight away, then you may lose the curl. Leaving the hair to cool will keep it shiny and soft, and then you can brush out the curls when you are done for a more natural look. However, if you want tight curls, then spray with lacquer or hair spray to maintain the curl for longer. 
With A Wand
Curling wands were once the most used way to curl hair, but their popularity has started to drop off. That doesn't mean that you cannot still use them. Curling wands are really easy to use, and can curl your hair in just 10-15 minutes, and you can find them in various shapes for a whole range of different curl sizes. We recommend buying a set of wands such as: 
To use a curling wand, you'll want to brush or comb your hair to remove any knots. Then, use a heat protection spray on your hair before using the curling wand. Next, once your curling wand is heated up, you can section off your hair ready for waving and curling. 
You can use a curling wand the same way that you use a curling iron. Take a section of hair, and wrap it around the wand, holding it in place for about 15 seconds. 
Our Top Tips For Curling Medium Length Hair
If you don't have a wand or curling iron, then you can actually use rollers such as heated rollers: 
[amazon fields="B01M278UEX" value="thumb" image_size="large"]
These can be simply wrapped around the hair and left in for a few hours or overnight to curl your hair. 
For Soft Curls
If you want softer curls, then you should always use a small toothed comb to brush out the curls after you've curled them and let them cool. Then, spray with lacquer to keep in place. 
For Voluminous Curls
For bigger, voluminous curls, you'll want to use a thick curling iron, big rollers or a waver! 
For Big Curls
If you want large curls, then you'll want to backcomb the hair to give yourself the volume you want, and leave the stands down and curl them. Fix in place with a hairspray. 
For Small Curls
For this look, try using a very small or thin curling iron, as the curls will be tighter and smaller for a more defined look. 
How To Curl Medium Length Hair - Video Tutorial
For the perfect, everyday waves, check out this video tutorial by talented influencer Brianna Fox:
Summary
To summarize, creating the perfect, effortless curls for medium length hair is not that hard, you just need to know how.
Luckily, our guide can help you, with details of how to use a curling iron, curling wand or even a flat iron to give yourself a whole new look!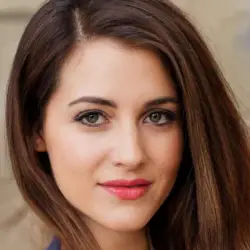 Latest posts by Maya Garcia
(see all)