Hairstyles for medium-length hair can look beautiful on all women, regardless of color, shade, texture, or tone.
However, they are especially suitable for those with thick hair, and if chosen wisely and styled correctly, they can change up your appearance entirely, catching the eyes of the public far and wide.
If you are wondering what kind of different hairstyles look good on thick medium-length hair, keep hold of this article. We have gathered some of our favorite hairstyles from carefree cuts, to classic bob cuts to wavy styles and balayage.
There really is something for everyone, so take this article to the hairdresser, to your hairstylist or have a go yourself to get those heads turning and get you feeling fabulous.
Sexy Balayage
We've all heard of the balayage and if you get this hairstyle right, it can look incredibly sexy.
Try pairing your medium-length hair with a balayage just in time for summer and it will look great with a pastel top and those sunny's on your head. Cute, sexy, and fun, you're ready for anything.
Bright Balayage
Sticking with balayage, the summer is also a great time to try out some bright balayage hairstyles. Choose some of your favorite bold and bright colors and add a touch of spirit to your hair ready for it to shine and glow in the sun.
Sweet Colored Waves
Following on from the bright colors of a balayage, why not add some color to those perfectly styled waves.
Whether they're beachy waves or styled professionally, soft pink shades will help you create a cute look that is still as bright and bold as can be for those feeling daring enough.
Sexy Look With Side Swept Bangs
Side swept long bangs will create an asymmetrical effect and this will give you an extremely sexy and totally irresistible look. Add some bold makeup and you will be the star of the show.
Trendy Undercut
Undercuts have become increasingly popular in recent years and for good reason. You can change up the style according to your mood. To do this, simply just part the hair in a different way or gather it all up in a top knot.
Asymmetrical Bob
An asymmetrical bob is certainly an experimental hairstyle but when styled correctly, can lead to heads turning and eyes staring. In the best way possible of course.
The hairstyle allows plenty of room for variety and personal touches and can be worn differently each day, giving you great flexibility.
Medium Blonde Bob (Longer Side Parts)
If you're after a bob cut but are feeling brave, wanting to switch up your style entirely, get the cut with longer side parts for a new trendy look. If your hair is blonde, you could add some highlights or lowlights and this will give it a dramatic effect too.
It can also give you a slightly messy look, whilst still looking cared for and styled. With some extra styling, however, you can make it into a more refined and neat look.
Angled Long Bob
Whether your hair is curly or straight, a long bob promises to suit every style. Making this style angled too will add some mystery to the style and promise to turn some heads.
This is a 'blow-and-go' kind of hairstyle and requires a minimal amount of styling so is perfect for those in a rush in the mornings or want a cut that is considerably low maintenance.
Shoulder-Length Layered Bob
For those looking for something longer, this could be the hairstyle for you. The shoulder-length hairstyle looks great if you have particularly thick straight hair.
This hairstyle looks both classy and beautiful for any occasion and you can even switch it up by adding more layers for extra sophistication.
Wavy Shoulder Length Bob
Slight waves will make your shoulder-length bob look even more beautiful. If your hair is naturally wavy, this hairstyle could be perfect for you. However, if you do have straight hair, there's always an option to use a curling iron to achieve your desired look.
Edgy A-line Bob
The edgy A-line bob looks great on women with a square or a round face and creates an oval silhouette whilst also adding a lot of cuteness. The cut can be styled in a variety of ways and it also leaves a lot of room for experimenting.
Blonde Bob
If your hair is naturally blonde or you regularly die it blonde, a bob haircut should definitely be a hairstyle you try at least once in your life. This hairstyle will look gorgeous yet effortless and it is easy to maintain and manage on a day-to-day basis.
You could even add some extra highlights or some balayage and this will only make the hairstyle stand out more.
Bob With Bangs
If you're a fan of the classic bang look, don't be afraid to try these with a classic long bob. If you are ready to be slightly experimental with this too, you can cut with subtle elongation towards the front.
This will be both practical and easy to maintain and will add extra spice and edge to the overall look. The classic long bob cut with bangs looks great with any hair color and would even suit highlights or lowlights. It's often a winter favorite but also looks chic in Autumn.
Sleek Bob
If you are looking for class and sophistication, look no further than the sleek bob. This style looks great with all colors and shades of hair and will give you complete versatility, allowing you to style it however you want to.
Keep it straight and smooth and we promise you won't look back.
Bob With Added Highlights
Highlights can spice up any hairstyle and not only look great but add immense amounts of volume too. It's great for women with different hair types and shades but looks especially beautiful on that bob cut.
A bob with highlights will never go out of trend meaning you'll always be up to date with the latest styles and look fabulous wherever you go.
Rounded Collarbone Bob
Add some ashy tones to a collarbone bob to be the center of attention and highlight your thick locks. Try adding some silver to this rounded style, with warm blonde highlights and black roots for a metallic finish.
Outgrown Bob
Yes, some people purposefully let their hair grow out of bob cut for aesthetic purposes and we promise it looks great. The extra hair adds volume to the style and to get the full effect, try adding some extra bouncy and large waves.
It's effortless, yet in fashion and looks fabulous when styled correctly. Add some bangs and some bright colors for an effortless summer look.
Bob With Slight Waves
Adding gentle waves to your bob will add extra volume whilst also keeping it lowkey and carefree. It is a fresh and youthful style that complements any hair type. You'll look as if you're bright, bubbly, and bursting with energy ready to take on the day.
Brunette Bob
Brunette bobs can give a dramatic effect when styled with some waves. This can also seem romantic and sexy and adding an extra color will give you that bold edge.
Blonde Tousled Bob
Blonde colors paired with beachy waves are perfect if you are going to a carefree, effortless look that makes it seem as if you just hopped off of the beach. Keep your hair tousled to maintain this image and this style looks good with or without makeup.
Edge Layers
Adding edge layers will give your hair more volume and if you're after a thick-looking hairstyle, this will definitely suit your needs. It also requires minimal styling efforts, yet still promises to look great. Add some highlights for a 'free-spirited' edge.
Swoopy Layers
Add some swoopy layers to your bob cut and this will give you a more dynamic overall look. Depending on what your hair color is, you can spice up this look with some highlights or some lowlights and this will add texture to your hair too.
This hairstyle looks beautiful no matter the color of your hair and when styled correctly, can be perfect for every occasion. It also gives it a natural and relaxed look whilst staying stylish and stunning.
Careless Hairstyle
For a natural-looking style, one that looks like it flows carelessly and ruffles in the wind, you're going to want to style your hair in a way that looks carefree. Let everyone see how adventurous and wild your hair can get.
You could style it with or without bangs and instead of being afraid of the wind, embrace it. Let it create mess and boost volume.
Shaggy Medium Length Haircut
Shaggy haircuts can look natural whilst also staying on-trend. This might be the best hairstyle for women who have thick hair and who are struggling to achieve a natural, careless, yet simply stunning style.
Layered Edges Medium Length Haircut
If your hair is straight and long, this could be the hairstyle for you if you're looking for a more classy and sophisticated look. You can also add highlights to the edges of this style and this will add a dramatic effect.
Experiment with different shades and this might be the look that will reveal your entire personality.
Fluffy Ends
This might sound like an added extra to a hairstyle rather than a whole hairstyle on its own but believe us, it is. Focus on leaving fluffy ends to your hair and this will promise a casual and laid-back look with an edge.
It requires minimal styling efforts and will complement any season. It's also suitable for women of a variety of ages and so is one of the most versatile styles in this article.
Wavy Shoulder Length Cut
A shoulder-length bob looks great with any kind of waves. Let them fall effortlessly from your head to shoulders and make it look like you've put in minimal effort whilst still staying sophisticated.
This look creates a vintage vibe and can make you look like you've hopped straight out of the 1940s.
Wavy Layers
Adding layers to your waves can create extra volume and versatility. Let them fall sideways or carelessly with a middle part for an effortlessly chic look. You can also twist the waves further to add extra sophistication.
Curly Medium Cut
If you enjoy waves, why not go even further and style your hair with a full set of curls. Use a curling iron but if you have naturally curly hair, you can achieve a gorgeous look by adding feathered layers throughout your hair.
This will shape and define your face and add definition and dimension. You could even add some bold color to this look such as a cherry red with dark roots or a honey blonde to frame your face.
You could even switch it up and add some pastel colors for a cute summery look too.
Bouncy Medium Cut
If you can create a soft transition of hair color, this will give you a romantic look, meaning you're ready for a date night any night of the week. Use a round hairbrush and hairdryer and this will give your cut a natural bounce and draw attention to those layers.
You'll look graceful, elegant and sexy all in one simple styling session. 
Graded Medium Cut
Color gradation can be beautiful on anyone and especially with hair that is around shoulder length.
A hairdresser will be able to create this effect easily and we promise whether it's dark, pink, or blonde hair, it will look fabulous. It also suits curls and waves as the extra layers and volume highlight the color gradation well.
Ombre Medium Cut
The ombre cut has increased significantly in popularity in recent years. Changing up your hair color by adding ombre can break up the density of very thick hair.
Ombre can create a light and airy effect and this is because it gets gradually lighter as you move down the head towards the shoulders.
Depending on what your natural hair color is, you could even be bold and try it out with shades of brighter colors such as a pink to green one or a dark blue to light.
Copper Layers
Adding copper layers look great on shoulder-length hair. If you choose to add copper layers, however, keep a close eye on the ends, style these so that they are either tamed or completely disconnected. Either one of these will give you your desired look.
Two-Toned Cut
If you are looking for a style that adds drama and will draw the attention of eyes everywhere, look no further than the two-toned cut. Dye your hair in two different colors and be as bold and as experimental as possible.
With this style, you can either curl or leave it straight and no matter what style you choose, it promises to turn heads. It also looks great with all kinds of textures and different shades.
Straight Layered Haircut
If you like slightly longer hair, this style could be the one you're after. By adding layers to straight hair, it will fall naturally over the shoulder and create an effect that looks similar to an outgrown bob.
The style looks great worn loose but also turns heads when popped into an updo or a half-up, half-down look.
Long Bangs
Adding longer bangs to the front of your hairstyle is great for women with thick hair. The longer bangs will add definition to your hair whilst also framing your face and drawing attention to those gorgeous eyes.
You can wear these bangs either straight or to the side, giving you full flexibility over your style.
Shoulder Length Shaggy Waves
Adding shaggy waves to your hairstyle can be done by simply not touching the ends of your hair when styling. It creates a casual and effortless look, whilst making you seem free-spirited and ready to take on the world.
It's a firm autumn favorite and falls perfectly on a cute wooly scarf.
Shaggy Haircut With Bangs
The shaggy hairstyle with bangs is reminiscent of the 70s and this can therefore complement a range of different vintage styles. It also creates a messy and careless look. If you want to emphasize your carefree and free-spirited nature, this could be the style for you.
"U" Cut With Layers
A 'U' cut will show off a gradual change in length as this means that the style is longer in the middle and a lot shorter on the sides. If you have either finer or thicker hair, this style looks great on everyone and promises to add a little extra spice.
Thick Straight Bangs
If you want to change up your average bangs, try out some thick, straight bangs. This promises to be eye-catching and draws attention from the crowd.
If you have a medium-length hairstyle, that hangs around at your shoulders, this can be both classy and elegant whilst also being a show stopper when styled the right way.
Grunge Haircut
This purposefully messy look creates a chic look that is unique and disheveled. This aura style has meant it has been popular among many style icons and therefore you won't be in danger of it ever falling out of style.
Go for it if you want to feel like the star of the show.
Ice Blonde Layers
Icy colors on the hair make you stand out from the crowd wherever you are. It adds mystery and elegance and with minimal styling, can also add definition and dimension.
Ice blonde layers are dramatic and eye-catching meaning paired with a bold outfit, your friends won't be able to take their eyes off of you.
Choppy Haircut
If your hair is very thick and you want to thin it out for easier maintenance, go for a choppy look that will be trendy and frame your beautiful face.
Additionally, adding layers will give you a fashionable and sophisticated look whether you choose a bob style or leave it to fall to your shoulders.
Final Thoughts
We hope by reading this article you have realized just how many different hairstyles are out there that promise to suit your thick medium-length hair.
There are ones that make you look elegant and classy, ones that make you look as if you've been sunbathing on the beach all day, and ones that give you a sexy, romantic look ready for date night.
If you feel you need to thin out your hair, opt for a choppy style and add some layers. Also, don't be afraid to experiment with different colors and shades, and remember hair grows back so be experimental, be brave, and be bold.
You might find a style you will fall in love with but whichever style you choose, we promise as long as it feels great, you'll look great too.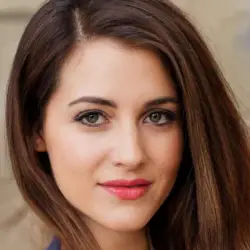 Latest posts by Maya Garcia
(see all)