We're all guilty of snacking a little too much from time to time. Life gets stressful and sometimes pasta or take out food is the only thing that makes you feel better after a long day! Trust me, we've been there!
We can gain belly fat so easily, and sometimes it just appears out of nowhere. It could be down to poor diet, a lack of exercise, stress, lack of time to make meals, you name it. Belly fat is our nemesis, but we all have it! 
Maybe after the holidays such as Thanksgiving or Christmas, we've overindulged a little bit. It's normal. However, you may be feeling a little self conscious about a little extra belly fat, and want to know all the best ways to dress to hide it, and accentuate your curves instead. 
Unfortunately, women are more prone to gaining belly fat much easier than men. It's just another one of those things we've been blessed with! But, fortunately, we've literally got you covered with this guide of how to dress to hide belly fat. 
How To Dress To Hide Belly Fat
Just because you've got belly fat, doesn't mean you can't look good. There are lots of ways that you can still accentuate your body, flatter your waistline and hide that extra fat in the stomach area. 
It's just all about picking the right clothes to flatter your body and outline your silhouette. We've got ten different tips that you can follow to hide your belly fat and make yourself look and feel beautiful. 
10 Tips To Hide Belly Fat
1.Make Use Of Shapewear 
One of the best pieces of advice we can give you is to make use of shapewear. So many people have these negative connotations about shapewear, or think that they're not sexy or for women of their age, but this simply is not true. 
All of the sexiest, most stunning celebrities wear shapewear from time to time...Kim Kardashian even has her own shapewear fashion line called Skims. Shapewear can be your best friend, and no one will even know you're wearing it! 
Shapewear is not just for special occasions either, and you can find it in a range of different styles, cuts and designs perfect for any outfit. It can really slim down any problem areas you have, or suck in your stomach effortlessly. 
Spanx can be really helpful for sucking in the stomach:
[amazon fields="B00SJ1Q8AS" value="thumb" image_size="large"]
and come in various sizes and shapes to control and slim down your figure:
[amazon fields="B07YNY75LX" value="thumb" image_size="large"]
2.Emphasize Your Assets
Whilst you may feel a little insecure about your belly fat, and it can become all too easy to beat yourself down, you should emphasize your assets and your good parts instead of worrying about the bad.
Don't forget that you have lots of beautiful features, and body parts that make you beautiful, and having body fat does not define you! 
You must have some body parts that you like about yourself, so why not flaunt those or enhance them? If you have great legs, then show them off. If you have a lovely bust, then emphasize this and show a little cleavage. That will definitely distract away from the fact you have a little extra belly fat. 
3.Choose The Perfect Sleeve Length
Considering the sleeve length of your clothing is probably not something that you've thought about. Whilst you've been busy stressing out about covering your belly fat, you may not have considered the sleeves! 
If your sleeves are cut off, and end where your belly is at its widest point, then this can draw attention to this area and make it look more prominent. For the best results, you should go for sleeves that stretch out to below your hips, or shorter ones if you have shorter arms. 
It could be worth trying a few different types of sleeves on, and seeing which ones look best on your body and on your frame. 
4.Understand The Power Of Prints
When you want to hide belly fat, prints can be your best friend! Prints are a great way to draw the attention away from your belly, and more onto the eye-catching pattern instead.
You can try wearing a patterned top, as long as it is wrapped, draped on one side, loose, crossbody or asymmetrical in style. 
If patterned tops or dresses are not your thing, or you prefer black or solid colored clothes, then you can stick to your normal wardrobe, but instead have a patterned chunky scarf or a printed jacket to compliment the look. 
We love the look of this leopard print, long sleeved cardigan for its flowing design and eye catching print:
[amazon fields="B07X8RKNHT" value="thumb" image_size="large"]
5.Try Controlling Waistlines
You can sometimes benefit from some waistline controlling trousers, jeggings or leggings. For instance, if you've got a little bit of belly fat, then some high waist jeans can really do you a favor!
Just make sure that they're not extremely high waisted as this can make more problems for your silhouette rather than streamline it down. 
There are also lots of flattering leggings and jegging type trousers that are looser and more comfortable to wear. This will ensure that there is nothing digging into your stomach, or pressing in to make it look bulging or bigger. 
Fortunately, lots of retailers offer tummy controlling trousers and jeans such as the Totally Shaping Skinny Jeans by Levi:
[amazon fields="B07QH35HY7″ value="thumb" image_size="large"]
or Sculpting Fit Jeans from Lee:
[amazon fields="B07BZZX488″ value="thumb" image_size="large"]
 These types of jeans can help slim down the legs, lift the butt, and keep your belly fat tucked in nicely. 
6.Never Tuck
We also recommend that you do not tuck your tops and blouses into your skirts and trousers as this will only emphasize the stomach.
This can also make it appear like your waist is bigger than it is, or tucking in a thick, knitted jumper can also make it look like you have a muffin top or that your stomach is much bigger. 
However, leaving a baggy top out to cover the waist can also have a tent-like or trunk effect, where your breasts can look as wide as your hips and you can look wide all of the way down.
So, you can tuck a little, but not tightly, so you can try partially tucking, or tuck a little and leave some out so that there is room to move with it. 
7.Choose Flattering Accessories
You'll want to draw attention away from your belly, so try to avoid adding big, chunky accessories that will only make it more difficult to hide.
For example, you will not want to wear thick belts that can look too tight on the stomach. Instead, opt for loose, tying belts or fabric belts that tighten around the smallest part of your waist to give yourself an hourglass figure. 
You can also knot a belt around the side of your waist rather than in the dead center of your stomach, as this can also draw the eye away from the dreaded belly fat. 
8.Pick Vertical Lines
Vertical lines can really elongate your silhouette and draw the eye down the body, rather than focus on your midriff. By dressing in lots of long layers such as cardigans and coats, you can really slim down your look. 
You can wear long dresses, or pair a long tunic style top with leggings, a cardigan and a patterned scarf to draw attention to your legs rather than your stomach. 
9.Use Asymmetric Cuts 
When you want to hide some belly fat, it is best to opt for asymmetric cuts, or baggy, loose clothing. You will also look wonderful in peplum style dresses or tops, as these will flare at the stomach, but be fitted around the rest of your torso.
We recommend going for longer, looser tops combined with skinny jeans or leggings, but do not wear tight trousers or leggings with short, cut off tops or you may end up looking a bit squarish or boxy. 
When shopping for leggings, we advise that you purchase some with spandex or lycra in them as they will offer lots of stretch and leeway. This will ensure that your range of movement is never restricted, and you'll be comfortable all day! 
You should also try buying leggings or jeggings that have a thick and high waistband:
[amazon fields="B074R27W46″ value="thumb" image_size="large"]
or an off the shoulder, baggy asymmetric hem tee:  
[amazon fields="B085VCPSM6″ value="thumb" image_size="large"]
Best Brands For Clothes With Flattering Cuts
We all have our favorite brands, but some places offer a wider range of clothing that can flatter those of us with a little extra belly fat. Some of our favorites are:
You can also shop at your usual favorite stores, but you may benefit from the Curves or Plus Sized section, as they may offer more flattering cuts and designs for your body shape. 
Conclusion
To conclude, we all gain weight from time to time. Having a little extra belly fat is normal, but it can make you feel a little insecure. Luckily, there are ways that you can accentuate your assets instead, and hide or distract the eye away from your belly fat.
By wearing the right cuts, styles and types of clothing, you can look fabulous and feel as confident as ever.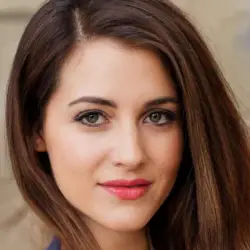 Latest posts by Maya Garcia
(see all)