If your weight shows mostly on your stomach, you'll know how hard it can be to find dresses that flatter your shape.
Many dresses accentuate this area of your body, either with figure-hugging materials or a cut that is designed for only one body type: straight up and down.

The good news is, you don't have to spend loads of money to look stunning and feel amazing - here we explore some delightful formal dress styles that are both affordable and forgiving on a fuller tummy.
The way a dress is cut can influence how others see you, while bold patterns help focus attention on the whole dress instead of a specific part. Read on to find the perfect dress to impress, whatever the occasion.
Empire Line Dresses
An empire line dress is great for hiding a belly bulge, as it is fitted just below your chest but then drapes out into a beautiful flowing gown.
The name of this style references the First French Empire, when such dresses were coming into fashion all over Europe, but the idea can be found in art dating back to Greco-Roman times.

The high waisted cut means that your actual waist doesn't have to be toned - the material just skims over it, allowing you to relax and enjoy your evening with confidence.


Ever-Pretty sells a wide range of plus-size dresses, all designed with your shape in mind. This dress comes in 11 gorgeous colors, so you're bound to find one you love.
The embroidered leaf design and flared sleeves give off a romantic vibe, making this an ideal wedding choice.
Also available in different colors to suit you, this bohemian floral dress would be perfect for any summer occasion - it works just as well for a day out on the beach as for a warm July wedding.
An asymmetrical hem helps to reduce your tummy even further by drawing the eye to the bottom of the dress.
Wrap Dresses
A wrap dress is pretty self-explanatory - it wraps one side over the other round the front and ties at the back.
A faux wrap dress is sewn together, but incorporates the design of a wrap dress, achieving the same effect. 
This is an elegant style, favored by distinguished women such as Michelle Obama, and has been used to represent the women's liberation movement in the last half-century.

It is also fantastic for disguising your tummy, as there is more material than you would get in traditional closed dresses, wrapping you up and gathering everything in.
This creates a desirable waistline and makes you look slimmer.
A somewhat shorter option, this dress is nonetheless suitable for formal wear. The graceful skirt portion rests just below the knee, but the full sleeves balance out the amount of skin that's on show.
Team with tights and plain accessories so as not to detract from the bold floral pattern.
This dress is made of chiffon, which means it isn't stretchy, but the wrap design allows you to adjust it to the size you require.
Soft ruffles meet to form an asymmetrical hem, which affords a tantalizing glimpse of your legs and helps you stand out from the crowd.
Belted Dresses
When you have hang-ups about your waist, your instinct may be to hide it as much as possible.
While this is the principle many slimming styles are based on, it can be just as flattering to draw attention to your waist with a feature belt.

Highlighting the waistline adds more definition, helping to sculpt your curves into a pleasing hourglass - make sure the belt color matches the rest of the dress so it blends in.
Getting this look right can be tricky, but the options below are a good place to start your search.
Each different color of this dress comes with its own unique pattern - we particularly like the green print and the pink print options, which we feel are most suitable for formal occasions.
The ¾ length sleeves direct the eye to the waist, while the elastic material offers extra comfort. 
This belted bodycon dress provides enough stretch for a comfy yet smart formal outfit. The full-length mesh sleeves come in 2 different styles: flounce sleeves or bishop sleeves, which are both very flattering on your arms.
Even though the pencil skirt material is thicker than the draped fabrics used in our other suggestions, this actually helps smooth your waist and define your middle.
Ruched Dresses
If you'd like something a bit more form-fitting that still disguises your tummy, look no further than a ruched dress.
These make use of bunched material at the front to give the illusion of a smoother stomach, evening up any lumps and bumps you might have. 
The detail on this dress is restricted to the middle, leaving the neckline and sleeves simple.
The stretchy fabric gathers in a knot at the front and forms elegant ruffles down the centre, creating a versatile outfit that can be worn day
or night.
Choose one of the block color options for a maximum slimming effect, and pair with some lush heels to lengthen your legs.
This is a similar idea to the above dress, but made from a thicker material - it is still stretchy enough to give a comfortable fit.
The asymmetrical folds sweep gracefully over your body to create an enviable silhouette, and the gorgeous off-shoulder/V-neck combo brings a classy retro vibe.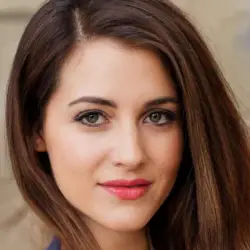 Latest posts by Maya Garcia
(see all)