There are so many different fashion trends to follow, that sometimes, you might not know where to start or what styles are just right for you. One particular trend that is making a comeback is peplum. So, what is peplum, what does it mean and who does peplum suit best?
What Does Peplum Mean?
Peplum actually comes from the Greek word for tunic. These were traditionally worn by women and would have a sort of skirt-like frill or addition to the bottom. The original peplum feature would be fitted to the woman's bodice, and it would extend past the waistline.
Nowadays, peplum is the term given to describe a short, gathered or pleated strip of fabric that would be attached to the waist of a woman's jacket, dress, blouse or t-shirt. The peplum therefore creates a frill or flounce that hangs off an item of clothing.  
Where Does Peplum Fashion Come From?
Peplum has been doing the rounds in the fashion industry for decades. Peplum fashion truly entered the mainstream and became popular during the 1940s, but this soon fizzled out.
Peplum style tops, dresses and jackets soared back into fashion during the 1980s, especially when it came to denim jackets, but it also remained popular during the 1990s. 
Peplum is most effective on those with hourglass or curvier figures as it can really accentuate those curves and emphasize your shape. In the modern day, peplum patterns are popular in long, maxi dresses, where the hem is extended with an extra layer of frill. 
What Are Some Examples Of Peplum Fashion?
Peplum designs can be found in long, maxi dresses, work dresses, t-shirts, jackets, you name it! We have found some great examples available for you right now!
[amazon fields="B07BPXPZS1″ value="thumb" image_size="large"]
What Body Shapes Are Best For Peplum Clothes?
The great thing about peplum style clothes is that no matter whether it's a t-shirt, dress, jacket or sweater, peplum is super flattering. This is why peplum looks so good on so many people, it's ultra versatile and can accentuate your shape. 
Due to the extra layer of frill, peplum can give those with straighter figures or boyish figures a little bit of emphasis, and can make the body seem more defined and feminine.
However, if you are lucky enough to have a natural hourglass figure, or shapely curves, then you can wear peplum to really accentuate those curves. 
If you have a pear shaped figure, then you can wear peplum that is flared at the waist, as this will draw in the waist and flatter the wider parts.
If you have a shorter body, then you can wear a long maxi dress with a peplum flare at the bottom of the legs to extend the look of the body. 
For someone with a more athletic, leaner figure, you may benefit from wearing a peplum styled item of clothing that sits on the waist, or a peplum jacket that flares at the sides to give you more visible curves. 
If you have a more plus-sized or curvy shape, then opt for a peplum dress or top that goes out where you are at your widest, as this will only emphasize your curves and slim down your figure. 
Alternatively, if you have a very slim figure, then you can get away with a loose dress or a bodycon dress, with either the peplum at the legs for an ultra feminine look, or some peplum pleats at the waist to add some interest and shape to your outfit. 
Peplum can be so flattering and can make you feel confident in your body, so why not try a few different style peplum items and see which ones work best for you! 
Summary
To summarize, peplum is a popular fashion trend that we love to wear time and time again. Peplum is the term for a small pleat or frill of fabric at the hem of an item of clothing, which creates an extra layer that flatters the waist.
You can purchase peplum style clothes such as baggy t-shirts tops, jackets, skirts, dresses and sweaters ready for any occasion.
The best part about peplum fashion is that anyone can wear it, whether you are curvy, athletic, plus sized, tall or petite, and it'll still look amazing on you.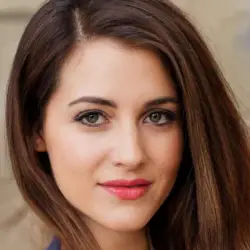 Latest posts by Maya Garcia
(see all)