Looking for ways to spice up your wardrobe post-lockdown? This guide will take you through the perfect pants for navigating the new normal with confidence.
[amazon fields="B07HDB1XQF" value="thumb"]
[amazon fields="B07J66TLKN" value="thumb"]
[amazon fields="B08J49C5BV" value="thumb"]
[amazon fields="B07HDB1XQF" value="thumb" image_size="large"]
Looking for the perfect back-to-office outfit? Look no further than this super comfortable offering from Freeprance.

These pants are made with the paperbag pants' signature high waist, made better by good quality elastic to make sure they stay up all day long.
The hem is designed to hit just above the ankle which, when accompanied by a high waist, will make your legs look miles long.

Pros
Wide-ranging size guide and color options mean there will be a pair perfect for everyone, for every occasion.
Pleated details and a belt at the waist add more sophistication to these pants, making them perfect for office attire.
Cons
The stretch is focused at the waist, perfect for a snug fit but the limited stretch down the leg means they are more suited to someone who isn't looking for a very casual pant option - these are slightly more formal than others available.
[amazon fields="B07J66TLKN" value="thumb" image_size="large"]
Do not be fooled by the name - these pencil pants are just paperbag pants renamed, keeping all the features we love about them.

The slightly cropped length elongates your figure for a flattering silhouette, with elastic at the waist to banish any unwanted bagginess that would ruin your look.

Pros
The color options are incredibly varied and new styles are added all time.
POCKETS! Who doesn't love a pocket? These pants offer secure and deep pockets, ideal for all your essentials.


Cons
Grace Karin calculate dress size by factoring in weight, so you may be a different size than you would expect. Don't forget to check the size guide!
[amazon fields="B08J49C5BV" value="thumb" image_size="large"]
If you love paperbag pants but are not a fan of the traditional bow at the waist, opt for these which offer all the benefits of paperbag pants but have an understated button finish instead.

Still casual enough for all-day comfort, these pants are formal enough to wear at work for the ultimate post-lockdown glow-up.

Pros
The fabric of these pants is breathable but is such good quality they are not transparent - even when bending!
The pocket design is streamlined and guarantees no bulk to interfere with your elegant lines.

Cons
Nimin strongly recommends you use the size guide before purchasing to find your perfect fit, but they do give a generous window for any exchanges needed.
[amazon fields="B07176QJW7″ value="thumb" image_size="large"]
These pants are very classic, carrying understated style to suit your post-lockdown look.

find. offer basic pieces for your wardrobe, allowing you to experiment with your look with high-quality items that you would not associate with their budget-friendly prices.

The waistline on these pants is super high, giving you the perfect silhouette and giving you enough confidence to navigate the new normal.

Pros
These pants have a higher elastane content than other pants available, guaranteeing all-day comfort
Cons
The color range is not extensive, but the classic black option is so versatile you won't need to look much further.
[amazon fields="B08PBMPM51″ value="thumb" image_size="large"]
Not ready to give up your lockdown sweatpants? These paper bag joggers are the perfect marriage of comfort and sophistication - no one will ever know they're not actually proper pants!

The large variety of colors guarantee you'll find your perfect pants for any occasion, with different styles available. Looking for elegant simplicity or an ostentatious bow? These pants have it!

Pros
The elasticated waist is easy to wear and even easier to put on.
The simple but stylish design of these pants means you can pair them with just about anything, from work blouses to pajama tops.
Cons
The super relaxed fit of these pants means that they will be just too baggy if you size up - be sure to check the size guide!
[amazon fields="B08B59L8F9″ value="thumb" image_size="large"]
This second option from Dokotoo is closer to joggers than dress pants, helpfully bridging the distance from lounging at home to being seen in public!

The drawstring waist gives a secure customizable fit, hitting at the natural waist to make your legs look longer.
It is not only the fit of these pants that set them apart from the rest, the awesome fabric and designs available will inspire you to step out of the house.

Pros
The overall style of the pants means they can easily be dressed up, but they are comfortable enough to be worn around the house.
The fabric is designed to be breathable, perfect for warmer weather, and guaranteed to keep you cool and comfortable all day.
Cons
Dokotoo recommends washing on cold or hand washing, but these pants are super cute so you will want to prolong their life as much as possible!
[amazon fields="B07QCPL9QC" value="thumb" image_size="large"]
If a slimmer leg is more your style, these paperbag pants are a perfect choice.

Offering a wide range of colors to make them appropriate for any workplace, these pants are 5% Spandex to allow a tight fit without movement restriction.

Pros
Super comfortable fabric that is great for all-day wear.
Smart enough for office wear without being overly dressy.
Cons
The larger sizes tend to sell out quickly so grab them when you can!
[amazon fields="B082S9RW8S" value="thumb" image_size="large"]
Want to break out of lockdown with a bang? These pants certainly make a statement with their high and unique waistline.

These pants come with a slim fit design that compliments the 'v' at the waist for the most flattering shape you will ever experience.

Pros
Enough color options are available to suit any occasion.
The fabric contains enough stretch for a super slim fit, allowing for complete freedom of movement.
Cons
To maintain the shape of these pants, you really need to hand wash them and let them air dry.
[amazon fields="B08F4TNH3P" value="thumb" image_size="large"]
Let's face it if anything is going to cure your post-lockdown blues these super cool pants are going to do it!

Available in plus sizes, these super cute pants have a drawstring belt for a secure fit at the waist and cuffed hems for guaranteed snugness along the leg. Don't forget the incredible pockets!

Pros
Machine washable for all the convenience of easy care.
If leopard isn't quite your vibe there are lots of other options available.
Cons
These pants are awesome, but definitely fall on the side of loungewear so may not be ideal for the office. 
Buyer's Guide
What Are Paperbag Pants?
Paperbag pants are the perfect solution for those looking to spice up their wardrobes beyond jeans and sweatpants post-lockdown.

They are the ultimate universally flattering piece, providing shape defining waistbands and elegant, flowing lines at the wide leg.
How To Style
For the perfect chic look, you should look to pair your paperbag pants with something more tight-fitting on your top half to balance out your silhouette.

These pants do not limit you to one style and can look equally chic paired with flowy tops - who doesn't love an ethereal look?
Simply pair with a camisole and blazer to make these pants the perfect outfit for an office comeback.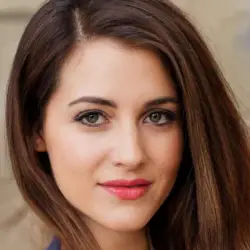 Latest posts by Maya Garcia
(see all)