The belt bag has had a roller coaster of a history. Sometimes known as the fanny pack or bum bag, it was a 90s fashion staple that became the much-derided bag of the tourist. But the belt bag is making a comeback. 
Lovers of convenience can rejoice! The belt bag has always been one of the easiest purses to carry. Fasten it around your waist, and the small bag provides easy access to the essentials — phone, keys, lipstick etc.
Meanwhile, your hands are free for the other essentials, like iced coffees and shopping bags.
Interested in getting a belt bag? Designers are taking note, and making sure there are plenty of options to choose from.
These helpful bags have become commonplace on the runway, and they don't appear to be going anywhere fast! Socks and sandals wearing tourists can look better than ever.
Bottega Veneta made their famous pouch into a belt bag, and it immediately became the must-have accessory for any street style icon.
Made of buttery soft leather, with a chain link strap and that pouch opening that's the perfect indicator of laid-back chic, the pouch belt bag is effortlessly stylish.
The pouch belt bag comes in several color options, but we like the black for the refined elegance it gives this fun bag. Hands free has honestly never looked better, and the Bottega Veneta pouch belt bag is a bum bag for all occasions.
Everyone looks good in this.
One of the most sought after belt bags around, the Saint Laurent Lou Baby belt bag proves that good things can come in very small packages. 
The tiny Lou Baby is the bag for the person who understands the best bags don't need to be functional — they just need to be cute. With enough room to fit a phone and a lipstick, the Lou Baby suits anyone who prefers to travel light. 
The Lou Baby comes in several colors, but the Crema Soft is perfect for recreating that early noughties chic. On the other hand, the Sunflower yellow adds just the right pop of color to a pared-back outfit.
Fans of the original Marcie bag were overjoyed to see the belt bag twist on a classic design. The ring and tassel detailing look just as good in miniature, while the embossed leather make this a belt bag for the sophisticated.
Looking for a bag that won't slow you down on a busy day? The Chloe Marcie bag is classically elegant, even when balancing on your waist.
The original belt bag may have lacked refinement, but the Marcie proves that doesn't have to be the case. Get it in the soft Gray, and finally introduce the fanny pack to the business world.
Off White have created a belt bag that is immediately appealing. The simple lines, flap top opening, and thick leather strap all come together to create a bag that you want to own.
And the embossed arrow detailing of the tonal bags is a fabulously understated way to finish such a bold bag. Combining simple elegance with sleek modernity, the Off White Jitney really is a bag for everyone.
In terms of color choice, we like the bright red for its refreshing, in-your-face finish. With a small belt bag, you can really play with colors. Add the Off White Jitney to an outfit, to create an immediate statement.
All the cool kids are going to want to get their hands on the Jacquemus Riviera Crocodile Effect belt bag. In screaming pink with a gold accented logo, this mini bag has just enough space to hold a key and a credit card. What more do you need for a night out?
With a thin strap securing the belt bag around the waist, this playful design has an air of practicality. Keep one hand free for your drink, one hand free for your phone (we know you never put it down), and everything else you need can be slipped into your belt bag.
It shows you're prepared for whatever the night might throw at you, but maybe the night isn't prepared for you.
The original belt bag was a fun accessory, and the Teddy Bear Scarf Moschino variation hasn't forgotten its fanny pack roots.
With tongue firmly in cheek, Jeremy Scott of Moschino has crafted a belt bag you almost would believe once hung off the fanny of a bucket hat wearing tourist.
Add your own bucket hat, crop top, and distressed jeans, for a throwback look that shows your playful side.
The single compartment and simple shape keeps this belt bag style streamlined, so the focus goes immediately to the iconic Moschino teddy bears.
Not one for the shy and retiring, this is a belt bag for rolling out of bed in the afternoon, or heading to a music festival.
Gucci GG Supreme canvas belt bag is a versatile design that will suit almost any outfit. Wear with a blazer for a work appropriate outfit, over paper bag pants for street style cool, or with a simple dress for afternoons in the sun.
The zip top closure and pocket compartments makes it highly practical, and the chunky nylon strap with buckle closure is super useful on busy days.
Jet-setters will also fall in love with this Gucci belt bag, which has enough space to make getting through the security checks quicker than ever.
If you're still feeling unsure of the belt bag, the Gucci GG Supreme is the perfect introduction.
The Moncler Logo Patch Belt Bag is not for those who prefer to blend in. Covered in bright pink faux-shearling, this is for anyone who has ever wondered why a Furby doesn't count as a fashion accessory.
Perfect for the person who oozes style no matter what they wear.
If you know that every moment is an opportunity for a photo shoot, then this is the belt bag you need. Immediately eye catching and undeniably fabulous, this is a bag capable of adding street style to sweatpants.
Wear it to an art gallery opening, an underground gig, or the next time you have to run out for corner shop essentials.
Booking a trip to Paris isn't a requirement after you buy the Balmain 1945 Monogram belt bag, but it still feels like a necessity. This is a belt bag with French chic written all over it (almost literally).
Although it won't look out of place hanging around the streets of NYC, its real home is people watching from a café in the Latin Quarter.
The pink and white print goes perfectly with toned down Parisian styling, and the thick waist strap is ideal for boutique hopping. Switch to the shoulder strap for evening strolls along the Seine.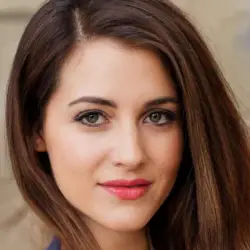 Latest posts by Maya Garcia
(see all)