Picking out school outfits is almost a seasonal ritual. Deciding which items best show off your sense of style and personality, whilst also picking carefully to ensure that you are as comfortable as possible, can be a fun process.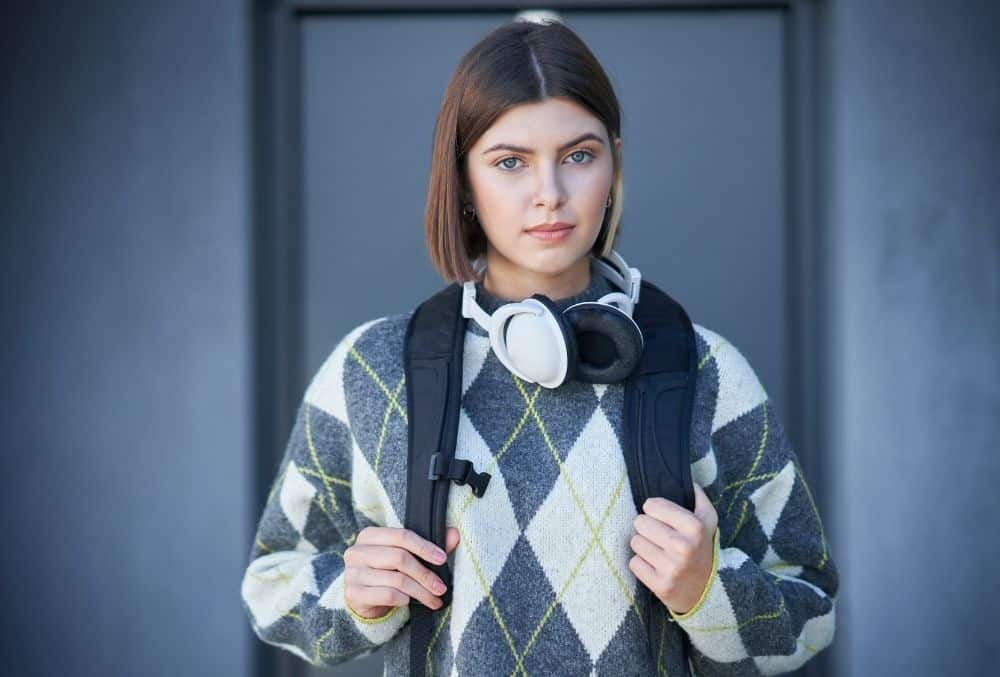 However, it can also be quite overwhelming. After the first few days of the semester, finding new outfits to wear can become a tedious task, that often ends in you dramatically concluding that every single item of clothing in your wardrobe looks terrible (yes, we've all been there!).
To inspire some of your school outfits, we've created a list of 18 easy school outfit ideas. They have all been picked according to their style and comfortability. From grungy to preppy, there is something for everyone!
18 Easy School Outfit Ideas
Oversized & Monochromatic Outfit
Oversized clothing is a great way to look effortlessly cool whilst also remaining super comfortable throughout the day. If you can match the color of the baggy jeans to the sweater, it'll look just that little bit more fun!
Throwing on a pair of baggy jeans and a big jumper is also a great way to hide some necessary layers and a big pair of boots when it's cold out.
Easy Layering Outfit
To keep warm but also look stylish, put a long sleeve turtle neck top on underneath a T-shirt. It'll look particularly great if you have a funky, oversized graphic t-shirt. If you're a fan of colorful outfits, use a bright-colored turtleneck to really make this look pop.
Chuck on your favorite pair of jeans and your comfiest pair of trainers, for an easy-going, slightly alternative look!
Cute Tennis Skirt Outfit
Tennis skirts are super popular right now, and are a great way to look cool but kind of preppy when you head back to school. Pairing the skirt with a shirt and sports sweater adds a fun edge to the look!
Keep the colors muted and throw on your favorite pair of trainers for a low-key look. If you want something bolder, try a pair of chunky boots and add lots of extra jewelry.
Oversized Blazer Outfit
An oversized blazer is a fun way to add some structure and maturity to an otherwise boring outfit. Pair it with a checkered mini skirt and a thick cream turtleneck jumper for a very subtly cool, vintage look.
Be sure to pair this look with your favorite pair of chunky tall boots and some cute jewelry! Though, some comfortable trainers would work just as well.
Plain White Shirt Outfit
If you want a simple, laid-back cool outfit, an oversized white shirt is definitely the way to go. Pair it with a block color vest top underneath, and a pair of high-waisted trousers. Skinny or flared jeans would look super fun with this outfit!
For a simple look, wear a plain pair of shoes and keep accessories as minimal as possible! Just wearing a single, colored ring or pair of earrings would make this look super fun.
Yoga Pants Outfit
Yoga pants are a great way to stay as comfy as possible whilst at school. They can also be really flattering and are definitely on-trend right now!
For ultimate comfort and coolness, pair the yoga pants with a long-sleeved, high neck top, and an oversized sweater. This look wouldn't be finished without your favorite trainers and a subtle necklace.
Simple Fall Outfit
Pair a lightweight, cream, knitted sweater with a pair of skinny jeans for an effortless, comfortable look that will keep you warm enough during the fall. Wear a patterned pair of vans if you want to add a touch of grunge to the look.
A lightweight knitted sweater always looks great with delicate accessories. Try a cute necklace and belt to pull the look together!
Modest Sweater Vest Outfit
Sweater vests have truly won our hearts over, and make for a super trendy but also comfortable school outfit. In particular, they're a great way to add a fun element to a more modest look.
Pair a sweater vest with some high-waisted trousers, and a fitted long sleeve top in a similar color. Add splashes of color through some accessories, like a bag or a colorful pair of sunglasses!
Vintage Leather Jacket Outfit
A vintage leather jacket is the perfect statement piece to complete almost any outfit. Though, pairing it with a plain tennis skirt and white shirt adds the perfect amount of edge to an otherwise preppy fit.
Add some fun rings and necklaces to give this classic look a more contemporary twist. It looks great with chunky leather boots too.
Patterned Outfit
If you love to stand out, there is no better way than wearing multiple different patterns. Try pairing some patterned baggy jeans with a bright-colored jumper and an animal print bag for a cute, slightly street-style look.
Make sure to wear a pair of colorful trainers if you have some. The more colors in this outfit, the better!
Oversized Sports Jacket Outfit
You can't go wrong by chucking on an oversized sports jacket over an otherwise plain outfit. They are a cool, warm, and super cozy addition to a pair of high-waisted jeans and a white t-shirt.
Keep the sporty theme going with a pair of your favorite trainers, and add that hint of femininity through some sleek jewelry or sunglasses!
Vintage Jean Jacket Outfit
Denim jackets are a great way to give an outfit that super cool, laid-back, feel. They can make even the most last-minute outfit decisions look intentional! To fully step into this summery look, pair a vintage denim jacket with an oversized graphic t-shirt dress.
If you don't like t-shirt dresses, pair the jacket with an oversized graphic t-shirt and a pair of shorts. Make sure to finish off the look with a well-worn pair of converse style shoes, and a messy hair bun!
Cute & Casual Mini Dress Outfit
If you want a super cute outfit that can also look super casual, look no further than a little dress with a white t-shirt layered underneath. Pair with a messy bun, and you've got yourself a breezy, I-woke-up-like-this, summer outfit.
Make sure to really finish off the look by adding a well-worn pair of converse or trainers. Some dainty jewelry and a statement pair of sunglasses would also look great.
Bold & Chunky Knitted Cardigan Outfit
It's easy to get wrapped up in thinking that cold weather means boring, practical clothing. Although, this brightly colored cardigan says otherwise! If you're hoping to brighten up the winter months with some color and style, try a big, chunky, block color knitted cardigan.
Pair this statement (and practical) piece with a pair of high-waisted, light blue jeans and a subtle graphic white t-shirt. Add some chunky boots to give it an edgier feel.
Plaid Shirt Outfit
Plaid shirts are an ideal way to add a bit of laid-back edge to a plain outfit, and serve as a comfortable light layer too! Pair a plaid shirt with a pair of jeans, or a denim skirt, and a light-colored t-shirt or crop top.
If you want that extra edgy look, wear a pair of chunky black boots and add ample rings and necklaces! If you want something more beachy, throw on a pair of daps or trainers.
All-Black Outfit
If you're feeling ready to embrace a totally grungy look, try a monochromatic, all-black outfit. For a less intense, more fun grungy look, put together a pair of faded black jeans, and a faded black vintage-style graphic t-shirt.
To complete the look, try a slicked-back pony tale and some subtle feminine touches, like a few dainty silver rings or a bracelet.
Midi-Skirt & Band Tee Outfit
Putting a super feminine piece with a more laid-back item is always a formula for fashion success. Try putting a super sleek, satin midi skirt with a slightly oversized band tee if you enjoy the pretty-but-grunge look.
If you are mix-matching patterns, make sure to pair the outfit with plain accessories and shoes. Stick to trainers or boots, and match with a plain, black leather bag.
Basic T-shirt Outfit
Finally, a basic t-shirt can be a great basis for a laid-back, easy, and comfortable school outfit. Try pairing a slightly oversized grey slogan t-shirt with a pair of dark blue, straight-leg jeans.
The fun thing about this outfit is that you can add as many accessories as you like! For a simple look, try layering some necklaces and wearing a bucket hat. You can't go wrong by finishing off the outfit with a pair of plain white trainers.
Things To Consider
Choosing what to wear when you return to school can be a really fun challenge. However, it can also be incredibly overwhelming when trying to pick a new outfit every single day.
Here are some things to keep in mind when you're planning those all-important school outfits, to make sure the process is as stress-free as possible!
Comfort
School days can feel particularly long and grueling. They involve a lot of walkking and moving around, as well as a lot of sitting in one spot for hours on end.
As such, it's really important that you chose an outfit that is, first and foremost, really comfortable. Despite how stylish an outfit might look, it will completely ruin your day if it's uncomfortable.
For maximum comfort, make sure you've always got a cost layer on hand. Whether it be an oversized sweater or a light-weight flannel shirt, always having a comfy throw-on to hand will make your day ten times better.
Personality
One of the best ways to show off your personality is through your clothing, and this is especially the case when you're in school. Though it can be tempting to wear the same clothes that everyone else seems to wear, it's important to be true to yourself.
If you hate wearing skirts, then don't wear skirts! If you absolutely love the grunge look, then grab those chunky boots and go for it! School is a great time and place to figure out what you like, and to learn how to express yourself. Make sure you grasp that opportunity.
School Rules
Unfortunately, most schools will have some rules regarding what you can wear. To avoid all difficulty, make sure your chosen outfits fall into the school's guidelines. There is nothing worse than spending hours fine-tuning an outfit, only to be told that you have to change!
Final Thoughts
We hope that our list of cute and easy outfits inspires you when you're constructing your own outfits for school. Remember, comfort and personality are key!