Whilst the Hermès Birkin bag can reach eye watering prices, the Evelyne is a sought after bag that is more affordable to buy than the Kelly or Birkin. Though not as well known as the Birkin bag, the Evelyne is just as popular amongst Hermès bag collectors and fans alike.
The Evelyne is where fashion meets function. It has been created to be practical, yet offer the wearer something simple yet chic – as well as a bag that can withstand the everyday wear and tear life brings.
It is perfect for those who are seeking an entry-level Hermès bag. It can be worn on the most casual of days, and it offers functionality a lot of designer bags just do not have.
It has an adjustable strap, a main compartment, an external pocket and a leather belt closure (depending on which version you buy). It is simple, yet a classic.
Whether you have a fair number of Hermès Evelyne bags already, or are looking to buy your first one, here we take a look at the bag in more detail, from the history to how much a bag can retail for.
The History Of The Hermès Evelyne
We all know the history of the iconic Hermès Birkin bag, but the Evelyne is not as well known when it comes to its origins. Originally it was designed in 1978 when Evelyne Bertrard, the head of the Hermès riding department, created a bag along with her team that would be used to carry horse grooming equipment.
To keep it simple for the wearer, especially seeing as they would need convenience as they tended to their horse, it had been designed with a saddle-like silhouette in a messenger bag style – the same style seen today.
It also included a removable shoulder strap and a small belt closure, again, the same as today. So, really it has barely changed.
The H logo has always been 'etched' onto the bag using perforated holes. It was done this way to allow the grooming tools to be aired and dried out whilst being carried around against the body.
It is strange to think that the logo originally was supposed to be worn up against the wearer, rather than on the outside for all to see! As the bag became popular with trend setters rather than horse riders, it got flipped around so the H was visible on the outside.
Today, it is seen as an everyday handbag that is convenient for our busy schedules, but back then, it had been strictly made for the Hermès equestrian department.
It remained this way for a few decades, but once the early 2000's rolled around, Hermès finally moved the bag to its leather goods department to be sold in their boutiques, rather than just for those in the equestrian industry.
Once only available at specific equestrian retailers, it is now a bag that is fully appreciated by a wider audience, and its popularity has only risen ever since its welcome into the fashion world.
The Different Versions Of The Hermès Evelyne
Since it was released back in the 1970s, there have been four different versions of the Hermès Evelyne bag: Evelyne I, Evelyne II, Evelyne III, and the Evelyne Sellier.
The use of Roman numerals is to refer to each generation of the bag. As of now, we are on the third generation (Evelyne III) when it comes to the Evelyne bag.
There have been a number of subtle differences when it comes to the different generations of the bag. The original, which was the Evelyne I, did not have the external pocket unlike the version we know today.
It first appeared on the Evelyne II. Every Evelyne II featured the external pocket apart from the smallest version of the bag. Today's bag, the third generation, or Evelyne III, has the external pocket and adjustable canvas strap.
So, this is the one you likely think of when it comes to the Hermès Evelyne bag.
However, there is a fourth Evelyne bag and this is the Sellier. It was released in the fall of 2016 and instead of the original perforated H logo, it features a diamond-shaped H logo. Also, there is no external pocket.
Hermès Evelyn Materials
You will find that there are typically two materials when it comes to the Hermès Evelyne bag, either Clemance which is a matte, rather than shiny, leather that is scratch resistant and flat grained.
Or the Epsom, a lightweight leather that is an embossed-calfskin type of leather. Over time this leather can become grainy and may rub or become flattened.
The Clemence, on the other hand, is quite a popular choice. It is heavier and thicker than most of the other leathers, though over time it may slouch because of this.
Hermès can also be manufactured using other leather such as Hunter, a smooth and very soft cowhide leather. Also Maurice which is considered a new Hermès leather and a potential alternative to the Clemence leather.
No matter which leather has been used, you will notice that inside the bag is raw. This is normal and does not mean your bag is necessarily fake! Also, the strap is made from canvas and is normally color matched to that of the bag.
Hermès Evelyne Colors
When it comes to the colors of a Hermès bag, you will definitely be spoilt for choice. They are known to produce all different colors to suit everyone's tastes. So if you want neutral, you got it.
Do you want something a little brighter? You got that too! From the classics of the black and brown, to vibrant purples, greens and yellows, choosing the color actually may be more difficult that choosing the size of bag. Speaking of bag sizes…
Sizes Of The Hermès Evelyn
The Hermès Evelyne is available in four different sizes which all have their own unique size lettering: 16 (TPM), 29 (PM), 33 (GM) and 40 (TGM). Find the table of sizes below:
| | | |
| --- | --- | --- |
| Hermès Evelyne Bag | Dimensions L x H (cm) | Dimensions LxH (inches) |
| Evelyne 16 TPM | 16 x 18 | 6.3" x 7.1" |
| Evelyne 29 PM | 29 x 30 | 11.4" x 11.8" |
| Evelyne 33 GM | 33 x 31 | 13" x 12.2" |
| Evelyn 40 TGM | 40 x 44 | 15.7" x 17.3" |
TPM Hermès Evelyne Bag
The smallest of the bags is the TPM which measures in length 16 centimeters and in height 18 centimeters.
This bag has been noted as a good one for travel due to it not being too big or too small. It can be put in a suitcase and not take up too much space, or it can be carried around with you whilst travelling due to it being the perfect size to carry travel documents and so forth.
It is also a good size as a day-to-day bag if you do not need to carry too much. If you just want to take a smartphone, a smaller wallet, keys and perhaps some makeup around with you, then it should be perfect.
Even so, it is not the most popular size currently, and there have been rumours that Hermès have been thinking of discontinuing it. This has not been proved, however, and the bag remains available in Hermès boutiques.
PM Hermès Evelyne Bag
Also known as the Evelyne 29, it is the second size up from the TPM. The bag measures around 29 centimeters in length and 30 centimeters in height, making it a good go-to sized bag.
If you are considering buying a Hermès Evelyne bag, then this one is said to be the ultimate when it comes to the perfect everyday crossbody bag. Whether you are running errands or going to college, this bag is perfect to carry a bottle of water, the essentials you need day-to-day, snacks and even notebooks.
GM Hermès Evelyne Bag
The third biggest Evelyne bag, the Evelyne 33 measures 33 centimeters in length and 31 centimeters in height. It actually does not appear that much bigger than the Evelyne PM, so it can be difficult to choose which one to buy out of them both.
The best tip we can give you is to try both of them at the store. Some people find that the GM is too big for their frame, so have gone for the PM.
It is always worth trying out a bag like you would clothes anyway, because sometimes a bag just will not suit your height or frame, and it is a lot of money to spend, so you will want to make the correct decision.
TGM Hermès Evelyne Bag
Lastly, it is the TGM, or also known as the Evelyne 40. Measuring at a whopping 40 centimeters in length by 44 centimeters in height, it is a bag that can fit more in than just the essentials.
It is perfect for travel, especially if you plan to go somewhere for the weekend, or if you need to carry quite a few things just generally.
Let's Take A Look At Prices
If you are looking to buy a Hermès Evelyne bag, then you might be interested to know how much they cost. Even though prices are subject to change, here are the prices as rough estimates in dollars for the Evelyne Clemance III version*:
| | |
| --- | --- |
| Hermès Evelyne Bag | Price (USD) |
| Evelyne 16 TPM | $1,800 |
| Evelyn 29 PM | $3,375 |
| Evelyn 33 GM | $3,800 |
| Evelyn 40 TGM | $4,500 |
*The cost for each bag may differ at a Hermès boutique. This table should be used for informational purposes only
Conclusion
The Hermès Evelyne bag is iconic in its own right. It may be no Birkin bag, but its popularity is basically just the same but at a much different price tag.
It is made for function, and will be perfect for the everyday person who wants a bag that can match their busy lifestyle. The Evelyne will become your go-to, and luckily, it will be able to withstand a hectic schedule.
Not only that, it will be a great bag to use on days out with the girls for lunch. It is completely versatile, whilst still being stylish and practical. How many designer bags can claim that?
So, if you want a ticket into the Hermès bag club, then look no further than the Evelyne. Once a bag for horse lovers, now a bag for the ultimate fashionista.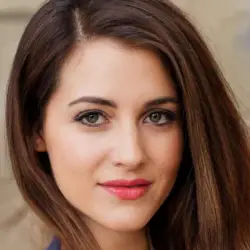 Latest posts by Maya Garcia
(see all)