One of the most iconic and impactful decades for fashion was the 1970s. In recent years, 1970s fashion has been becoming more popularized within the mainstream.
If you've kept up with fashion week in recent years, then you'll know that this is the result of designers embracing the 1970s style. While fashion trends will always continue to come and go, the 1970s style has made a big comeback.
Whether 1970s fashion is near and dear to your heart, or whether you've recently discovered this fashion trend, you might be curious as to know the origins. That's what we're going to discuss in this article.
We're looking at authentic 1970s fashion, and discussing what women wore back then, and if it's made it into today's modern fashion.
OUT OF THE 60s, INTO THE 70s
As most of you already know, the 1960s is known for flower power and hippies. This style continued into the 1970s, but with some slight changes. While in the 1960s fashion was about being handmade, this gradually become less of the norm in the 70s.
That's because fashion started to become more readily available, so people could purchase their clothes from department stores, or catalogs. It was a massive change, but the traditional patterns of the 60s were still heavily embraced. Think crochet, patchwork, embroidery, and heavy on the polyester.
As you can imagine, it was cheaper to get an outfit out of the catalog, than have an outfit custom-made.
Now, the 1970s birthed multiple fashion trends for women. One iconic change was women wearing pants and suits, opposed to just skirts and dresses. Yves Saint Laurent first presented the infamous women's tuxedo in 1966.
While at first it was met with contrasting reviews, the tuxedo gained massive popularity during the 70s. This was partly because of the actress Bianca Jagger, who wore a tuxedo as her signature style.
When we think of the 1970s, we don't just think about women wearing super cool pants. We think about disco. Disco music became popular in 1973, and from it rose an iconic fashion trend.
You do not have to work in fashion, to notice how big of an impact the 70s disco scene had on modern society. Disco was about standing out, being flashy, being bold. It was exciting. It was full of shimmery and shiny fabrics.
Then, just as the summer of love had to come to an end, so did the flamboyant decade that was the 1970s. Between the midst of shiny fabric and long pants, Norma Kamali was designing women's sportswear.
Kamali introduced this new fashion trend in the late '70s, and the rest is, well — the 1980s. It changed from flower power to neon tops and leggings, and a completely different music scene.
As we know, the 1970s never really died. The fashion trends that emerged during the '70s are still so significant in modern society. Even before the past few years in fashion week, '70s fashion always remained an iconic era, permanently adored by few.
You don't think this article stops there, do you? Now that we've discussed the rich history of the 1970s fashion industry, we're going to look at the details. And by details, you know I mean what type of funky outfits the women of the 1970s wore.
With that said, let's look at some iconic clothing!
What Did Women Wear In The 1970s?
Below, we're going to look at some of the iconic pieces that women of the 1970s proudly wore. We've got a range of dresses, pants, and shoes — so let's get browsing!
Jumpsuits
If we're going to start somewhere, we're starting at jumpsuits.
Jumpsuits reflect the freedom of women being able to finally wear suits and the amazing flamboyance that is disco. That's right, these jumpsuits were made to boogie in.
Don't be fooled, however — men would wear these too, and they rocked it. Jumpsuits were for everyone. Notably, women were finally able to wear suits, so why shouldn't they wear one of the funkiest suits around, the jumpsuit?
They wore it, and they wore it good.
The jumpsuits in the 1970s were full of glam. You would often either see a woman wearing a bright, boldly colored jumpsuit — such as an orange, or you would see her covered in a glittery fabric.
In many cases, the jumpsuit wasn't to party in. It was a comfortable alternative to the maxi dress. It was first popularized in the late 1960s (thanks, Yves Saint Laurent), and women would traditionally wear them while hosting a party.
That's because they were comfortable, and let's face it — a little different. While jumpsuits are still feminine, they added a little androgynous punch, that once seemed so far out of reach.
Like most things, the jumpsuit soon became a big trend, becoming mainstream in the 1970s. Once something goes mainstream, you're looking at hundreds of variations so that companies and designers have their take on the trend.
In that case, some did wear casual jumpsuits. Some women wore jumpsuits with sleeves, some wore jumpsuits without sleeves.
Then, of course, others wore jumpsuits full of sparkle and, oftentimes, in a gorgeous velvet material. Think about the freedom that comes with being able to wear a jumpsuit to a party, for the first time.
It gave women the freedom to showcase their body, without having to reveal any skin (of course, some jumpsuits revealed more than others). It was a huge and fantastic change for women, and even in modern times, we all still love a jumpsuit.
It's comfortable, stylish and makes a change from always wearing a dress.
But if anyone is keeping score, the ladies of the 1970s wore it best.
The Wrap Dress
When I tell people that the wrap dress is derived from the 1970s, they're often pretty surprised. It's such a staple in our modern society, that people are shocked to know that it was also pretty darn popular fifty years ago.
So, this dress is all about comfort, while still being stylish. The wrap dress is heavily versatile.
Ladies often wore them to work, to look professional and chic — and they also wore them in the nighttime, where they would look effortlessly glamorous. Pretty amazing what adding the right shoes and some accessories can do, eh?
If you don't believe how popular this dress was, then check these stacks. In 1974, a massive five million wrap dresses were sold within just two years. That's right, 5 million wrap dresses, in two years.
The wonderful lady behind that success was Diane von Fürstenberg. Her variation of the wrap dress was so popular, that truly everyone had to have it.
Today, if you pop into any lady's department store, you'll certainly find yourself a wrap dress. These remained popular because they're so flattering and comfortable to wear.
Flared Jeans
Probably one of the most iconic trends to come out of the 1970s is the flared jean.
Flared jeans are also known as bell-bottoms. They're a very flattering type of jeans, that accentuate the waist and optically lengthen the leg.
If you're one of the few people who aren't familiar with flared jeans, they are a type of jeans that becomes wider from the knee. In the 70s, flared jeans were available in every shade of denim, from the lighter pair to the darkest.
They often had handmade embroidery on them, covered in flowers or hearts. When it comes to bell-bottoms, they were a little different – usually a different fabric, but the same style.
Often made out of polyester, velvet, or corduroy. If there's a couple that made flared jeans popular, it was certainly Sonny and Cher. They were known for having the coolest flares and helped popularize the trend.
In modern times, it seems like the flares have made a comeback. We saw flares in the Spring/Summer 2021 catwalks, which means it'll certainly be a trend that's going to be around for a few beats.
Clogs
Clogs were an absolute staple in the 1970s. While clogs are slowly gaining in popularity nowadays, they're still definitely a niche. On the Hermes Spring/Summer 2021 runway, we did spot a couple of clogs, with Stella McCartney also premiering clogs in their Spring/Summer 2021 collection.
If you don't know what clogs are, they're very chunky wooden shoes. That's right, it's a wooden shoe. They were imported from Europe, and became a massive hit with everyone — women, men, children, you name it, they had clogs.
If you're wondering what goes with clogs, look in the above section — yep, flared jeans. That's what all the fashionable ladies wore in the 1970s. Clogs were also worn with dresses, skirts, and pantsuits.
I should probably mention, that while clogs were definitely loved during the 1970s, everyone had mixed reviews. Some people find clogs ridiculously comfortable, and other people, well — they just can't walk in them.
Think of them as the marmite of shoes, you either love them or hate them.
Platform Shoes
Okay, the next iconic trend that emerged out of the 1970s is the platform.
These shoes are magnificent. They're chunky, with a big old heel. Platform shoes were especially popular with disco parties because they stand out so extravagantly.
Both men and women wore platforms, they were gender-neutral shoes, that always stole the show. You could get platform shoes made of suede, leather, faux leather, even velvet. They were incredibly popular and generally seen as a 'cool' shoe.
While we thank the 70s for bringing us these funky shoes, the platform shoe has tuns of history. In Ancient Egypt, Pharaohs wore platform shoes to symbolize their status. Platforms were also present in the Renaissance period.
Like how some utilize these shoes today, platforms were a great way of adding height. While it's pretty obvious that you're wearing a chunky heel, it certainly does make you taller.
What About Accessories?
Like in every decade, accessories were an important part of 1970s fashion. They helped make outfits look unique. Whether it's to dazzle at the disco or add some flower power, accessories made all the difference.
Hats
While hats were less popular in the 70s, compared to the 50s and 60s, there were certainly a couple of styles that managed to become mainstream. One of those is the white brim floppy hat. It added a cute, boho-chic touch to an outfit, and it was particularly popular paired with peasant dresses.
Many are surprised to find out that the bucket hat was popular during the '70s, and was a summer staple for most. Not everyone was a fan of hats, especially the hippies.
If they wanted to add an extra touch, they were inclined to wear a headband. These would usually be forehead bands and often had beads, feathers, and flowers.
Sunglasses
When it comes to sunglasses, they were definitely oversized. Popular styles were round, square, and aviator. Tortoiseshell was a big color, but so was green, orange, and black. The lenses were often tinted, sometimes a light brown, or an amber color.
When it comes to the hippies, they liked things a little smaller. They preferred small round glasses, in bright and bold colors. These were often tinted too.
Jewelry
Jewelry was a staple. Colored beads were popular with just about everyone, and so were tassel necklaces. For those who preferred a classier look, they brought back the 1920s pearls. For earrings, think round hoops, button earrings, and chandelier drop earrings. T
he hippies wore something a little different. They preferred to go with the earthy vibe, and made jewelry out of faux ivory (to look like bone), yarn, and wood. The peace sign was massive a massive symbol, and friendship bracelets were an appreciation of love.
Handbags
Of course, you can't look at a decade without looking at the handbags. During the 1970s, women loved the macramé body bag. It was a shoulder bag, with a long strap. The bobo bag and the saddlebag were also massively popular and were pretty large.
For colors, think earthy tones. Suede was a popular material, and so was vinyl. Now, for the reserved, classier ladies — they wouldn't generally wear this. They would opt for a clutch bag or a frame bag. Much simpler and much smaller.
Scarfs
Scarfs were an important accessory in the 1970s. Women often tied scarves around their necks, for a classy look.
They would also attach silk scarfs to their bags, for a little extra accessory. During the wintertime, thick scares were vital and then were traded in for a lighter, thinner scarf during the springtime.
What About Makeup?
In the 1970s, the everyday look was held the highest. A very natural, plain look, that just tinted one natural beauty. Of course, not every woman lived according to that, natural beauty was prized during the 70s.
Hippies took this to the extreme, opting for a little plain lip gloss and a bit of chapstick.
Let's not pretend like the 1970s wasn't also the disco era — not everyone wanted to go with the plain Jane look.
Shimmery eyeshadow was popular, colors such as green, brown, and purple were popular. Eyeshadow looks were often created with three bold, complimenting colors. When it comes to eyebrows, they were pretty plain – just a little brush here and there.
For cheeks, blush was applied to the apples of the cheek, berry was a very popular shade. Lips again were usually quite simple. For those who liked a natural look, they opted for clear lip gloss or a nude pink lipstick.
Peachy pinks were also popular. Hippies kinda went in another direction and applied a hint of bronzer to their lips.
Summary
That brings us to the end of our article on 1970s fashion, and the wonderful clothes that women wore.
Whether you were curious about the history of fashion in the 1970s, or whether you popped on overlooking for inspiration, I hope that I've helped you.
The 1970s was full of iconic clothing, that is still inspiring modern-day catwalks. I love this decade of fashion and find a lot of inspiration from it.
Thanks for reading!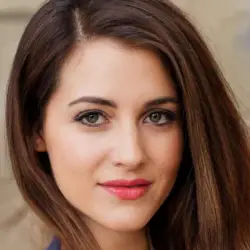 Latest posts by Maya Garcia
(see all)