When it comes to the world of footwear, flip-flops are typically considered the Summer show stealers that we all secretly want to perfect.
But not only do flip flops breathe life into your feet during the Summer, but they are also the perfect everyday footwear choice, no matter the season.
Whether your favorite style of flip flops is the traditional rubber sandals, studded rock-chic look, leather cross overs, or logo encrusted sliders, there is now more choice than ever for you to choose from. 
We've narrowed it down to 11 of the very best designer creations guaranteed to put a spring in your step and have you looking fashion-forward all year round.
These slip-on sandals are a beautiful addition to any outfit. They offer heaps of comfort thanks to their contoured footbed and with two adjustable buckle straps, you're guaranteed to find the perfect fit for you.
These sandals not only feel good, but they also look good. With a soft leather 3D petal sitting atop the straps, these chunky sandals manage to remain extremely delicate and feminine but sturdy enough to see you through any event. 
The instantly recognizable signature red sole of these sandals is sure to turn some heads at the poolside and beyond. 
This staple 'thong' style flip-flops that we all know and love is embellished with silver spikes, giving a modern 'rock' twist on an old classic.
With a rubber lining and sole, these punky flip-flops will provide your feet with not only the attention but also the comfort they deserve.
As the old saying goes, 'diamonds are a girl's best friend', and with these flip-flops, you can definitely see why!
The crystal-embellished thong strap adds a nice touch of glamor and coupled with the soft black faux-fur footbed, these sandals are playful yet stylish.
With a rubber sole for added comfort and protection of the material, you'll want to wear these flip-flops morning, noon and night. Thanks to their high level of craftsmanship, you can! 
The simplistic design of these thong-style sandals is elevated thanks to the incredibly beautiful Dolce & Gabbana embellished logo emblem displayed on the thong. With an easily adjustable buckled ankle strap, these sandals tightly hug your feet for a secure fit.  
 Available in both silver and light gold, why not purchase both and have twice the fun?
If you're looking for something colorful and bold to walk around in, then these are the sandals for you. 
With large faux jewels embellishing the front strap, your choice of footwear won't go unnoticed. The buckled ankle strap provides a secure fit, and if the colored stones didn't make a big enough impact, the butterfly wing print on the straps and footbed will.
Teamed with an open square toe to show off your freshly pedicured nails, these leather-soled sandals will make your feet feel like royalty. 
These Versace flip-flops are clean, simple, and beautifully Versace. 
Made from a white rubber material, these flat sole slip-on style flip-flops provide ultimate comfort for your feet while managing to look incredibly chic at the same time.
The gold-tone Medusa plaque synonymous with the brand takes pride of place on the slide strap, and thanks to the simplistic design, this recognizable symbol is all this footwear needs to make a bold statement.
These brandy brown leather slides are a sophisticated yet comfortable choice of footwear guaranteed to add an element of class to any outfit.
Fendi's FF logo is intricately woven into the strap for a subtle yet clever nod to the brand's trademark sign. With a cushioned footbed providing you with extra comfort, and a rubber sole for support, these calf leather slides certainly put the wearer's needs first.
These multicolored sandals will put a smile on your face just by looking at them. But not only are they playful they're also incredibly stylish. 
The high-impact hues featured in these shoes will add a flash of color to any outfit and season. With an adjustable strap and a flat sole, comfort and fit are high on this sandals list of priorities.
For a touch of luxury, the much-loved eagle head emblem associated with this brand sits at the top of the strap, so there will be no mistaking the creators of these fashionable favorites.
These understated sandals are a gorgeous choice for anyone wanting to add a sophisticated element to their look. 
The gold-tone Virtuous V plaque effortlessly stands out against the flawless black calf leather these shoes are crafted from. This beautiful detail accentuates the crossover strap detail on these sandals and brings attention to their delicate design.
With a low block heel, these sandals are sturdy yet feminine and the branded insole ensures that your feet are provided with just the right amount of comfort.
These sandals are a firm favorite with every lucky person who owns a pair and we can see why. 
These premium leather sandals are incredibly easy to slide on and off thanks to the touch-and-go fastening detail. With an all-over embossed crocodile design and block color, these sliders are highly fashionable yet very understated.
The raised platform and gripped outside sole provide incredible comfort all day long, and with the brand logo embossed on the upper band, there'll certainly be no mistaking that these are a wonderful Balenciaga creation.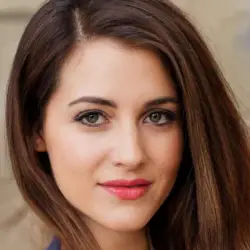 Latest posts by Maya Garcia
(see all)